I Decluttered My Grandma's Dishes — Now I'm Trying to Find Them Again
We
independently
select these products—if you buy from one of our links, we may earn a commission. All prices were accurate at the time of publishing.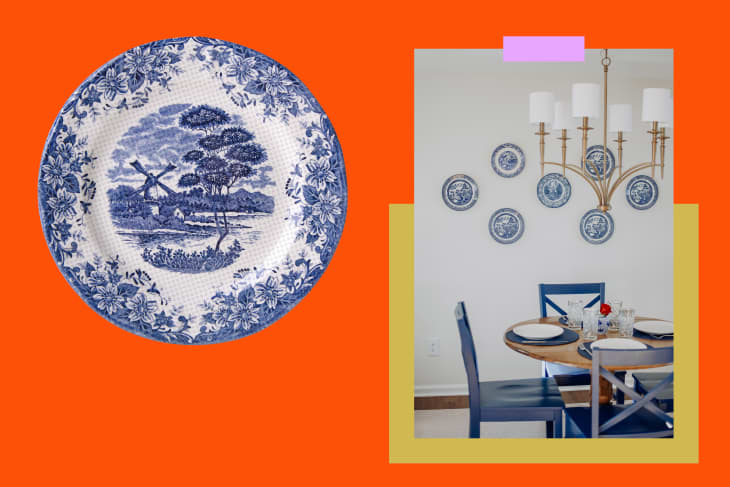 Recluttering is a celebration of your stuff — stuff that you just want to hold on to, stuff that makes you happy, stuff that makes you feel nostalgic for a moment, a memory, or a loved one. We're sharing stories from people about their collections, heirlooms, and more. Head here to read them all!
Anyone who's lived in a small apartment understands the conundrum of family heirlooms. You're dealing with a tiny space that can only handle the essentials. Everyone tells you, "Use the nice stuff!" But when you're in a studio apartment and have to prioritize dishware that can go in the dishwasher and the microwave, the family china isn't going to make the cut for long.
At least that's what happened to me. My grandmother passed away years ago and, when I moved into my first apartment after college, I took her timeless blue and white dishware with me. It made its way through various apartments and houses, all of which had space because I lived with roommates. We had extra cabinets and full-size kitchens. It wasn't a big deal to have an entire extra set of dishware — and we used it! Despite its fragility and extra care instructions, those salad plates and soup bowls saw their fair share of dinner. We lost a few — maybe a lot — along the way, but dishes are for using, right?
But when I decided to strike out on my own, moving into a tiny studio with a postage stamp-sized kitchen that was entirely mine, I had to make a decision. It was the delicate heirloom dishes, or it was Crate and Barrel dishes I could actually throw in the dishwasher when I was in a hurry to get to work or microwave when I had nothing but a Trader Joe's palak paneer sitting in the fridge. 

The practical dishes won.
For a few years, I forgot about the blue and white dishware. I even added to my set of white, functional Crate and Barrel dishes when I got married. The old ones were lost to the passage of time and place — until I bought a house. 
All of a sudden, I had room and an evolving style. The eclectic vintage-meets-modern decor I'd loved in my shoebox apartments started to lean more towards vintage-meets … vintage. And I remembered those blue and white plates. The house begged for something more interesting than a white plate with a wide rim. I had pretty white quartz countertops that needed something with more personality as I made my morning toast. I needed those blue and white plates.
Fortunately, my parents reminded me that in the frenzy of decluttering my studio, I passed some of the blue and white plates to them. Not all, but some, lived in a not-so-carefully packed box in their crawl space. And not all, but some, of those rescued plates were still intact. 

The broader collection, however, was gone. 
Perhaps I would have let it go, chalking it up to a youthful mistake, made out of necessity. But, as I strolled through antique stores and thrift shops looking for old but new-to-me finds for my old but new-to-me home, I started to see pieces of the collection come together. Some were exactly the same pattern — a blue and white floral Windsor Ware from Johnson Brothers, a common motif in secondhand shops, while others were close enough. 

Now, I'm rebuilding my collection. I'm collecting these plates in the sizes I no longer have, trying to come up with a full set again. If I could have enough to host a Thanksgiving meal with my family, or even just a weekend dinner party with friends, I'll be happy. Not every piece I find is perfect, but if it's pretty and in one piece, I'll collect those, too. I figure someone else's grandparents once owned them, and there are still stories to tell. I rescue all the blue and white dinnerware I can find, using plate hangers to create a wall from the chipped misfits. 

As I'm recluttering, I think of the iconic William Morris quote: "Have nothing in your house that you do not know to be useful, or believe to be beautiful." I'm reminded that sometimes that last piece — beautiful — is reason enough. And, if you live in a studio apartment, remember that crawl space under your parents' house. It'll be there and so will the dishes.