I Tried the TikTok "Jam Jar" Cocktail and It's Ridiculously Good
We independently select these products—if you buy from one of our links, we may earn a commission. All prices were accurate at the time of publishing.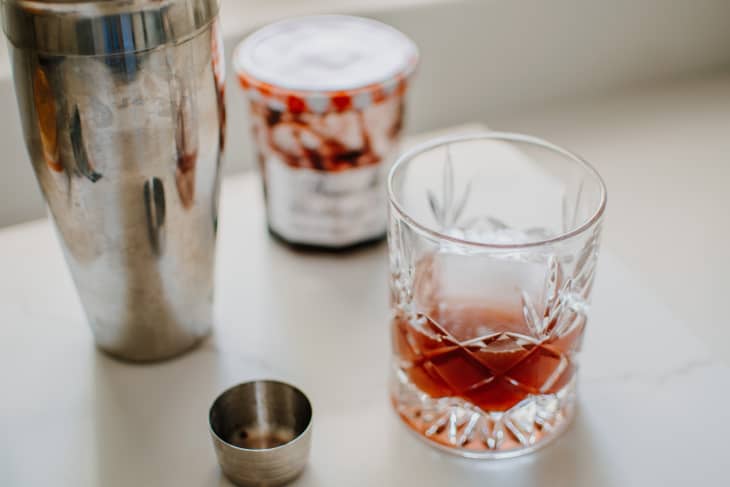 Audrey Akin, a food enthusiast who blogs about her favorite recipes, recently went viral on TikTok with an easy cocktail that uses a cheap, sticky ingredient that's probably already lurking in the back of your fridge. 
Follow Topics for more like this
Follow for more stories like this
On TikTok, she shared a simple video taken in her kitchen, where she starts with an almost-empty jar of jam. You know the kind — where your hand and knife will end up in a syrupy mess if you dare try to get the last little bit out. But you also can't bear to throw it away because it's just that good. Well, Akin takes that jam jar (a Bonne Maman jar, to be exact) and takes a hard left turn away from anything PB&J-related. 
Instead of peanut butter, she grabs a bottle of Tito's vodka. And this is where it gets creative. She pours a few tablespoons of water into the jam jar and heats it up for a few seconds in the microwave to liquify it. Then, she adds 2 ounces of vodka per cocktail to the jar (there are two servings in this particular video) and squeezes half a lime in, too.
Shake, shake, shake. Pour it over ice, top with soda water. So easy, and, as Akin says, delicious. But is it really good?
I decided to go straight to an expert to find out if jam is truly a reasonable cocktail ingredient, and then I tried it out on my own.
Nancy Santiago, general manager and mixologist at O'Tooles Way in New York, reported that she wasn't surprised at all that a cocktail made with jam is making the rounds on the internet. "Actually I did this years ago with friends. My friends think it's funny to have me make cocktails with whatever is in their fridge. I happened to be at my friend Mike's house and he wanted a tequila drink. I checked his fridge and found a few jars of homemade jam from his mom," explains Santiago. 
She whipped up a take on a simple, straightforward margarita and threw in 2 ounces of Mike's mom's berry jam, which Santiago explains only worked because she doesn't make her margaritas sweet. "I shook and double strained over ice with a salted rim. He named it 'Nancy's Jam.'" The recipe features 2 ounces of tequila, 1 ounce fresh lime juice, .5 ounces agave, and 2 ounces of berry jam, and it's now a regular in her rotation with her friends. 
When it came time to try out the jam cocktail for myself, I decided to go Santiago's tequila route, using almost her exact recipe, except with blackberry jam. And, sure enough, it's delicious. The key, like Santiago explained and Akin did in her video, is to let the jam serve as your sweetener. Don't try to add extra simple syrup on top. And, if you have the time and the utensils on hand, strain it for a smoother drink. Whether or not it becomes your signature cocktail (or mocktail, if you nix the spirit and top with a sparkling water instead), it will definitely become a go-to recipe when you're looking to get the last little bit out of the jam jar. A sustainable happy hour option that doesn't call for any new ingredients? Cheers to that.