I Tried These Three Moving Hacks From TikTok For a Peaceful Move
We independently select these products—if you buy from one of our links, we may earn a commission. All prices were accurate at the time of publishing.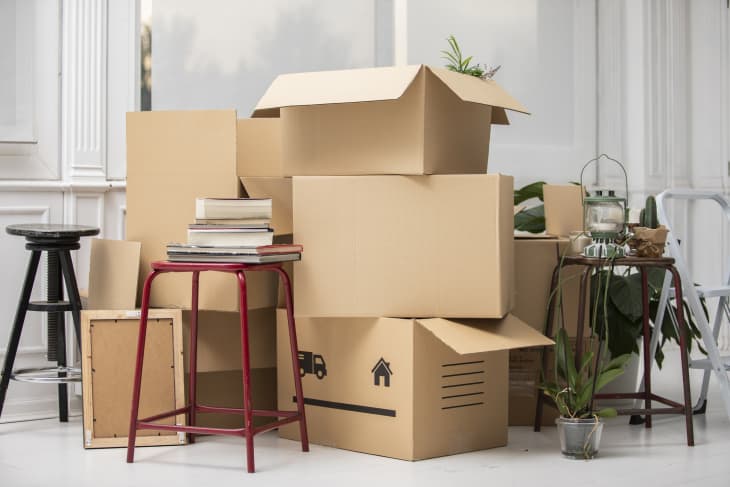 Follow Topics for more like this
Follow for more stories like this
Since the college town that I'm leaving is near my hometown, I've become extremely comfortable with leaving extra boxes behind at my mom's house, but I also love bringing everything that I own with me. Do you see my dilemma? While filling my compact-sized car up with the belongings that I wanted to bring, I was unsure how to pack some of my delicate valuables like ceramic mugs, candles, full-sized bottles of conditioner, and skincare products. Fortunately, TikTok is behind most of my style and decor inspiration, so I figured that I could find some helpful tips for packing, too. Here are three hacks that changed my whole moving experience.
Use stretch wrap to keep loose things secure
Obviously, bubble wrap was my best friend during this move when it came to packaging small picture frames and candles. However, bubble wrap can add up if you have multiple items to safely store, plus it's not necessary for smaller, less fragile items. I quickly ran out of miniature cosmetic bags for my items, and my makeup brushes were among the items that were left behind. Thanks to TikTok, bubble wrap's environmentally-friendly alternative, stretch wrap, saved the day. I purchased a small roll at my local Home Depot for under $15, and it happened to be waterproof and residue-free. Not to mention, stretch wrap is recyclable and can be tossed with your cardboard boxes post-move.
Prevent spills while packing liquids
Since I didn't plan on abandoning my hair care or skincare routine under the guise of moving, I happened to still have some not-so-travel sized items in my vanity, but I couldn't bring myself to throw them away. To save myself time, I skipped purchasing TSA-approved bottles to transfer my leftover products, but I wanted them to remain safe and spill-proof during my move. For my Dr. Bronner's Peppermint Soap, I removed its cap and used a gallon-sized ziplock bag to prevent spills. Instead of placing these products in a box, I opted for a leftover wicker basket with handles for easy access. If you're worried about the liquids seeping through your box, feel free to add a plastic bag or plastic wrap to the bottom of the box for an easy cleanup.
Usw socks to protect mugs and glassware
Since I'm emotionally attached to every mug that I've thrifted or impulsively purchased at Target, I couldn't leave them behind. Luckily, multiple TikTok users recommended wrapping cotton socks to prevent chips, cracks, or any type of damage. All of my mugs are made with clay or ceramic, so I fortunately didn't have to protect any porcelain. After wrapping each mug individually, I stored them in a box lined with bubble wrap to have a smooth car ride. This box also had glass candles inside, so I made sure to visibly label "fragile" on the outside. This feels like a no-brainer, but make sure you're using clean socks so your mugs don't smell!
Using these three tips along with a flexible schedule during my moving day ensured a peaceful drive back to my mom's house, and I'm extremely grateful that I labeled all of my boxes. Happy moving!