Trader Joe's Sells Grinch-Inspired Mini Christmas Trees
We independently select these products—if you buy from one of our links, we may earn a commission. All prices were accurate at the time of publishing.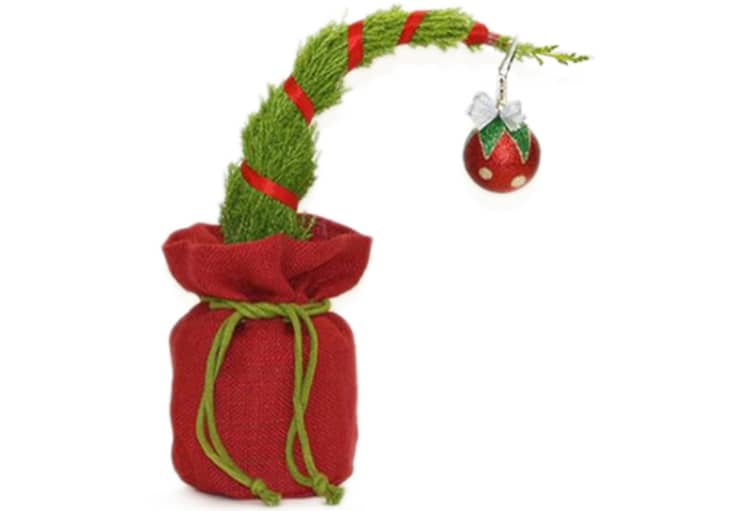 Mini Christmas trees are making a comeback, and with them comes a whole lot of selection. Do you want a classic-looking mini pine tree? A ceramic tree? A rosemary tree? Or what about a Grinch-inspired tree–light green, spindly, and slumped over? Trader Joe's sells mini trees like this, called "grump trees" (very subtle), and like the Grinch's heart, they can grow with the right love and care.
At Trader Joe's, the grump trees are sold in a felt-wrapped pot, with their branches bound in ribbon to give them a spindly shape, and an oversized red Christmas ornament on top to make them lean. However, if you remove the ribbon and ornament, they can actually stand up straight in a conical shape like a more typical Christmas tree.
Outside Trader Joe's, grump trees are called lemon cypress trees because of their lemon-like scent. While some sources say they can grow up to 30 feet tall, Gardening Know-How says there is a dwarf version of the plant that only reaches up to three feet tall. Either way, your grump tree can last for many Christmases to come, either indoors or outdoors.
They like lots of light, lots of water (water whenever the soil is dry), and fertilizer once per year in the spring. Otherwise, you know, they'll get grumpier than they already are.
Trader Joe's grump trees cost $8-9 depending on location. Let it bring you reluctant cheer this Grinchmas.