3 Trendy Studio Apartment Layouts and What They Look Like
We independently select these products—if you buy from one of our links, we may earn a commission. All prices were accurate at the time of publishing.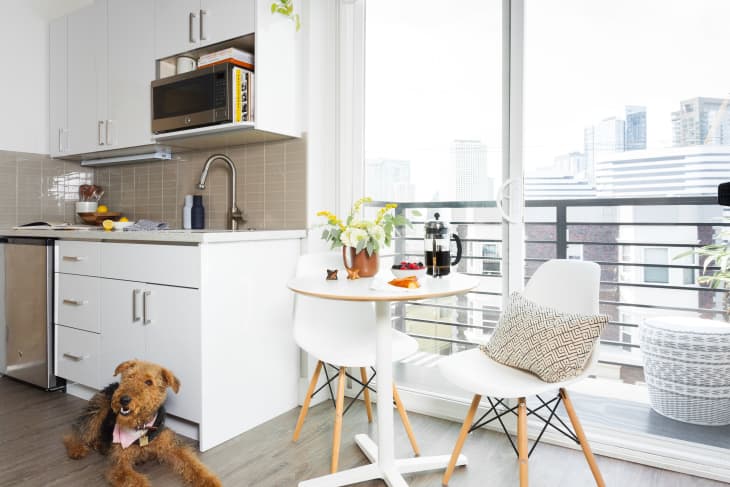 Sometimes, it feels like a translator could come in handy when browsing apartment listings. A railroad unit? (That's when every room is laid out in a row.) An alcove studio? (It's an L-shaped abode.) A garden-level apartment? (This might evoke images of a rose garden courtyard, but it could really just mean it's a basement apartment.) What happened to your standard studio?
Follow Topics for more like this
Follow for more stories like this
Small apartments — and unique floor plans — abound in today's rental market. There are even a few new kinds of layouts popping up. How are they different from your run-of-the-mill studio? Here, experts break down trending apartment layouts.
Both studios and efficiency apartments typically combine the functionality of multiple rooms into a single one, says Alexandra Ciuntu, a research analyst RENTCafe. However, the main differences between these apartment types are the size and the inclusion of a separate cooking area. 
"While both apartment types are essentially one combined room, with the kitchen, bedroom and living room in one place, efficiency apartments often come with a separate kitchenette, despite being smaller than studios," Ciuntu says. 
So why the name efficiency? Appliances and certain amenities in efficiency apartments are typically scaled down, such as a smaller-size refrigerator, reduced counter space, or a one or two burner stove instead of a full stove and oven, Ciuntu explains.
Expect these units to be around 300 square feet or so. 
Micro-apartments, or micro-units, are smaller-than-average studios most often intended for a single resident, explains New York City Broker Ellen Sykes of Warburg Realty.
"The ultra-efficient design packs a kitchen, bathroom, and other necessities into a unit of 200 to 400 square feet, while high ceilings and large windows create the illusion of space," Sykes says.
Needless to say, living in a micro might require some creative downsizing and multi-functioning furniture. Think: fold-out beds, mini-balconies, smaller appliances, and modular furniture to fit resident needs, Ciuntu says.
Common, a rental site that pairs apartment hunters with private rooms in shared spaces, has a design and construction arm that builds co-living properties with micro-units in them. Buildings with small studios and shared living spaces are trending because of their affordability,  says Amalia Paliobeis, the managing director of real estate at Common. 
"Choosing to live in a micro-apartment gives you access to the best neighborhoods and locations in a city, without having to give your entire paycheck to rent," Paliobeis says. 
To help residents who are living alone in micro-apartments feel connected during COVID-19, there's been a hyper-focus on pandemic-safe community events, like virtual wine tastings and at-home yoga classes.
Convertible or Flex Spaces
If you see convertible or flex space in a listing, it typically means there's the possibility of dividing an area in order to create a new room, according to Ciuntu. This may not be a new concept, but it's definitely something that's being pointed out in listings as people are spending more time at home and need multi-functional spaces.
"For instance, you can create a temporary wall between the bedroom and living room by using a curtain, a bookshelf, or even putting up drywall," she says.
A final note: A small space can be cozy and functional to one person, but cramped and small to another says New York City agent Karen Kostiw of Warburg Realty.
"Carefully evaluate the floor plan and when viewing the property bring your tape measure," she suggests. That way, you'll be able to determine how functional it is for your own living needs.