How I Used the "Two-Minute Rule" to Stop Feeling So Overwhelmed
We
independently
select these products—if you buy from one of our links, we may earn a commission. All prices were accurate at the time of publishing.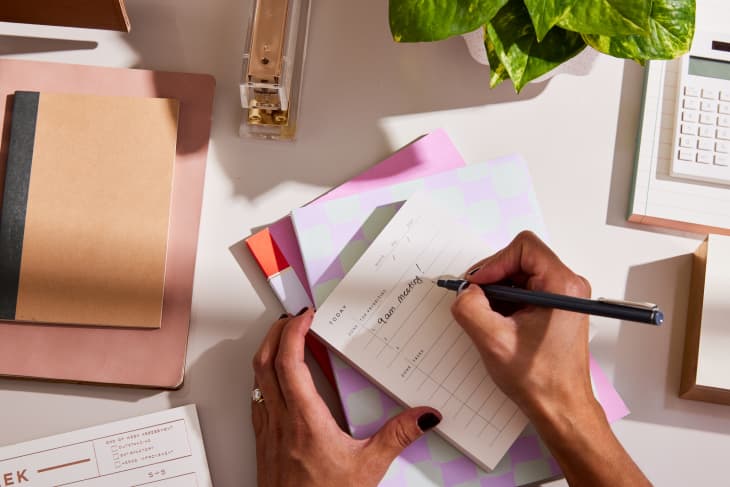 It's so easy to procrastinate when your to-do list gets too long. Even if you're somewhat motivated to tackle one of your tasks, the sinking feeling of overwhelm lingers. The good news is there's a way to stop this cycle even before it begins: The key is to break all tasks into smaller, approachable bite-sized steps so the anxiety doesn't prevent you from getting started. 
James Clear of "Atomic Habits" fame calls this philosophy "the 2-minute rule," which essentially means that if you can complete a task within 120 seconds, you should tackle it now instead of waiting until later. 
I've used this philosophy in my professional and personal life, and I've also included it in some of my self-care goals. Here's how I use the two-minute rule in my life.
When I first discovered this rule, I combined all the tasks on my to-lists on one piece of paper to get a visual of everything I had to do. I noticed three different realms  — personal, professional, and self-care — and decided on the three most important tasks within those categories. 
I wanted to make a better effort to connect with my friends and family. It wasn't always feasible to talk on the phone or meet for lunch or dinner, but it would take less than two minutes to text or send an email to my sister or one of my childhood friends. A simple, "Hey I just want to check in to see how you were doing," wasn't a heavy lift. In less than two minutes, I reached out to at least three to four people I hadn't talked to for some time. 
In my professional life, I hated waking up to a full email inbox. I decided to use two minutes to go through my messages and respond to two to three easy emails. The responses usually required a couple of sentences or less and as a result, my inbox was a little less all-consuming than the day before. I used this technique for at least a few minutes every single day. After a week of trying the two-minute rule with my inbox, the feeling of overwhelm became less intense and I actually replied to several emails throughout the day. 
I am always looking to improve my self-care regimen. Because my work involves hours at the computer, I tried different tactics to be less sedentary. I started doing kettlebell swings for two minutes after a few hours at my desk. At the end of the day, I'd completed at least 50 or more swings and had taken several short breaks to stand up and move around for a minute (or two).
Put Yourself in the Best Position to Start 
When I decided to take on the two-minute rule, I started with habits I could easily incorporate in my daily life: drinking water, folding a few pieces of laundry, straightening a part of the house that wasn't too messy, unloading the dishwasher, and similar to-dos. I found the best way to use this rule successfully is to take on quick tasks, not a huge project. For instance, I couldn't read an entire book in two minutes, but if I wanted to read more, I could get a few pages into a new novel. The same applied to other, loftier goals like meditating. I started with two-minute increments of meditation throughout the day and by the end of a week, I found that I'd sat in silence for at least 15 to 20 minutes in seven days. 
Once I started taking the time to carve out two-minute moments, I found myself building on those short time blocks and those habits became a natural part of my day. The key is to find the goal you want to accomplish and break it into a small series of tasks you can actually do in two minutes.
Initially, I dismissed how "productive" I would be with the two-minute rule. But after working on several habits over several weeks, these micro-moments added up and led to less overwhelm. I wasn't spending hours doing a task because I had budgeted my time throughout the week. In a surprising twist, my to-do list became shorter and I found myself crossing more things off the list. Committing to the process by focusing on the "tiniest" parts of my habit and not worrying about the end goal gave me a whole new perspective on my to-do list. 
In order to measure my productivity, I kept a chart of my progress. I listed the task and the minutes I spent on it each day, and at the end of the week I'd tally my time total. Tracking my progress visually became a motivator. In some instances, I did more than what the two-minute rule required, but I understood it was the natural progression of having a routine and implementing a ritual. Working on these small steps helped me make a lifestyle change by turning my overwhelm into action and approaching my goals with a different perspective. Crossing lots of tasks off my to-do list was just an added bonus.