5 Low-Lift and Low-Budget Self-Care Ideas to Help You Feel Better This Winter
We independently select these products—if you buy from one of our links, we may earn a commission. All prices were accurate at the time of publishing.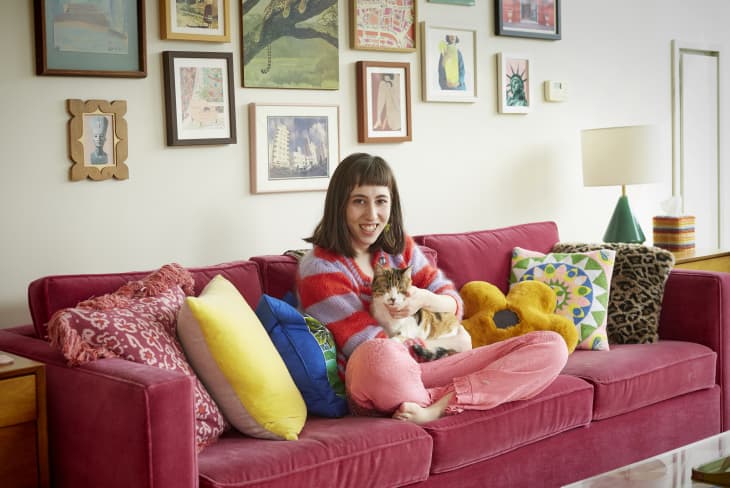 When you have depression — something I experience without fail every single winter — it can feel hard to take care of yourself, even though that's exactly what you need. Some days, everything but leaving the comfort of your bed can seem insurmountable, and it can feel impossible to attend to even basic needs. 
Depression can take away your ability to carry out your regular self-care routine, but other mental health conditions can impact this, too. If your nerves are frazzled, you may feel too anxious to do anything but worry. If you're reliving trauma, you may feel too sad or even unworthy of any self-care. And even if you're not dealing with a diagnosed mental health condition, a bad day can absolutely put self-care last on your priority list.
Follow Topics for more like this
Follow for more stories like this
It's a buzzword that's been tossed around the last few years, but self-care really does work. Whether it's taking an extra-long bubble bath or hitting the gym for a much-needed sweat session, research has proven that self-care has the power to improve well-being, lengthen lifespans, and decrease healthcare costs, as one 2021 study shares.
But if you're not exactly feeling like yourself these days, and poor mental health is getting in the way, self-care might seem impossible. As a year-round self-care devotee, I get realistic about my ability to carry out certain routines while I'm experiencing winter depression. I know I won't have as much energy to practice the same level of self-care that I do in July. So, I dial it down and make it more manageable — but I still make it a priority, even on my worst days.
These are some low-lift (and bonus: low-budget) self-care ideas that help me while I'm in the throes of depression. What's effective for me might not vibe with you — and that's OK, because every person needs to figure out the self-care tactics that work for them. But these will hopefully inspire you to weave some easy self-care into your day, even if you're struggling. 
Reading has long been a soothing activity for many, but speaking for myself, sitting down with a lengthy book can easily overwhelm me if I'm depressed. If your idea of the ultimate act of self-care is reading a thick book, by all means, have at it. But if you're like me and can't fathom the idea of tackling a book, make your goal smaller. 
For example, I have an entire shelf in a closet dedicated to my favorite childhood books. When I'm feeling lousy, I pull one out for a nostalgic fix that isn't overwhelming to read. Flip through a magazine, even if all you can do is appreciate the photos. Spend five minutes reading lifestyle articles online that lift your spirits (on a site like Apartment Therapy, perhaps?). 
Shop for Vintage (Or Anything That Gives You a Spark)
I've always called vintage shopping one of my top self-care activities. There's something so relaxing about perusing booths at a flea market and searching for specific items that gives my brain something to focus on other than whatever mental health hurdle I'm facing. Plus, oftentimes, thrift shopping doesn't break the bank. If you feel up to it, take yourself to a cool, local antique store, find an indoor market, or go thrifting, and you may discover that it's your favorite way to practice self-care, too. Can't get out of bed? I've found that Facebook Marketplace, Etsy, and eBay are excellent stand-ins when leaving the house isn't in the cards.
I know, I know — this is one of the more hackneyed self-care activities, but there's a reason for it. It really does work and it's easy to do, even if you have zero motivation. I'm not much for bubbles or bath bombs, but I love sinking down into the hottest water I can stand (just test the water first so you don't burn yourself!). I also sprinkle in Epsom salts. I'm partial to Dr. Teal's Epsom salts (three pounds costs less than $6). Choose a scent that works well in the moment (i.e. lavender for bedtime, peppermint for energy), turn on some music, and put on a sheet mask, which is another budget-friendly way to practice self-care. 
Pets have been proven to lower blood pressure, decrease stress, and boost their owners' well-being. It's something I've personally experienced time and time again. Whether we're cuddling on the couch or tossing a ball, my corgi, Dolly, is a major component of my self-care routine — and I improve her quality of life, too! On your bad days, plan on plenty of quality time with your pet. No pet? Snuggle up to a pal's pooch, sit on a bench near a dog park, or watch YouTube videos of adorable animals. It's low-cost and you can do it without leaving your bed. 
This isn't exactly a self-care activity. It's more of a mindset shift, which is a way of taking care of yourself and it's free. You're having a bad day or your mental health is suffering — cut yourself some slack. Accept that today, your self-care might look different than it does on other days, or from what other people do for self-care. Can't muster up the energy for that five-mile run? Take a walk on your home treadmill or do a simple meditation instead. Socializing typically makes you feel better, but today, you're not up for it — text a friend or have some alone time to process and feel better. Remove the guilt, ease up, and meet yourself where you are. Those short, doable bursts of self-care will make a difference and get you through until you feel like you again. 
If you're feeling hopeless, have lost interest in everyday activities, or have other uncomfortable, persistent symptoms, it may be time to reach out to your doctor. You can also call the National Helpline at 1-800-622-4357.