Here's What to Do if You Bought an Uncomfortable Sofa
We
independently
select these products—if you buy from one of our links, we may earn a commission. All prices were accurate at the time of publishing.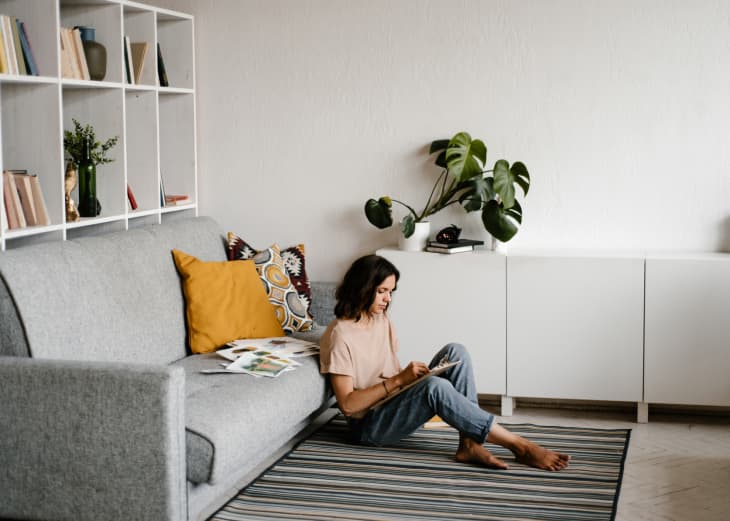 I recently made a big design mistake. Earlier this year, I moved into my first real "adult apartment." And since I had to furnish the entire thing myself, I got carried away with being thrifty and broke a well-known decorating rule: Don't buy a couch online. Or rather, don't buy a couch online that has no reviews (or that you personally haven't parked your butt on already to test it out). I've definitely learned my lesson—that thing is as hard as a rock! But it's also non-refundable, and even if it weren't, it'd be expensive and annoying to return. I'm also in no position to buy a new sofa right now, especially without figuring out what to do with this one first. So I turned to a few trusted designers to see if they had any tips on how to remedy the situation. Turns out there are no major miracles to be had, but there are a few things you can do to make your sofa a little comfier.
If your sofa's cushions are too hard, you can make them more plush with the help of new cushion inserts. "If returning the sofa isn't an option, you can take the cushions out and replace them with down-filled or down-wrapped foam cushions you can find from an upholsterer or sometimes online," says designer said Danielle Rollins. "If the issue is more that the sofa is lacking in support, then you can foam-wrap a board cut to size and add that under the cushions for a quick fix."
SagsAway is a good option for DIYers that want a quick, ready-made option. "SagsAway is not only for saggy cushions, but this cut-to-size, industrial strength foam product also helps to make a stiff, uncomfortable sofa more comfortable," says Thumbtack interior designer Amy Feldman of Amy Joy Room Styling. "The insert goes inside the cushion cover, which is helpful if your cushion has a zipper. It's easy to install, adds a nice comfort level, and provides added support."

Buy: SagsAway Foam Cushion Insert, Starting at $29.99 from Amazon
If your budget doesn't allow for upholstery tweaks, then consider layering something cushy over the spots you sit on the most to soften up the seat. "Throw a faux sheepskin rug on it for extra warmth and cushioning," suggests designer Monika Ross. If sheepskin is too pricey, try something sherpa or a thick blanket that can be folded and tucked into the seat of the couch.

Buy: Ivory Faux Sheepskin Area Rug, Starting at $29.99 from World Market
Invest In Fluffy Throw Pillows
Not all pillows are created equally. If you have an uncomfortable sofa, invest in quality pillows to help balance out the situation. "Large, fluffy pillows with feather-down inserts are an easy way to make your sofa feel a bit softer," said designer Maggie Griffin. Pile them on, and don't be afraid of larger and longer lumbar styles for extra comfort.

Buy: Threshold Sherpa Lumbar Oversize Throw Pillow, $24.99 $19.99 from Target
Unfortunately, the best thing to do with an uncomfortable couch might be trying to sell it on the resale market—there's a sofa out there for everyone! Remember you're probably not going to get what you bought for yours though. But something is better than nothing, right? And next time you buy online, be sure to shop from a place that has a generous return policy—or an in real life store or showroom where you can sit on furniture before buying it.
Obviously, these fixes won't completely transform the situation, but if your budget won't allow for a new upgrade for months (or in my case, at least a year), then these tips will at least get you through the waiting period while you save up. Right now, I'm going the sheepskin rug route, and it's made a big difference.