8 Movies to Watch on Valentine's Day If You're Over the Romance
We
independently
select these products—if you buy from one of our links, we may earn a commission. All prices were accurate at the time of publishing.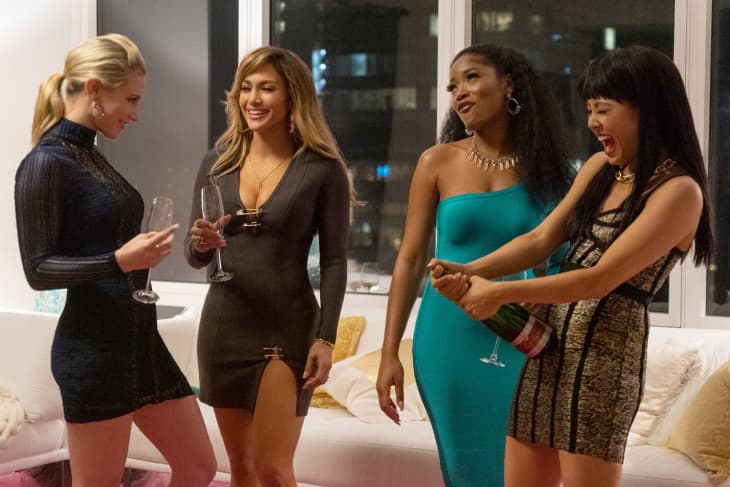 Movies focused on sappy love stories and sweeping romance are typically recommended for Valentine's Day. And if you're totally over those recs, you've come to the right place.

Maybe you're looking to spend time watching a movie that puts friendship first, or reminds you to love yourself or, even better, to love your Italian villa. Regardless of the reason, there are plenty of options out there that don't make finding your soul mate the main focus.

Here are eight movies that will skip the lovey-dovey nonsense and get right to the laughs, great friendships, non-stop action, and/or Jamie Dornan doing jump splits on a beach. 
Who needs a significant other when you have your best girlfriends with you? This 2017 comedy with a powerhouse main cast — Queen Latifah, Jada Pinkett Smith, Tiffany Haddish, and Regina Hall — is about a group of college friends reconnecting over a wild trip to New Orleans. It's funny and heartwarming and outrageous all at once, and it's a great way to spend an evening with your best gals.
Beanie Feldstein and Kaitlyn Dever star in this high school buddy comedy about best friends Molly (Feldstein) and Amy (Dever), who feel like they haven't had enough fun in high school. So, ahead of their graduation, they vow to have a night of some real high school partying. Their dreams come true — and then some. When it comes to all of the shenanigans Molly and Amy get into (prepare yourself for any time Billie Lourd shows up), it's their friendship that gets them through it. The chemistry between Feldstein and Dever is the star of the show, and you might find yourself ending the night by purchasing some matching jumpsuits for you and your best bud.
Is it thought of being transported back to when you were thirteen terrifying? Yes, definitely, horrific. Thankfully, actress Elsie Fisher does it so everyone else doesn't have to. In Bo Burnham's "Eight Grade," Fisher gives an unbelievably winning performance as Kayla, an eighth grader riddled with anxiety who is just trying to figure out who she is. It will bring you back to that uncertain, insecurity-ridden time in your life in all the best and worst ways.

Available to watch on Hulu
Yes, there is some Italian romance in this 2003 movie starring Diane Lane, but it's mostly about a woman picking herself up after getting knocked down. Frances, played by Lane, is a newly (and very acrimoniously) divorced writer who ends up falling in love with a new life she builds for herself, which starts with purchasing a rundown villa in Tuscany. It's the perfect little escape of a movie and features a fun supporting cast, including Sandra Oh as Frances's best friend Patti.
Barb and Star Go to Vista Del Mar 
It's weird and insane and hilarious and Jamie Dornan sings a song to seagulls in which he's twirling on the beach. If you're into the sound of all that, you'll get such a treat: Starring Kristen Wiig and Annie Mumulo, who also co-wrote the screenplay, this film is about two best friends from Nebraska who decide to pack up their culottes and leave their hometown for the first time on a vacation to Florida. They have an adventure so wild and so silly that it doesn't do the movie justice to attempt to describe it in a short blurb. Just do yourself a favor and put on "Barb and Star Go to Vista Del Mar" right now. You won't regret it.
It's about women coming together and getting paid. "Hustlers" stars Constance Wu as Destiny, a single mom and stripper who ends up under the tutelage of Romona Vega (Jennifer Lopez), a veteran of the trade, and the two form a close friendship between themselves and other strippers as they build a lucrative business hustling their male clients out of money. Eventually, everything blows up, but getting there is a fun and surprisingly emotional ride. Jennifer Lopez's performance is worth the watch alone.
Put on your best white suit and do some vocal exercises so that you're prepared to belt out "You Don't Own Me" along with Diane Keaton, Bette Midler, and Goldie Hawn in triumphant fashion at the end of this 1996 comedy. Keaton, Midler, and Hawn star as best friends from college who lost touch and are thrown back together when the fourth in their group, played by Stockhard Channing, dies. The women realize they've all been mistreated by their ex-husbands who left them for younger women and decide to band together to get revenge. 
If you're in the mood for a great action movie with a side of friendship, watch "Set It Off." This 1996 heist drama is about four women — played by Jada Pinkett Smith, Queen Latifah, Vivica A. Fox, and Kimberly Elise — all in need of money, who decide to rob a bank or two. It's fast-paced and action-packed with a lot of emotion, thanks to the performances and chemistry between the main cast.