One 5-Minute Thing You Can Do This Weekend to Make Wrapping Gifts Easier Later
We
independently
select these products—if you buy from one of our links, we may earn a commission. All prices were accurate at the time of publishing.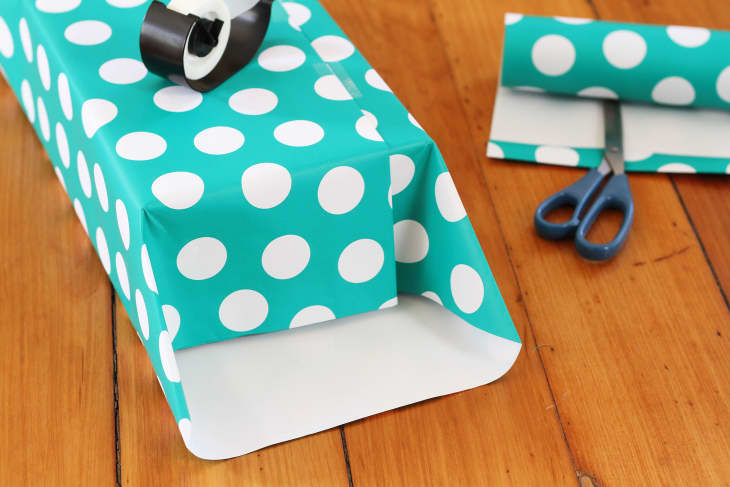 Apartment Therapy Weekend Projects is a guided program designed to help you get the happy, healthy home you've always wanted, one weekend at a time. Sign up now for email updates so you never miss a lesson.
I love having a stack of presents to wrap, whether it's for birthdays or holiday gifts. My husband and I make a night of it, with a super simple charcuterie board and "The Office" after the kids have gone to bed. There's something very tender about concealing lovingly selected gifts and piling them up for eager faces.
You know what really extinguishes the warmth, though? The frustration of running out of paper or hitting the end of your last roll of tape and having to trek out to Walmart at midnight.
This weekend, we're going to make sure wrapping night isn't so jarringly interrupted.
This Weekend: Assess your wrapping supplies.
Assessing your wrapping supplies early in the month gives you enough time to buy what you need without having to scurry to the store at the last minute or scruff around to wrap a hostess gift right before the party.
In addition, by taking inventory of what you have and don't have, you won't be tempted to grab that super cute but totally unnecessary pink paper scattered with closed-eyed, smug-looking zebras. (Okay, that one might be necessary no matter how much paper you have at home.)
As you're going through your wrapping supplies, go through a mental checklist of everything you'd need to wrap your presents, including:
If you're feeling motivated after your inventory, take the opportunity to organize your gift-wrapping supplies so they're not only stored nicely, but are efficiently set up for when you go to wrap your gifts.
This one's going to be the best gift-wrapping year ever.
You can catch up with weekend projects right here. Share your progress with us and others by posting updates and photos on Instagram and Twitter with the hashtag #atweekendproject.
Remember: This is about improvement, not perfection. Each week you can either choose to work on the assignment we've sent you, or tackle another project you've been meaning to get to. It's also completely okay to skip a weekend if you're busy or not feeling the assignment.