What Is Corporate Housing, Exactly?
We
independently
select these products—if you buy from one of our links, we may earn a commission. All prices were accurate at the time of publishing.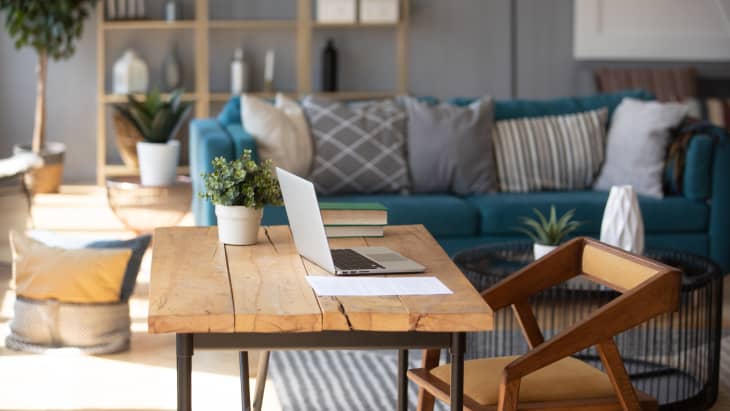 If your company asks you to temporarily relocate to a new branch in another state or collaborate with international coworkers on a long-term project, they may offer to help find you a place to live in that location. 
Though they may simply book you a hotel room, your employer may also set you up with an accommodation known as corporate housing, which is a furnished, short-term rental that's designed to feel more like a home away from home.
"In some instances, corporate housing is given when an employee is expected to consistently travel to a place for work, yet they are still maintaining a residence in their home jurisdiction," explains real estate agent Monisha Rana. "All in all, companies offering corporate housing are more likely to get their employees to relocate, either temporarily or permanently, as it causes the least disruption to their personal lives." 
What is corporate housing?
Corporate housing is a private, temporary living setup in an apartment, home, or even an extended-stay hotel. It typically offers more space than a standard hotel room and may include additional living areas, such as a kitchen and dining area. 
Corporate housing units are almost always furnished and equipped with all the utensils, linens, gadgets, and other fixtures you need to live comfortably for several weeks or months at a time. 
Who uses corporate housing?
Companies often lean on corporate housing when sending their employees to a new location for a long-term work project or a permanent relocation. But individuals can also book corporate housing themselves, such as when they're moving to a new city and want to get to know different neighborhoods first before buying a house or signing a longer-term lease.
"Corporate housing is primarily for employees of firms that need to work in a different location for a short amount of time or as an intermediary step to relocation," says Marie Bromberg, a real estate agent in New York City. "It's a cost-effective way for a company to provide temporary housing."
How much does corporate housing cost?
The cost of corporate housing depends on the location: Units in high-demand areas tend to be more expensive, whereas those in more rural or low-traffic areas may be more affordable. Overall, corporate housing options tend to be more affordable than hotels.
In addition, if your company is sending you to a different location for a work project, they'll typically pay for your accommodations while you're there. If you're self-employed or staying in corporate housing for personal reasons, however, you'll probably be footing the bill yourself. 
Either way, it pays to check around and compare prices to know which accommodation makes the most sense from a budget perspective. 
What are the benefits of corporate housing?
Compared to a hotel, corporate housing can be more comfortable—there's generally more room to spread out, a kitchen to prepare meals in, and a separate living area to watch TV. You can also add personal touches to the space if you want, since you may be staying for a long time.
"Corporate housing allows employees to create a home environment away from their actual home while on assignment in a different city," says real estate broker Mihal Gartenberg. "Rather than checking in and out of a hotel, employees can actually move in and add little flourishes to the apartment that can make it homier and less sterile than a hotel." 
For companies, corporate housing can be a positive perk to offer employees who may not otherwise choose to work so far from home. In the broader sense, it can also help businesses achieve their goals.
"Employers can allow for cross-collaboration across different sections and even countries of their company," says Bromberg. "It allows intellectual exchange of ideas that often act as a draw for people considering the company as an employer." 
What are the drawbacks of corporate housing?
While there are lots of different hotels to choose from, you may be more limited when it comes to the selection of available corporate housing options. In addition, corporate housing may not be located in your preferred area and you may have to commute to work each day.
"Depending on the circumstance, it might not be in the center of the city," says Bromberg. "For example, in New York City, we often see corporate housing in Jersey City."
Another unavoidable downside is that, no matter how cozy you make your corporate housing feel, you're still not in your own home. And if you opt to bounce back and forth between your house and your corporate housing accommodation, you may eventually experience some amount of "travel fatigue," says Gartenberg. 
"Such setups usually include weekend travel home and people ultimately want to stay home," says Gartenberg. "The back and forth can be wearisome once the novelty of a new city wears off."