Why You Should Always Say Yes to a Guest Who Asks "Can I Help Clean?"
We independently select these products—if you buy from one of our links, we may earn a commission. All prices were accurate at the time of publishing.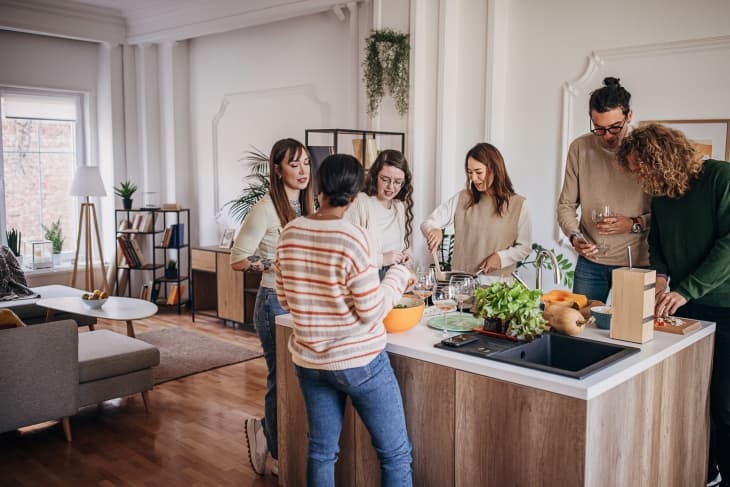 I don't always feel like I have much energy to host guests. I'm an introvert who dreams of quiet time alone, and with five kids, it doesn't come around very often! But I'm also human and I need companionship and connection. Large families like ours (we're a family of seven!) don't often get too many invitations, so I've realized that one of the best ways to grow relationships is to have people over to our house, which means having to host. 
For this to be manageable and pleasant for all involved, I need to keep my expectations reasonable, do as much as possible before guests arrive, and let go of the need for everything to go according to plan. I'll make something tried and true, like a giant pot of minestrone soup, some pesto pasta, or stacks of waffles, and I do my best to clean up as much as I can before people arrive. Then I deliberately get into a go-with-the-flow mindset. 
Follow Topics for more like this
Follow for more stories like this
One thing I try to practice is always letting guests help when they ask. I have to pause my knee-jerk reaction, which is to decline and tell them to please just relax and enjoy. I make a concerted effort to say yes because there are so many reasons to allow people to help when they're over at my place. 
The most obvious reason is that it helps! If the table still needs to be set or the pitchers need to be filled, allowing guests to help eliminates some of the stress of getting everything ready. It means you can do the things they may not be able to do as easily in your kitchen, such as making the salad dressing or putting the finishing touches on the dish you prepared. 
The effect of allowing them to help has less obvious effects, as well. Allowing someone to help can put them at ease in your home. Keeping hands busy in someone else's presence is a wonderful, comfortable way to be together, even without conversation. Especially when you're still getting to know each other, a shared activity — working together to get something done (even something as simple as getting dinner on the table!) — can be a gentle but productive way to help the conversation flow and simultaneously nurture a bond.
Some tasks that are particularly well-suited to allowing guests to help are: 
Chopping herbs or vegetables 
Filling water pitchers
Setting the table
Gathering extra chairs
Clearing dishes
Wiping the table
Loading the dishwasher
Transferring leftovers to containers
On the deepest level, letting your guests help you when you're hosting is a way to let them into your life. Rather than formally holding to the "I'm the host, you're the guest" roles, allowing them to wash and chop the parsley for the garnish or to bring extra chairs from the garage to your outdoor pizza dinner subtly communicates that they're a part of the event, insiders. And isn't that what you hope to achieve? Who knew that letting someone wash dishes could be so powerful. 
Spring Cleaning Cure 2023
Get your home tidy and clean with 10 simple tasks — it all begins April 12.