I Tried This Sleek, Compartmentalized Makeup Organizer and I'm Never Going Back to a Jumbled, Too-Small Bag Again
We independently select these products—if you buy from one of our links, we may earn a commission. All prices were accurate at the time of publishing.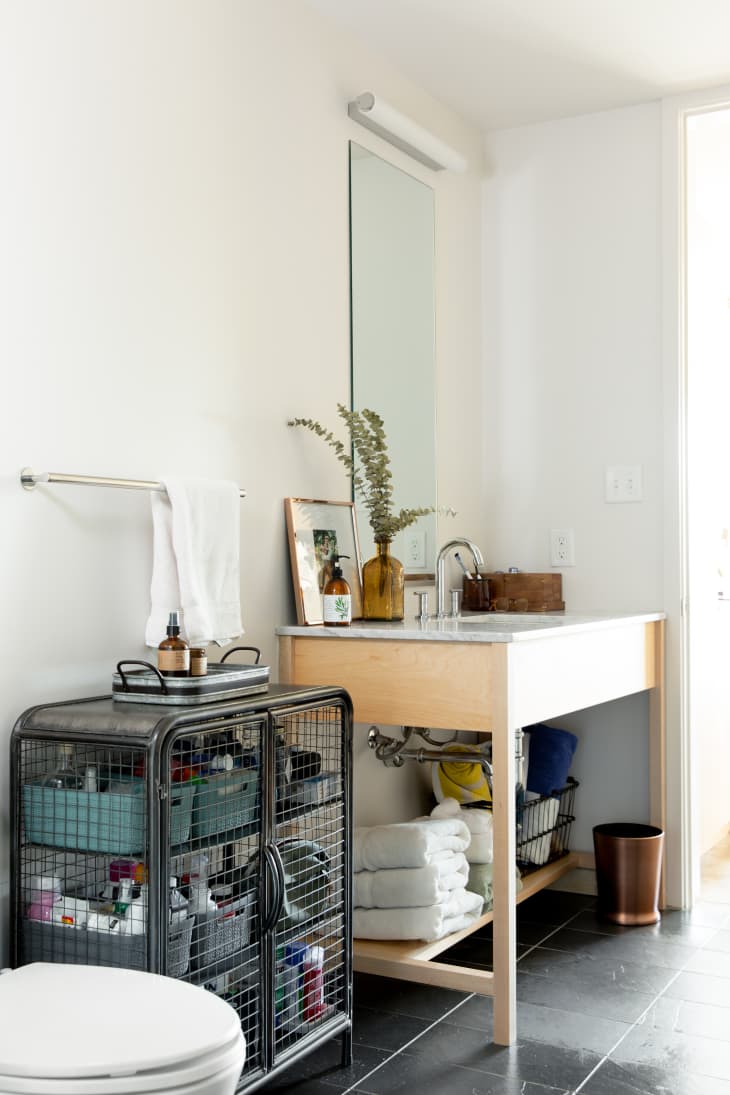 Before I settled into Apartment Therapy as the senior commerce editor, I tested beauty products for a living. As a result, I own probably more than 100 skincare and makeup products. The problem is that I live in a small space — specifically a one-bedroom apartment in New York City — and I share these two rooms with my boyfriend. For the past few months, my wide assortment of makeup products has lived in four different toiletry bags. I've misplaced eye shadow palettes and lip balms, while also growing irritated at forgetting which product is in which bag. When I got the opportunity to test Yamazaki's Makeup Organizer, I immediately raised my hand.
Follow Topics for more like this
Follow for more stories like this
Yamazaki has long been an AT-favorite, and I have never tried one of their products. Yamazaki is known for making durable, smart, minimalistic storage solutions. As a person who aspires to have a clutter-free household, I knew that this singular organizer a few of those makeup totes.
This organizer is made out of metal, which I love, because that means it's easy to clean or wipe off if foundation spills within it. I opted for the white metal, but there is also a black version. It's 5.91″ in length, 12.2″ wide, and 6.1″ tall. It's slim enough to fit right next to my vanity mirror. There's even an adjustable handle for easy carrying.
The main reason I was so excited to put this organizer to the test is its compartments. There's a removable (and slidable) compartment box that features two thin rows and one large compartment. I stuffed the two rows full with tubes of mascara, eyeliner, eyebrow pencils, concealer and even a few lipsticks. It fit way more than I expecting. The bigger compartment I filled with an eyeshadow palette, a beauty blender, and a perfume.
The bottom of the organizer is where I put all of my eyeshadow palettes (four huge ones), a highlighter palette, foundation, setting spray, and an entire set of back-up brushes. It's a deep organizer, so it's perfect for a beauty obsessive who has a lot of palettes that they frequently rotate.
And wait — there's more. There's a small compartment that attaches to the side. As you can see from the photo, I put more lipsticks, lip liners, and lip glosses in there, along with some Tweezers. (And that isn't even the full extend on my lipstick collection, unfortunately. I am banned from buying more.)
The brown wooden lid of the organizer has a groove, which allows you to place it on its side, so the mirror is visible. I loved this feature because I haven't been happy with my vanity mirror lately. For a sleeker look, I can take it off and just use it as a lid to hide some of my makeup for when guests are over.
Overall, I am never going back to using makeup bags. I never have to rummage around for anything. I know exactly what products I have available to me, so I don't overbuy, and it helps create a station in my home where I can do my makeup routine. I'm going to have this organizer for years to come and I think it's absolutely worth the price tag.