7 Questions You Didn't Think to Ask Neighbors About Your Yard Before Buying
We
independently
select these products—if you buy from one of our links, we may earn a commission. All prices were accurate at the time of publishing.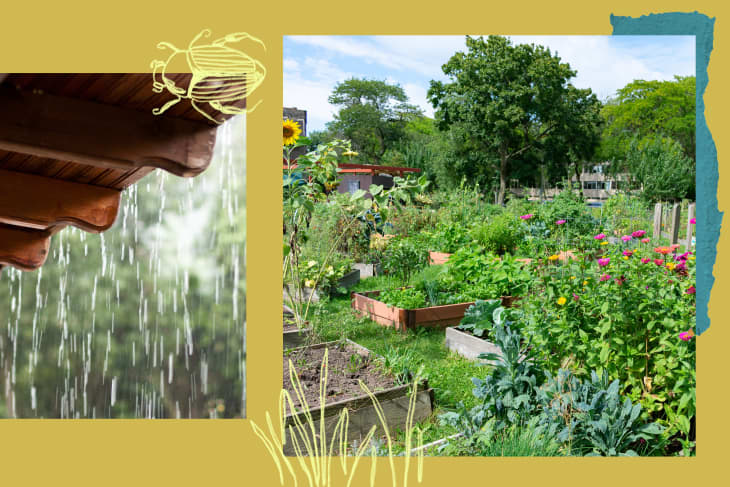 You've clicked through the listing images a thousand times, creepily driven past the house over your lunch break more than you'd care to admit, and even did some serious internet sleuthing by looking up the address in the county assessor's office property records database. 

But there's one resource you probably overlooked while gathering as much information as possible about a house you'd like to buy: the neighbors.

Sure, your neighbors might not know every nook and cranny of the house. But especially when it comes to the exterior, they've probably noticed a thing or two over the years. If you're about to buy a house (or you just bought one), don't be afraid to strike up a friendly conversation with the neighbors and ask them these questions about the yard.
How responsive is the HOA?
If you're buying a home in a neighborhood with a homeowner's association, you'll definitely want to get some intel on this group, which can be both a blessing and a curse. Setting aside any personal grievances about the people who sit on the HOA board, a neighbor should be able to tell you how responsive they are. This is especially useful information if the HOA takes care of maintenance like lawn mowing and snow removal, says Scott Bergmann, a real estate agent in Omaha, Nebraska.
Does the neighborhood have any pest or rodent issues?
Your neighbor can tell you if mice tend to infiltrate neighborhood homes at a certain time of year, or whether racoons have been known to make a mess when people put out their bins on garbage day. Are squirrels and rabbits going to drive your dog crazy? Are Japanese beetles going to eat up your plants? Are there lots of garter snakes?

"No one likes planting new hostas just to have a herd of bunnies," says Bergmann. 

If you're an avid gardener, they may also be able tell you about any known diseases or fungi, such as rose rosette disease, which can spread voraciously through an entire neighborhood's rose bushes by way of mites, says Cate Singleton, director of design at Tilly, an online landscape design company. "Do neighboring properties have roses that are suffering from this?" she recommends asking.
How did you get your lawn to look so good? 
It's true: Flattery can go a long way toward ingratiating yourself with the neighbors. But in all seriousness, if your new neighbor's yard is the envy of the whole block, don't be afraid to ask for her secrets. More than likely, she's super proud of her landscaping and will be happy to regale you with all the details. 

"Especially as a new homeowner, it could really help long-term because good lawn care and maintenance isn't easy and the compliment can also leave a great first impression with new neighbors," says Bergmann.
Along these same lines, if you're searching for a good landscaper, general contractor, electrician, or related professional, ask your neighbors for their recommendations, says Monica Breese, a real estate agent, interior designer, and home stager.
"Neighbors are assets," she says. "Remember, they have been there before you arrived and may have some insight on not only your home but also the neighborhood. It's also great to connect and see who is the neighbor. You never know, right?"
What happens when it rains? 
Water is one of your home's biggest enemies, so it pays to know what you're getting into ahead of time. Ask about any drainage or pooling issues your neighbors have noticed on your property during rainstorms, says Singleton. 

More broadly, also ask if there are any neighborhood drainage issues when it rains, like debris clogging up storm drains or areas that are prone to flash flooding. And although it's not necessarily related to weather, how is the plumbing?

"I would definitely encourage them to ask about the main sewer lines and if they have any plumbing issues or main lines backing up," Bergmann says.
Are there any neighborhood parks or gardening spaces?
If you're buying in an urban area or if you're opting to spring for a condo, your "yard" is still important — it just may be located somewhere else. Ask the neighbors about any nearby parks or gardening spaces, as well as any intel they can provide, Singleton says. Is the park safe? How hard is it to get a plot in the community garden, and how early do you need to sign up?
What grasses perform best in the neighborhood?
If you're hoping to spruce up the yard a bit, it's a good idea to know which specific types of grass thrive in the neighborhood (and which ones to avoid). Your neighbor may have already gone through lots of trial and error in his yard, and can save you the time and energy.

"Is there one that can be versatile with both sun and shade?" asks Singleton.
What's the deal with that tree?
Your new patio might be blessedly shaded by a tall, leafy tree, but if that tree is actually growing in your neighbor's yard, you don't necessarily have much control over it. Ask your neighbors what their plans are for maintaining the tree, as well as what they'd do if the tree got damaged by a storm, Singleton says.