Check Out These 4 Tips Before You Rent a Storage Unit
We
independently
select these products—if you buy from one of our links, we may earn a commission. All prices were accurate at the time of publishing.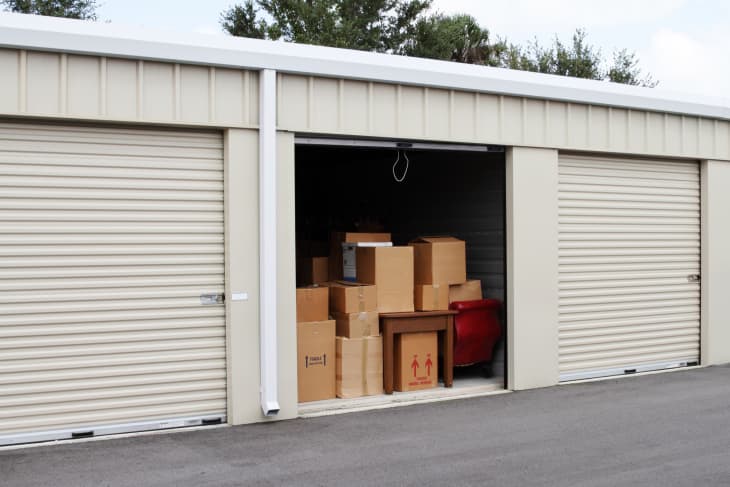 Whether you're in the process of moving between apartments or realizing you're in need of extra space (those holiday decorations won't store themselves), renting a storage unit is a common option for helping clear clutter. They ease the pressures of packing for a move and reduce stress when it comes to keeping your belongings under control. 
Rob Truglia, the senior brand marketing manager at the storage company MakeSpace offered several tips to help you get the most of your storage unit rental, starting with fees. "When researching storage units, consider the hidden costs, not just the monthly rate," he says. "Many people are after the cheapest solution to store their things, but sometimes the cost to transport your items can add significant costs for city dwellers. On top of that, storage facilities will often raise your rate over time so check to see that you have a locked in rate."
Find out what's included in your rate
If the cost of rental units make you nervous, be sure to do a bit of digging to see what that price actually includes. Oftentimes, you're getting more than just an empty metal box for your stuff—free boxes, transportation, and other packing supplies may be part of your package depending on the company you select. MakeSpace, for example, will haul, store, and re-deliver your items as well as provide free bins, packing blankets, and disassembly. The overall value of a company's services could prove more beneficial than spending time pinpointing the lowest rate.
Keep track of what you're actually storing
Something that people tend to forget is what they've actually put in their storage unit. "Inventory management is often hugely overlooked! Out of sight, out of mind can lead to you forgetting what you put into storage in the first place," Truglia says. "Make sure to label all your items and  organize your items by room or season. Photographing the contents of your boxes is a must. At MakeSpace, we photograph every item and upload into a digital inventory, so you'll never forget what you have in storage ever again."
View your storage unit as a second home
Many people forget that storage units aren't just for moving. Seasonal storage can be immensely helpful in terms of cleaning up and organizing your home. "If you treat your storage unit as a second-home for your off-season items, you can dramatically decrease clutter and increase accessibility to items in your home," Truglia says. "Forget minimalism, we are in our home more than ever and need more things at our fingertips. At MakeSpace we believe in Optimalism—the ability to find the perfect balance between your space and your stuff." 
Don't store important items you might need access to
"You shouldn't store your frequently needed items or important documents that can be lost (your birth certificate)," Truglia says. He also warns about storing liquids, as they can damage other items. Many storage rental companies won't allow for these kinds of things to be stored to begin with.