This Sleek Trash Can-Toilet Brush Combo Is a Huge Space Saver in My Tiny NYC Bathroom
We independently select these products—if you buy from one of our links, we may earn a commission. All prices were accurate at the time of publishing.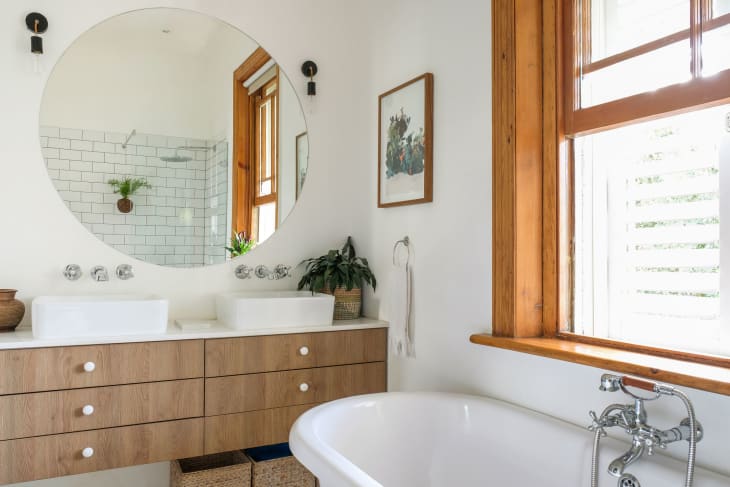 When my boyfriend was researching a new trash can for the bathroom a couple of months ago, he turned to (where else?) Apartment Therapy and ordered one of our carefully curated recommendations, the Cq acrylic 6L Slim Plastic Trash Can with Toilet Brush. He'd read an article that had sold him on how helpful it could be in his teensy NYC apartment bathroom… without realizing that I was the one who wrote it! When I walked into the bathroom the first time after he'd unpacked it, I immediately recognized it from all the research I'd done, and I was instantly impressed. In person, the pail was a minimalist's dream: a slim, simple trash can that can slide into narrow crevices. But this bathroom game changer is jam-packed with even more functionality than meets the eye, which is why we at AT fell in love with it in the first place.
Follow Topics for more like this
Follow for more stories like this
Seeing the Cq acrylic 6L Slim Plastic Trash Can in action, it's just as spiffy looking as I'd suspected. At 5.5″ wide, it fits easily into the tight spot between the toilet and the sink, an area that would normally be lost, useless space. It stands 16.2″ high and 9.5″ deep, and while slim trash cans such as these usually forego lids — normally a major turnoff for me when it comes to purchasing small garbage cans — this one features a tight-fitting lid that opens and shuts with the light push of a finger. Push down once until it clicks, and the lid pops open. When you're done, secure it back into place with another click. With the Cq acrylic, I no longer have to stress about guests looking down at dirty tissues or the gross knot of hair that I pulled from the shower drain. Everything stays behind closed doors lid where it should be.
Our garbage pail is gray, which perfectly complements the recently redone (gotta love a good flood… ) bathroom, but it comes in white and green as well. Each color is available in 4L, 6L, and 8L sizes. It also has a trash bag holder in the back that's super convenient, and hidden handles ensure that we never have to actually touch the trash ourselves; we just pop the inner compartment out of the base, pour the trash down our building's chute, and snap it back into place.
Slim, sleek, simple, and chic… sounds like the ultimate small-bathroom must-have, right? Well, surprise, there's more. That little handle on the front of the trash can opens to reveal a (drumroll, please… ) toilet brush! That's right, when I said that this bathroom wonder keeps everything hidden where it belongs, I meant it. With the Cq acrylic, you can say goodbye to that icky toilet brush that you (think you) are hiding behind the toilet. It's all here in one little compact, discreet package that looks modern and stylish. Just pop the toilet brush out, clean to your heart's content, rinse it off, and store it back in its designated spot. By incorporating two bathroom essentials into one, this garbage game changer saves money and space. If only all buying decisions were this easy…