8 Apartment Therapy Staffers Reveal the Best Gifts They've Ever Received
We independently select these products—if you buy from one of our links, we may earn a commission. All prices were accurate at the time of publishing.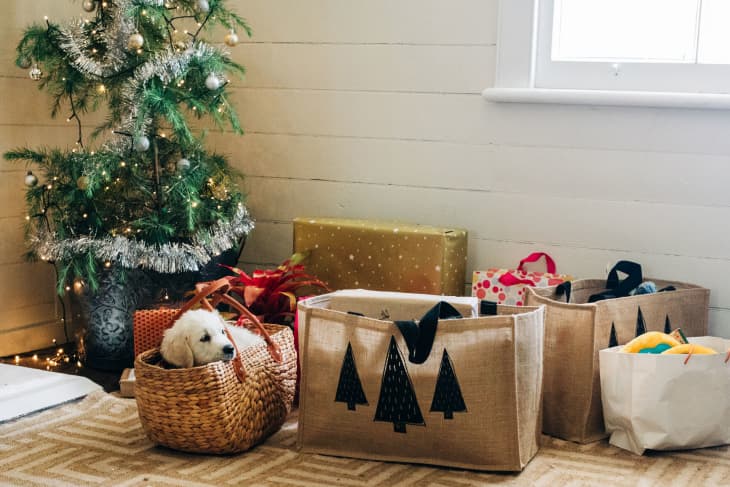 It's the holiday season, which means it's time to do some gift shopping! We're sharing our favorite picks for anyone on your list—check out all of our gift guides here!

'Tis the season to do some gift shopping. But with so many options out there—not to mention all of the different personality types you probably have to buy for—it can be tricky to find that perfect present. As someone who's spent a majority of her career curating gift guides, I've come to believe it all boils down to usability. If your gift is an essential part of someone's daily (even weekly) routine, you've easily won the title of the best gift giver. And no, it doesn't have to eat up your most recent paycheck—it can cost under $20 and still be remembered as a winning present.
To give you some inspiration, Apartment Therapy staffers shared their favorite holiday presents they've ever received. From a pan that transformed a team member's meal time to a surprising item that transformed an editor's relationship with her bathroom forever, the gifts range from practical to simply joyful. See their picks below.
Follow Topics for more like this
Follow for more stories like this
Squatty Potty The Original Bathroom Toilet Stool
"Every time I go to the bathroom, I think of my sister. That's not as weird as it sounds though, I promise. Last year, she got me a Squatty Potty for Hanukkah, and it's made all of my bathroom trips so much more… productive. It's hard to describe why it's so good without making you wonder who gave me a keyboard and permission to write things on the internet, but I'll say this: It's designed to ensure that you're positioned at an optimal angle for pooping, and it reduces strain on your body in the process. I am very serious about bathroom issues (seriously, check out my byline), and the Squatty Potty is proof that it's OK to care about your bowel movements! They can be easy and smooth and all it takes is a glorified white plastic stool (pun intended) to make that happen. So yes, I am very happy my sister got me one last year, and it is by far the most useful and practical gift I've ever gotten."—Terri Pous, Managing Editor

Buy: Squatty Potty The Original Bathroom Toilet Stool, $24.99
Le Creuset Enameled Cast-Iron 10-2/3-Inch Crepe Pan
Le Papier d'Armenie Scented Incense Strips-Set of 3 Booklets
"I got this as a gift from a girlfriend. I had never seen these before she gave it to me so it was fun and novel. Also, it felt like such a simple yet elegant gift to get and has a great subtle scent as well. I use it to give my home a great scent, right after a good home clean or right before guests arrive. It's great to give people a small gift that doesn't take up much space and isn't expensive but feels special."—Meg Smith, Senior Producer

Buy: Le Papier d'Armenie-Set of 3 Booklets, $12.88
Fujifilm Mini 9 Instant Camera with Clear Accents
"My favorite Christmas gift I've ever received was an Instax Mini Polaroid camera and film. My boyfriend gifted it to me two years ago and I still use it. My favorite thing to do is to take it with me on vacation and snap a few Polaroids of a pretty scene. I tape them up on my computer at work, and they always make me smile! It's cute, tiny, and the perfect camera to bring to a party so you can snap a few photos when you're having the best day."—Anita Chomenko, Associate Video Producer

Buy: Fujifilm Mini 9 Instant Camera with Clear Accents, $69.95 $58.47
Nintendo Switch with Neon Blue and Neon Red Joy‑Con
"My most memorable gift is from my boyfriend. We LOVE to entertain and have friends and family over, and we play a lot of games. He decided to gift me a Nintendo Switch, which I had wanted for a while. It is fantastic, since we always play group games like Mario Party with friends, which is a ton of fun. Turns out he ends up using this gift much more than I do, so I decided to gift Sonos surround sound for 'HIM' the following year!"—Laina Zissu, Programmatic Sales and Strategy Manager

Buy: Nintendo Switch with Neon Blue and Neon Red Joy‑Con, $298.99
Custom Pet Portrait Printed on to 12″ x 12″ Box Canvas.
VANKYO Mini Projector
"My favorite Christmas gift was one I got in high school. I was a big TV and movie fan and for a while had dreamed of having a space in the house that was like a movie theater. One Christmas morning, my parents surprised my sister and me with a massive projector in our completely overhauled and re-designed (#apttherapy) basement playing "Troy". I ended up crying because it was so incredibly thoughtful of my parents, I didn't think I deserved it, and it was one of those moments where you truly feel grateful for the love people can show you. Our family gathered around it playing video games and watching movies for a WHILE to come."—Camey Hess, Account Executive, Brand Partnerships

Buy: VANKYO Mini Projector, $109.99 $79.99
Cotter Tweed Coat
"My favorite holiday gift was this really classic peacoat that my mom bought for me. I lost it a winter or two later, which was really disappointing, but now I have my eye on this fun coat from Anthropologie. The cold snap just finally hit, so I cannot wait to go shopping."—Quin Johnson, Office Manager

Buy: Cotter Tweed Coat, $248