The At-Home Self-Care Habit That Saves Me $100 Every Month
We independently select these products—if you buy from one of our links, we may earn a commission. All prices were accurate at the time of publishing.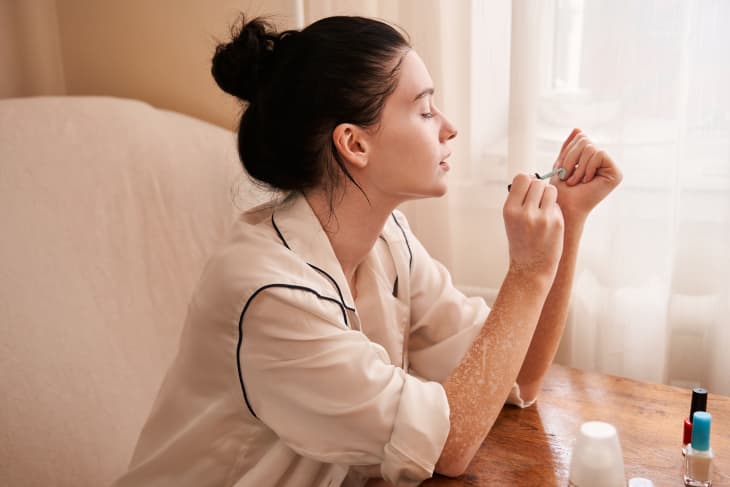 In my young adult life, getting my nails done at the salon was always a treat. A mani/pedi was reserved for special occasions — weddings, vacation, or any sort of formal event that was deemed worthy enough for a trip to the salon. I was only there a few times a year, until I had a thought that made my stomach do a little flip of excitement. What if I make this a biweekly thing? As I glanced around at the other women in the salon getting their nails done, I imagined they all had consistent nail grooming schedules, and that they all really had their life together. The confidence boost I got when I had freshly manicured nails was second to none. If my nails were always done? I'd be unstoppable. 
Follow Topics for more like this
Follow for more stories like this
While my biweekly manicure appointments were fun while they lasted, I ended up stopping for a number of reasons. I was getting gel manicures and had a bad habit of picking it off once it started chipping, which is terrible for your nail beds. Plus, the cost was adding up. I was spending between $50 to $60 every time I went, which meant I was spending over $100 a month for manicured nails. Annually, that was about $1,320 — which was a bit too steep for me. I gave my nails a break, but missed the sleek look and the confidence boost my gel manis gave me. 
Salons weren't open, and while many people were hunting for at-home gym equipment and downloading fitness apps to stay active and keep up with their self-care habits in quarantine, I decided to learn how to paint my nails. The nail polish brand Olive and June came to the rescue, with what they called mani bootcamps, and I learned how to file and shape my nails, take care of my cuticles, and properly paint. Before these lessons, I didn't enjoy the process of painting my own nails because the polish was always a little lumpy, or I'd smudge my nails the second I was done. The truth was I just didn't know what I was doing. Quarantine was a great time to actually learn how to do a flawless at-home mani, and I was lucky enough to have the patience and the time to devote to learning.  
To my surprise, three years later, I am still painting my nails at home. I get the same confidence boost as I used to at a fraction of the cost, and at-home manis have become a beloved self-care ritual. It forces me to slow down, as the process is somewhat meditative, and I'm left with healthy nails and a cute new look. I usually set myself up on a Sunday afternoon in front of a sunny window with Netflix queued up with some reality TV. I eat a snack beforehand (trust me, you don't want to be hungry before you start the process — shaky hands!), throw on some comfy clothes, pick my color for the week, and get to work.
An at-home manicure is a leisurely process that starts with some cuticle remover to soften and dissolve the excess skin at the base of the nail. I prefer using wooden cuticle pushers to gently push the cuticles back before gently filing and buffing to make a smooth surface for the polish. I'm a neutral nail girlie, and usually go for light pinks like Olive and June's GH or OPI's Bubble Bath. I've learned that taking my time is key — painting very thin coats slowly and waiting five minutes in between helps avoid any globs. Once I'm done painting, a clean-up brush is a game-changer for tidying up any mistakes before adding a top coat, which keeps my nails looking shiny and fresh. After everything is totally dry, I'll add cuticle oil as the finishing touch. 
Even though I'm not doing gel manicures at home, my manis usually last between seven and 10 days, just a little less than the two weeks my salon manis would last. Investing in all the right tools was, of course, an expense upfront, but an Olive and June manicure kit starts at $55 — about the same price as one salon gel manicure. All of my tools and polishes are still going strong a few years later, and while I've had to replenish things like polish remover and top coat, I've saved hundreds of dollars doing my nails at home. And while I do still occasionally head to the salon, it's a treat that happens maybe once or twice a year. I'd rather save my pennies, turn on an episode of "Next In Fashion", and sip on an iced coffee in my PJs while I paint my nails myself. 
March is Smart Spending Month on Apartment Therapy! We're here to help you put your hard-earned dollars and cents to use — the right way. Head over here to learn how to do no-spend challenges, buy a home for below its listing price, and so much more.