The "Sofa Sprawl" Alternative to Bed Rotting That I Love
We
independently
select these products—if you buy from one of our links, we may earn a commission. All prices were accurate at the time of publishing.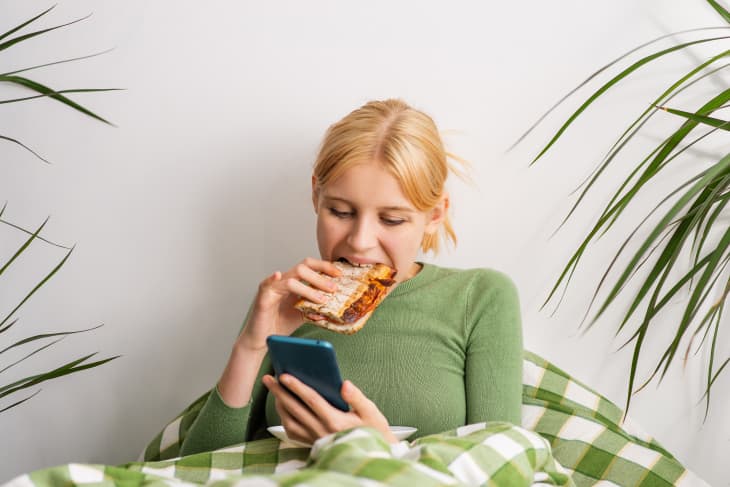 As a millennial in my mid-30s, I try my best to keep up with trends — hopefully in the least cringey way possible. And as I've scrolled TikTok in recent months, one self-care trend that has caught my eye is "bed rotting." For those who have maybe never heard the phrase before, bed rotting is a term that Gen Z has coined and practicing it means staying in bed all day, doing low-effort activities like scrolling on your phone and binging TV — all in the name of self-care. 
I'm someone who takes self-care pretty seriously, and when I first learned about the term, I was all for it. I love taking days where I sit around and do nothing on purpose. So this trend is nothing new, right? But upon some deeper thinking, and even trying to bed rot myself, I realized that in my own self-care practice of doing nothing, there always comes a time when I want to get out of bed. On a "do nothing" day, I will sleep in and lounge around in my pajamas in the morning, but I eventually start to feel a bit rumpled and want to at least wash my face and change — even if it means putting on another clean pair of pajamas (or, more often than not, a cute lounge set). I'll then make my way to the couch in my living room. So instead of bed rotting, it turns out that I prefer, shall we say, "sofa sprawling" instead. 
Mary Cahilly, a mental health and wellness therapist at Canyon Ranch in Lenox, Massachusetts, understands why "bed rotting" has grown in popularity. "My understanding is that it's a form of escaping from the high demands of our perfectionistic, productivity-obsessed culture," she says. "It makes sense that one could get to the place where one experiences a kind of inner rebellion at the demands of overworking and a life that does not support rest and relaxation." 
Everyone needs rest, and while both lazy girl self-care methods have their benefits, Cahilly recommends that you take stock of how you're relaxing, whether it's in bed or on the couch. "If you choose to spend all day in bed, remember: It is a choice," Cahilly says. "Be mindful of how that time in bed is spent — if it's spent on a screen (phone, laptop, TV, etc.), you are numbing your nervous system instead of rejuvenating it." 
Lounging in bed a little longer on a weekend morning with a good book is a wonderful way to ease into your Saturday or Sunday, but never truly waking and scrolling on your phone all day is another story. Cahilly explains that if bed rotting is taken to an extreme, it can actually contribute to depression and increase anxiety, which is of course the opposite of a relaxing self-care ritual. "Depression needs activity to help it heal, like getting outside in nature.  Healing anxiety requires that we get out of our safe cocoons and engage with our lives — in a balanced and meaningful way — to help us feel safe and more confident," she says.
Cahilly's recommendations for a relaxing day of self-care includes things like meditating, reading, journaling, listening to music, and chatting with friends over the phone — all things that can be done in bed or on the couch. And screens aren't the bad guy — Cahilly just recommends avoiding being glued to your phone or TV for hours on end. She suggests watching shows that make you laugh or inspire you with screen breaks throughout the day.
If you have the urge to move from the bed to the sofa, Cahilly says that may be a good idea — especially if you want optimal sleep. "We are easily conditioned beings. Keeping the bed and the bedroom just for sleep and intimacy helps our body associate the bed and the bedroom with those activities," she says. "Especially if one uses screens while in bed, then the body associates wakefulness with the bed. The body then does not so easily relax when entering the bedroom, and sleep can become less restful and more fitful."

So even though extreme bed rotting may actually be doing more harm than good, bed rotting or sofa sprawling are both excellent lazy girl self-care practices to indulge in, as long as it's done in moderation — just like most things in life. Now excuse me as I don my fuzziest slippers and make myself a cup of warm cider. Cheers to a calm and relaxed nervous system!