I've Tested Over Half a Dozen Mattresses and This Is The One I've Chosen to Sleep on for the Last Two Years (It's on Sale Now!)
We independently select these products—if you buy from one of our links, we may earn a commission. All prices were accurate at the time of publishing.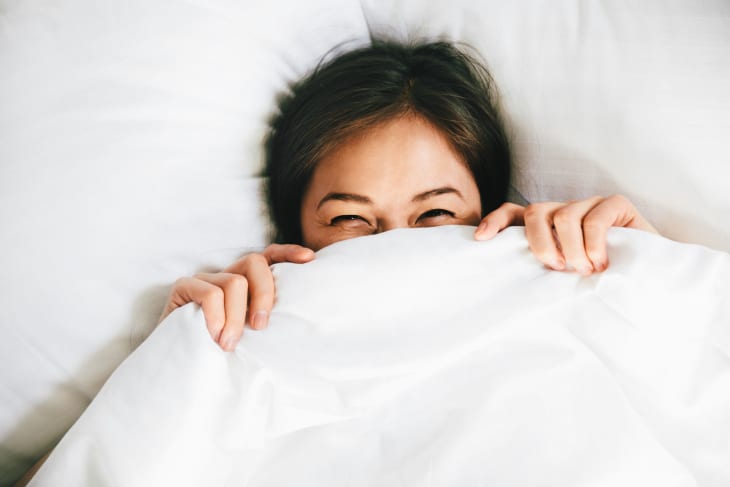 Here at Apartment Therapy, it's safe to say that I've tested more than a few mattresses. The timing couldn't have been better as I'd recently moved and retired my old bed, and as a result, had the space and willingness to start the search for better furniture to go along with my improved apartment. When it comes to mattresses, I don't think I'm all that hard to please. I can count on one hand the number of beds I'd never want to sleep on again. Fortunately, all the mattresses I've tried have been varied enough for me to enjoy them for what they are. Some were extremely versatile, others had cooling properties that were fantastic for a hot sleeper like me, and there were others with innovative features that made sleeping as cozy as it should be. The Avocado Green Mattress was the very first mattress I tested, and to say it made a lasting impression would be an understatement. 
Follow Topics for more like this
Follow for more stories like this
This luxurious mattress made our Best List two years in a row as the Best Organic pick, and considering I've tried over half a dozen mattresses and keep coming back to this one, I think it's well-deserved.
Aside from the six size options (from Twin to California King) for the Avocado Green Mattress, the only decision you have to make is whether or not you want a built-in pillow top. For me, this was a challenging decision because the mattresses I haven't liked in the past have been overly soft. I didn't know what firmness level to expect from Avocado's mattress so if adding the pillow top made it too uncomfortable, I was prepared to chalk it up as a loss. Ultimately, since I had nothing to lose, I opted to add the pillow top and hope for the best. The mattress is made up of 100-percent GOTS-certified layers of organic latex, organic wool, and organic cotton followed by  1,414 steel coils arranged in five ergonomic zones for optimal support that extends all the way out to the edges. Without the pillow top, the mattress measures 11 inches thick and has a medium-firm feel. With the pillow top, it measures 13 inches and has a gentle-firm feel.
For those like me who have trouble gauging the feel of a mattress based on how it's described on a website, let me be the one to tell you that the Avocado Green Mattress is indeed firm. Even with the pillow top, it's solid underneath without being too hard. Essentially, it's a well-cushioned mattress that doesn't try to swallow you up every time you sit down on it, which I LOVED. The edge support gets five stars from me as well as the back support, motion isolation, and overall comfort. I don't generally have back issues but I've been in beds that have caused back pain, and the Avocado Green Mattress is pure relief in comparison. I've had it for roughly two years now and I still feel refreshed every morning. I look forward to sleeping in my own bed whenever I'm away from it! Taking all that into account, I don't doubt that the mattress without the pillow top provides a comfortable firmness that actually matches how it's described on the website. I'm a stomach-favoring combination sleeper who is prone to sleep hot, and the Avocado mattress does a great job of transferring warmth away from my body. It's non-toxic, breathable, and moisture-wicking, and while it doesn't have dedicated cooling features, the materials that it's made out of don't trap heat.
If you're interested in trying out the Avocado Green Mattress for yourself, there are some things you should know. First, there's a one-year trial period during which you can get a proper feel for the mattress to see if you want to stick with it, and it has a 25-year limited warranty. Second, the Avocado Green Mattress comes rolled tight and it is heavy, so it's highly recommended that you have someone there to help you move it to your bedroom even if you think you can transport it yourself. Save your back the trouble. From there, you should be able to handle the rest on your own. The mattress has sewn-in upholstered handles on both sides for carrying or turning (you don't need to flip it), and it's a durable piece of furniture that's soft to the touch all around. The mattress is beautiful on its own, and for a while, I didn't think I needed anything else besides it and my favorite bed sheets. However, if you want to protect it and prolong its lifespan, the Avocado Mattress Pad is totally worth it.
The Avocado Green Mattress is a luxury mattress that feels like a gift to sleep on, and I can spend hours lounging on it without interruption. It was the bedding upgrade that came at just the right time and just so happened to be the perfect fit.