This Surprising Little Desk Accessory Makes My WFH Routine So Much Better
We independently select these products—if you buy from one of our links, we may earn a commission. All prices were accurate at the time of publishing.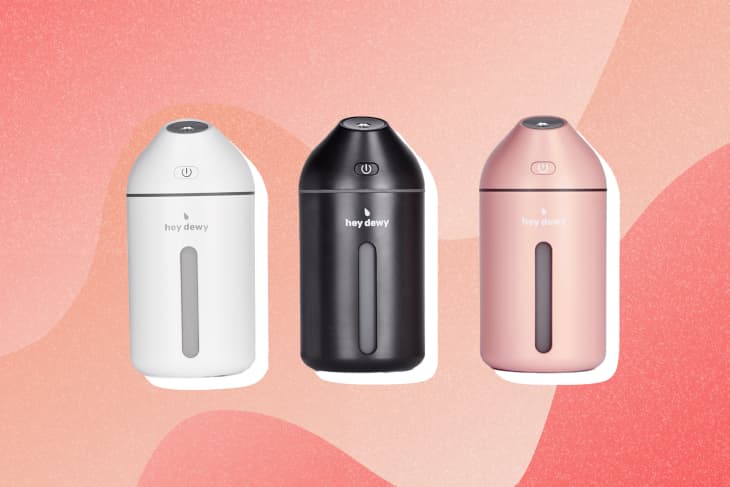 Three years ago I shifted from a shared office space to working from home full-time, and I discovered all the little luxuries that come with it. I could light a candle at my desk! I could blast Stevie Nicks out loud! And I've probably saved a small fortune since I make my own lunches instead of heading to Sweetgreen all the time.
Follow Topics for more like this
Follow for more stories like this
I was lucky in that I actually chose to make the switch to WFH life (these were the before times), and I've had multiple friends come to me for advice on their own WFH setup in the past year. While I do have lots of ideas on creating optimal Zoom lighting or choosing the right desk chair, there is one unexpected, tiny desk accessory that I also always recommend: Hey Dewy.
Hey Dewy is a portable, USB-powered humidifier that's no bigger than a venti Starbucks cup and emits a refreshing mist to help keep you hydrated all day long while at your desk (or anywhere, really). I bought mine earlier this winter when the combo of cold weather and blasting indoor heat was starting to make my skin feel like an iguana's and my sinuses ache no matter how much water I consumed throughout the day. Honestly, I had pretty low expectations but decided to give it a try since it was one of the most affordable portable humidifiers I could find.
I'm so glad I did! As soon as it arrived, I filled it up, plugged it in, and turned it on. It immediately started producing a fine mist that felt cool and refreshing, and I realized this was a much different humidifier than the table-sized one my mom would put on my nightstand whenever I had a cold as a kid.
Hey Dewy runs continuously for eight hours on a single fill or 12 hours on an intermittent setting (it has a filter, so tap water is fine — no need to use distilled), which makes it pretty perfect for desktop or bedside use. After using mine for the first time, I found that it encouraged me to take short little breaks throughout the afternoon to bask in its refreshing mist and take a few deep breaths. Even though I have meditation app notifications set up to remind me to do just that, Hey Dewy was a much more effective, physical reminder to take deep breaths and relax throughout the day.
I was so impressed with its daytime performance that I let it run on my nightstand (it even has a gentle nightlight function!) overnight. I woke up the next morning feeling much more refreshed than usual. And while I bought my Hey Dewy specifically to combat wintertime dryness, its mist would be a refreshing way to cool off in the warmer months as well. Once travel is a thing again, I would even consider bringing it along to use during a flight since air cabins are notoriously drier than most deserts.
All in all, Hey Dewy is definitely the best little desk companion I've invested in. For under $40, it managed to help turn my WFH space into something a little more spa-like. And while I might just be imagining it, the often-neglected succulent that lives next to it on my desk has never looked happier.