5 Things I Learned from Hosting 23 People for Thanksgiving in 300 Square Feet
We
independently
select these products—if you buy from one of our links, we may earn a commission. All prices were accurate at the time of publishing.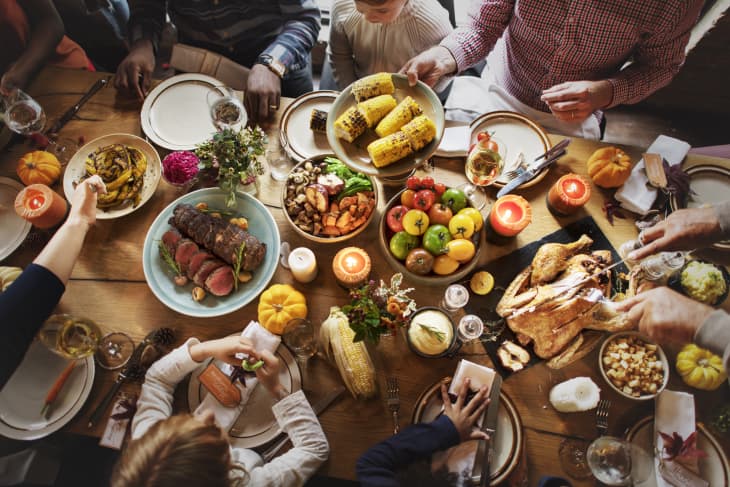 Last year, we hosted 23 people for Thanksgiving Dinner. While that might not seem like a lot of people for some, it's a huge number for us! For one thing, I'm no Martha Stewart, so cooking a meal for a crowd that size was already intimidating enough. But we also don't have an extra-large dining room, or even an open-concept floor plan that makes a room feel more expansive.
Our dining and living room combined is just 300 square feet. So how is it even possible to host that many people in such a limited space?
That's a question I should have asked myself as our guest list grew from just one family to yet another. But instead of asking questions, I found myself joyfully accepting every request to join us on Thanksgiving Day. I guess this is because my heart for my friends and family must be bigger than any doubts I have about my small house.
To my surprise (and great relief), I discovered it is absolutely possible to host a large group in a small space — with some creativity. So, for anyone like me, who has a sense of optimism that's immeasurably larger than the size of their home, here's what I learned from hosting 23 people in our humble abode.
Serving buffet-style is the way to go.
When space is at a premium, serve your Thanksgiving dinner buffet-style. A sideboard or buffet is ideal for putting out a beautiful array of sumptuous Thanksgiving dishes. But if that isn't an option, you can always present your Thanksgiving spread on your kitchen countertops or island, leaving more room at the table for people to dine. Because our kitchen isn't spacious either, we quickly ran out of countertop space, so we served our drinks and dessert from the kitchen, appetizers on a side table, and kept our main dishes and sides on the dining table.
Who says everyone has to sit at the dinner table?
I love my mother-in-law's creative solution to seat everyone together at her Thanksgiving dinners: She joins two tables together, covers them in overlapping matching tablecloths and lets the table extend into her living room. But we chose to go the less formal route at our house and let people sit wherever they pleased. Fall weather is usually cool and pleasant where we live, so some of our guests chose to eat outside on the deck. Some chose to sit on our living room couches and we provided small tables for those who needed them. But most of the kids loved our wild suggestion for them to sit on the floor of the hallway and eat!
Prepare for more bumps and spills when feeding a crowd.
Feeding a crowd in a tight space means there's a higher likelihood for messes. And with children, it's almost inevitable. It's best to let parents sit and feed their babies and toddlers at a table. But our uncarpeted hallway worked surprisingly well for the older kids. Spills were so easy to wipe off the floors and walls (yes, walls), but for those eating in our living room, we put washable throws on the floor to protect our beautiful, white, shag carpet. We still use that nifty little trick while eating in the living room to keep our carpet nearly pristine.
Plan some fun group time.
Just because you've spread everyone throughout your home for the meal doesn't mean you can't spend some quality time together as a group. After dinner, we cleared our plates and all of us cozied up in our living room to sing songs together and play some group games. While there are plenty of party board games to choose from, there are also many ideas you can find online for group games that are low- or no-cost. 
Create some lasting memories.
I'm so thankful that we abandoned all doubts and insecurities about having a small living space to make this extra-large gathering happen. We created some lasting memories that aren't at all about being stressed, squished, and uncomfortable in a small house, crowded with people. Our Thanksgiving memories are only of sharing a joyful, precious time surrounded by friends and family in our love-filled home.