6 Things Homeowners Regret Not Knowing Before Building a Custom Home
We
independently
select these products—if you buy from one of our links, we may earn a commission. All prices were accurate at the time of publishing.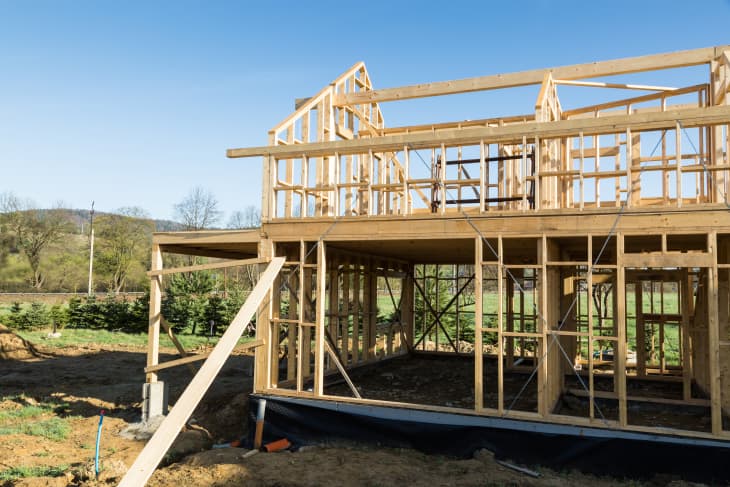 Building your own home can come with a lot of perks. Walk-in shower or soaking tub? When you custom build, it's your choice. Plus, you get to be the first person to ever step foot into said shower or sink into that sudsy bathtub. But, some challenges come with building and moving into brand spankin' new homes. Here, three homeowners share the most unexpected challenges of building a home:

1. Prepare for decision fatigue

Ryan Vet, a Durham, North Carolina-based entrepreneur, says that he and his wife made 100-plus decisions while custom-building their home.
"Every little thing has to be planned from how thick and what color the grout is between tile to every light fixture," he says. At least 20 of these decisions were in the kitchen. The couple had to pick from seemingly endless countertop varieties and finishes.
The couple wasn't even customizing as much as they could have: They stuck with the original floor plan. And they had a good idea of what they wanted from the beginning. Vet says they made Pinterest boards in advance and had similar tastes in design details.
Knowing the risk for decision fatigue, large national builders may try to streamline the process. They commonly present you with high, medium, and low-price point customizations as "A, B, and C" choices. After all, it's much easier to choose between three than from 300—especially if one is out of your budget.

2. Be very skeptical of the timeline

"A surprising takeaway that we learned from having our home built is never trust the move-in date," warns Angela Worley, a PR and outreach specialist who lives in Salt Lake City, Utah, and runs the lifestyle blog La Vida Mom.

Delays in closing are already common in real estate, but new builds can pose more problems: Worley says weather conditions delayed her move-in date as did a hold-up on the Certificate of Occupancy, an important document signaling compliance with building codes and laws. Local housing departments require builders to have one before giving homeowners the keys.
Of course, not knowing your exact move-in date can cause all types of expensive hurdles, too. This includes paying month-to-month rent, which usually comes at a premium.
Worley points out that buyers' mortgage rates may increase if the closing is delayed. Fortunately, in her scenario, she had a locked-in rate, and the builder paid to extend it because of their slowdown.

3. Look out for shortcuts

Myth: Brand-new homes are free from any major issues.
In fact, shortcuts and other problems that crop up during mass production commonly linger below the surface of a new home.
For example, Worley said her home's door frames were cut too short. When she pointed out the problem, the builders filled in the gaps with plaster instead of recutting the frames. She considered this more of a band-aid on the problem than a fix, but the warranty didn't specify exactly how the problem should be fixed.
She also noticed that the dryer wasn't drying clothes. Turns out, the builder didn't cut a vent for it in the laundry room. Thankfully, this was found while the home was still under warranty, so the problem was fixed free of charge.
Here are some other shortcuts common in new builds.
4. You'll probably spend more than you expect

Expect to spend money on upgrades, says Jessica Tiller, a public relations professional who built homes in Maryland in 2011 and 2017.
"You don't want to pay for countertops you hate only to decide to replace them two years later," Tiller says.
Most of the materials that come standard—like flooring, carpeting, appliances, lighting, and plumbing fixtures, or even things like trim on windows and interior doors—are called "builder grade" for a reason, she warns.
"Those are basic, lower-quality products that someone who is investing in building a home might not want all throughout," she says.
With that said, she encourages homebuyers to do some price comparisons on their own.
Tiller agrees that it definitely pays to comparison shop. When building her second home, she wanted real hardwood flooring, but the subcontractor, her builder, recommended wanted to charge $40,000 for synthetic wood. Thinking this was too expensive, she went back to the flooring company that did work on her first house and received a $13,000 quote for real wood.

5. Try to visualize the home—early and often

When you are looking at the home's plans, try to imagine doing a walk-through, Tiller suggests.
"If you see a laundry room off the mudroom on the first floor but your bedroom is on the second floor, is that going to aggravate you every time you have to do laundry?" she says.
Or, if you like lots of natural light, should you be adding more windows? Tiller suggests defining your "must-haves" before starting the build. It'll help you keep emotions from overruling your logic.

6. Financing can get tricky

Beyond lock-rate mortgages and ever-expanding budgets, new builds pose their own financing challenges. While it varies on the buyer and the area, construction loans usually require a higher down payment (expect 20 to 25 percent). They also often carry a higher interest rate, too, explains Jennifer Harder, founder of Jennifer Harder Mortgage Brokers.
"Lenders often feel that a construction project is a huge risk compared to a fully-built house because an incomplete build can have little or no value on the market beyond the value of the land itself," she explains.

Not deterred? If you're thinking about building a house, here's a realistic breakdown of how much it would cost to do so.

More great Real Estate reads: