Chris's 280 Square Foot Mini Modern
We independently select these products—if you buy from one of our links, we may earn a commission. All prices were accurate at the time of publishing.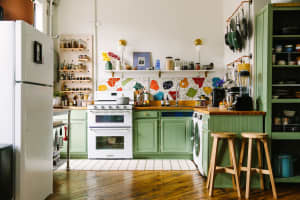 Can't-Miss House Tours Straight to Your Inbox
Keep up with our latest house tours each weekday with our House Tour of the Day newsletter
Name: Chris Paulsen
Location: New York, New York
Size: 280 square feet
Years lived in: 4 — rented
Nestled between Gramercy and Murray Hill, in one of those nebulous neighborhoods of Manhattan, lives Chris Paulsen, a former model with a propensity for modern design. As I first met him in the doorway of his little apartment to conduct our House Tour that day, I couldn't help but blurt out my first question, "Where exactly am I?"
"Well…The New York Times once declared this neighborhood The Brown Zone," Chris laughed. But Paulsen's studio apartment is quite the opposite of anything neutral or undetermined. In fact, Chris' home is a perfectly arranged treasure trove of colorful, playful design pieces and personal mementos. From a drool-worthy collection of standout furniture pieces designed by the likes Eames, Philippe Starck, and Ted Boerner (to name a few), to some smaller details like a pair of nail-clippers disguised as an adorable, well-placed little froggy figurine, Chris's apartment is filled with carefully chosen elements that serve his 280 square foot space well in both form and function.
As a renter, Chris's choices in decorating are a source of great advice for others who face similar challenges in small-space living. Because he can't paint the walls, Paulsen fills his home with colorful accents and strategically incorporates each furniture piece so that it stands out like a valued work of art. Making the most of a narrow room, Chris utilizes the limited space to its fullest, with floor-to-ceiling shelving that allows his colorful collection of books and keepsakes to stand out, and an IKEA wardrobe system that fits so precisely against the length of his bedroom you would think it was an expensive built-in. Wrap everything up in a floor plan that allows you to walk from one end of the apartment to the other without having to stumble over or tread around a single piece of furniture, and you have a small space that follows what I like to call the Paulsen Platinum Rule: – Everything Practically Perfectly Placed. Or was that Mary Poppins?
Apartment Therapy Survey:
My Style: I love art deco. I love chairs in general, especially ones that look like art pieces. I love clean, crisp modern. I love mid-century modern. I love shiny. I love texture. I love clear, lucite pieces and molded plastics in general. I love pops of color and objects that look like something and function as something else, as long as it works. I love mixing it all together.
I tried to combine many of the elements of the styles I love under a 280 square foot roof. I describe my space as accessorized modern with elements of pop and modern, old and new.
Inspiration: It started from spending many hours shopping at Design Within Reach and then ultimately landing a position with the company. Through the process, I became educated on modernism and designers, old and new. My first carefully planned pieces were the multi Eames Hang-It-All and the Louis Ghost Chair. I couldn't paint in my apartment so I pulled colors out of the Eames Hang-It-All and saturated my space in those colors. I created a wall of red curtains. I picked a sofa to compliment it. The Ghost Chair acts as functional art and fits a tiny space as an uncluttered seat. It's created from one single mold. From there, I kept picking pieces that would mix in well with my original picks.
Favorite Element: My favorite thing is the combination of elements. I have old mixed with new, both in mid-century and newer designs for furniture and accessories.
Biggest Challenge: Space, 280 square feet!
What Friends Say: Looks like a suite from a hotel (hopefully not the Holiday Inn Express).
Biggest Embarrassment: My 11 inches of working counter space in the kitchen.
Proudest DIY: Storage. I lucked out with having a 13 foot long wall to work with. The wardrobe system in the bedroom saved my life. Everything I own fits into 280 square feet. I don't know if I should be proud of that or depressed. The biggest ongoing DIY project is not cluttering up the open shelves I have in the living room.
Biggest Indulgence: Hot water. When I moved into the apartment, my shower varied from scalding hot to freezing cold with no notice. After a year and a half of huddling in the shower's corner, I complained and they fixed it. A normal shower dramatically improved my mood.
I also feel pretty lucky to own original pieces by Alessi, Charles and Ray Eames (Multi Hang it All), Warren Platner (side table), Eero Saarinen (side table), Philippe Starck (Ghost Chair), Moooi (Random Light) and Ted Boerner (sofa), all sold by Design Within Reach.
Best Advice: Live clutter free. Utilize the vertical space. It always amazes me how much we spend in rent to live in New York and what people will do to their apartments. Throw it away. If you haven't seen it or worn it in a year, Housing Works will take it.
If you love a piece (and it will fit into your space), get it. It will all work together. If someone doesn't get it, you probably did something right.
Dream Sources: My dream is to have a dining table, light and windows without bars on them. Although my storage ottoman turned tray table works fine when I dine at home, I would love to serve a guest dinner without being fearful they will spill something on my sofa.
I dare to imagine that one day I might live in a space without bars on the windows, possibly even windows I can open without being fearful that bed bugs or rats will crawl through. Until that dream happens, I will have to be okay with virtually no light most hours of the day. On the other hand, there's something to be said for sleeping late in a black-out apartment. 🙂
• Side chair: Louis Ghost Armchair by Philippe Starck
• Sofa: Ted Burner Design from DWR
• Area Rug: Flokati
• Pillows: IKEA & CB2
• Sidetable: Special Order 16″ licensed Saarinen Side Table
• Oversized Pendant Lamp: Random Light from DWR
• Ipod dock/Stereo: Geneva
• Curtains: IKEA
• Bird Art: Urban Outfitters
• Vase: Crate & Barrel
• Wire Geometric Form: CB2
• Hate Jar: Jonathan Adler
• Hatch Show Print: Found in Nashville
• Pitcher: Gift
• Storage: IKEA
• Toaster: Pylones
• Bed: IKEA
• Bedding: IKEA
• Curtains: IKEA
• Pillow: Conran Shop
• End Table: Warren Platner Side Table
• Wardrobe System: IKEA
• Storage Boxes: IKEA
• Task Lamp: IKEA
• Desk Lamp: Lytegem
• Desk Chair: Vernor Panton Design
• Desk: Inherited from previous tenant
• Shelving: IKEA
• Envelope Holder: Alessi
• Paper Vase: Brooklyn Boutique
• Notepad: MoMA Store
• Vase: Pier 1
• Statue: Frank Lloyd Wright design from Biltmore Estate in Scottsdale
• Hat Rack: Eames Hang-It-All
• Componibili Stand: Kartell
• Magazine Rack: IKEA
• Shower Curtain: Bed Bath & Beyond
• HOUSE TOUR ARCHIVE Check out past house tours here
• Interested in sharing your home with Apartment Therapy? Contact the editors through our House Tour Submission Form.
• Are you a designer/architect/decorator interested in sharing a residential project with Apartment Therapy readers? Contact the editors through our Professional Submission Form.