This Christmas Cactus Makes the Perfect Gift For Your Plant Parent Friends
We
independently
select these products—if you buy from one of our links, we may earn a commission. All prices were accurate at the time of publishing.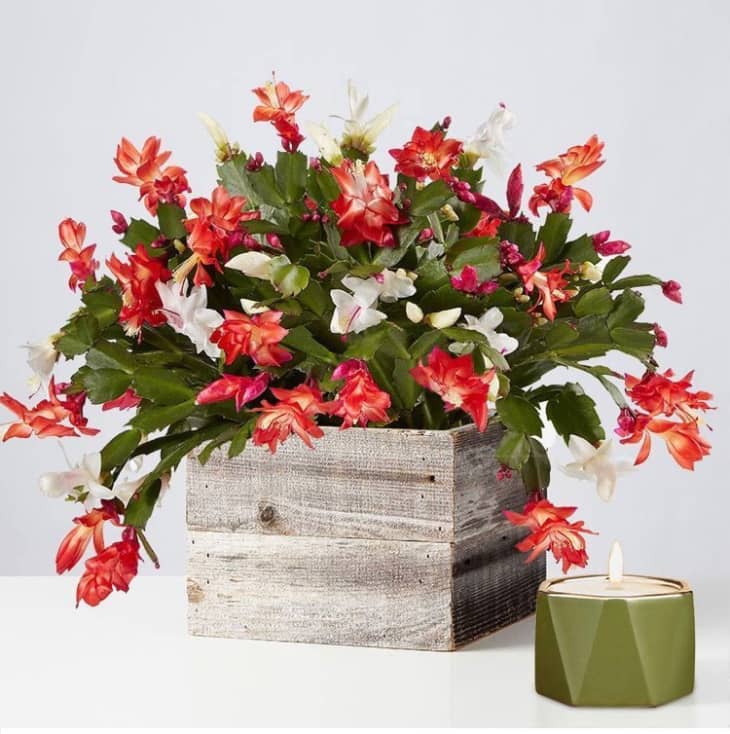 Wondering what to gift your favorite plant parents this festive period? More plants, duh! Whether they're a plant pro or are a newbie when it comes to having a green thumb, a Christmas cactus is a great option, especially during the holiday season with its apt name.
Plants.com has got cacti lovers covered with a super festive Christmas cactus that makes an ideal gift for your nearest and dearest or, you know, yourself. The Red and White Christmas Cactus features red and white flowers that will come into bloom every November, just in time for its namesake holiday and lasting four to six weeks, although sometimes, the Christmas cactus will surprise you with additional blooms later in winter and spring! The secret to getting multiple winter blooms is moving the plant outside in summer, providing it with plenty of warmth and sunlight before bringing it back indoors for the winter season.
The Christmas cactus, also known as Schlumbergera or Zygocactus, originated in the coastal mountains of Brazil, where its parent plant clings to shaded trees and rocks in the jungle. The non-prickly stems form flat, glossy green leaf pads, and in certain conditions with proper care, the plant will produce white and red fuchsia-like flowers each winter.
Christmas cactus prefer a little more water than a desert cactus, but excess water will cause root rot. You should water your cacti when the soil is dry, not letting them sit in wet soil or a saucer of water. From spring to summer, feed with a quarter strength dilution of balanced houseplant fertilizer. Stop feeding your plant in the fall, and begin again in the late winter. With correct care, Christmas cacti can live for up to 50 years.
Plants.com's Red and White Christmas Cactus comes planted in a natural white birch pot and will arrive with the flower buds and blooms. Available in two sizes, small and large, the small cactus is priced at $49.99, while the large cactus costs $69.99.
To make it an extra special gift, there's also the option of adding on a sage green candle that complements the plant; a small cactus and candle are $65.99 and the large bundle is $85.99.
Shop more plant gifts this holiday season: