The Hygge-Loving Reason I Still Have a "Christmas Tree" Lit Up in July
We independently select these products—if you buy from one of our links, we may earn a commission. All prices were accurate at the time of publishing.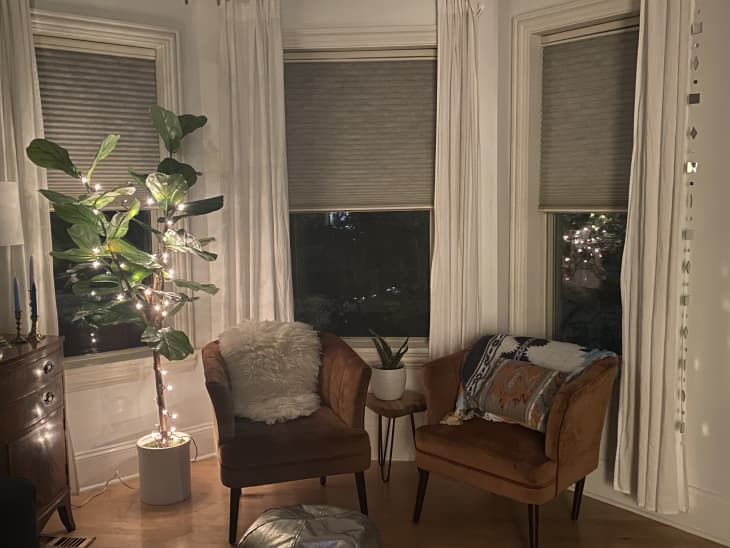 Throughout my home, I have various antlers mounted, dollhouses on display, and a humble shrine to Reese Witherspoon erected, so I don't go around casually judging other people's decor choices. With that said, I've always wondered about folks whose holiday-specific decorations remain displayed months after the season ends. Rotting porch pumpkins in January? Christmas wreaths in April? What's going on here?
Having moved into our new home less than a year ago, my fiancé and I haven't quite figured out the house's holiday decoration vibe. After moving in at the beginning of October, we didn't have it in us to break out the spider webs and jack-o'-lanterns. To compensate for our not-so-spooky szn, we admittedly went a little overboard on Christmas. And as I packed away the last of our trees, tucking glass ornaments back into their wrapping and removing the string lights, I felt the spark of the season fade away, too.
I don't even enjoy Christmas, really. Like most Christmas-celebrating kiddos, I loved it when I was a child. But while presents, cookies, and sparkles remain a few of my favorite things, I care far less about the pageantry these days. Instead, I'm drawn to the season's inherent coziness — a big warm blanket, a classic movie streaming, a mug of tea at hand (oh, who am I kidding? There's a cocktail in there.) But none of these instant-hygge go-tos felt complete without the magical glow of a Christmas tree. So I did what everyone's mysterious neighbor does and just kept it up… sort of.
Initially, I felt my inner critic fighting off the year-round Christmas tree idea. As it turns out, my inner critic is extremely persuasive, and I quickly discovered that the fake fir tree was a little too on-the-nose for our living room, which already has a distinct "glam hunting lodge" vibe. Plus, I feared stringing lights on a leafier tree would give our home an "Italian restaurant" feel that would have visitors saying mamma mia. One thing led to another and I found myself driving to a Target on the outskirts of Chicago to retrieve one of the last remaining markdown faux fiddle leaf figs in Cook County.
After unwrapping the tree and fiddling with the leaves (my apologies), I was pleased with how normal it looked in the corner. This wasn't a huge surprise, given that fiddle leaf figs have become one of the most popular indoor plants you can find. Next, I snagged a box of string lights with a brown cord that matched the tree's teeny trunk at Michaels for less than $10. The tree and light combo must have summoned the holiday spirit in my partner, who quickly strung the lights on our tree while I was in the other room. And presto! Hygge achieved.
Now that it's officially summer, our feel-good fiddle leaf has been a huge mood-booster. When we're enjoying a glass of rose by our fire pit under our outdoor string lights, it's pleasant to look over and see the faint glow of our tree from inside. And wrapping up the day with a cool breeze blowing through the window and rustling the sparkling lights is a simple, satisfying comfort. No need for ornamentation, nor to force Christmas year-round. Just pop some string lights on a trendy indoor tree and enjoy a very merry July.