This One Tiny Tweak Will Make Your Small Bathroom Look So Much Bigger
We
independently
select these products—if you buy from one of our links, we may earn a commission. All prices were accurate at the time of publishing.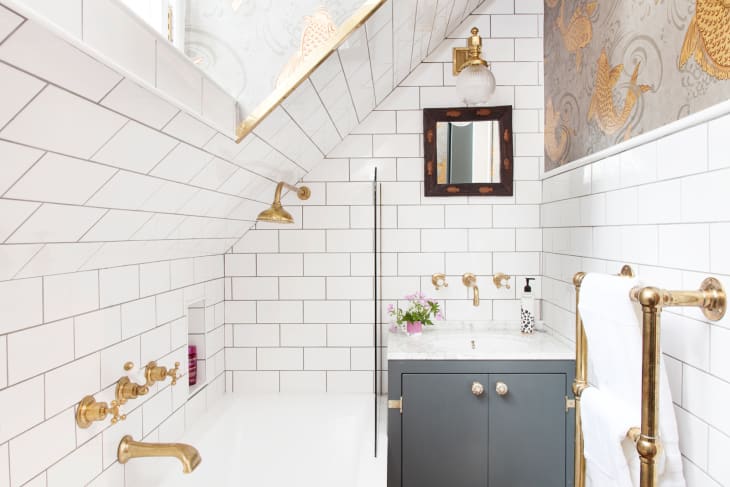 When my husband and I made an offer to buy our current apartment, I was so excited we'd found a one-bedroom big enough to convert into a junior-two bedroom that I didn't realize how, ahem, cozy the bathroom was. It wasn't until later when my 6'4" contractor was standing in there, leveling with me about what size sink we could realistically fit that I realized our new bathroom was small—even by New York City standards. I followed his advice about the miniature sink and stuck with a white on white look to keep things feeling open and airy. But it wasn't the renovation that made the biggest difference in how our small bathroom felt: It was a happy accident.
When we moved in, we hung a clear shower curtain liner with the full intention of finding a new curtain to cover it (our old one was looking tired, so we'd taken it to the textile recycling before the move). However, when I finally hung a proper curtain up, the bathroom felt a little claustrophobic. My husband tentatively asked, "Do we really need a shower curtain?" and I realized maybe we didn't! The pretty curtain I'd picked out went back to the store, and we've been living without a traditional shower curtain ever since.
Last year, we upgraded from a liner to Quiet Town's The Orient Sun Shower curtain. It's still a clear material, but the stripe of gray at the bottom gives us a hint of design with none of the claustrophobia. And the quality of the material and finishes are also so much nicer than any liner I ever found. And if you are into bright colors, they have versions that feature neons, too.
The trick to mastering the clear curtain look is to invest in a high-quality liner for this hack—not just the cheap, frosted ones you can find at a dollar store. Look for one marked "crystal" clear with metal grommets and a heavier weight/gauge to the plastic. Investing in some chic curtain hooks will also go a long way towards elevating the look. To get the wrinkles out when you first hang your curtain, gently warm the creases with a blast of hot air from a hairdryer. Finally, you'll need to keep the inside of the shower tidy, too, since guests will have a clear view of all your toiletries and if you have kids, bath toys.
A model made with chlorine-free PEVA, like the Quiet Town version, is the most eco-friendly choice, and it won't off-gas VOCs when you open the package. However, another pressing ecological concern with plastic shower curtains is to keep them out of the landfill, so I try to take care of mine to make it last.
And you'll be surprised how long they'll last if you actually clean them. Always pull the curtain taut after you shower so water can drip off and mildew won't form in the folds. As soon as you notice a soapy residue on the plastic, use a sponge or microfiber cloth to wipe the curtain clean (tug gently on the bottom with one hand to make it easier to scrub). If that's not enough, you can spritz on a gentle cleaner and let it sit for a few moments then rub it again.
If you've neglected your curtain and it's got some spots of mildew, spray it with diluted bleach, let sit a few minutes, and then rinse off with the shower head. I normally try to avoid bleach but do use it sparingly if it will make an item look good and therefore last longer, but I won't do this on my Quiet Town curtain because of the color and stitching. Wolf, who is known for his crisp and clean interiors, also suggests you just throw the whole thing in the washing machine—a tip I haven't tried myself, but it's definitely worth a shot!