The Curb Appeal Choice That Real Estate Agents Say to Steer Clear Of
We independently select these products—if you buy from one of our links, we may earn a commission. All prices were accurate at the time of publishing.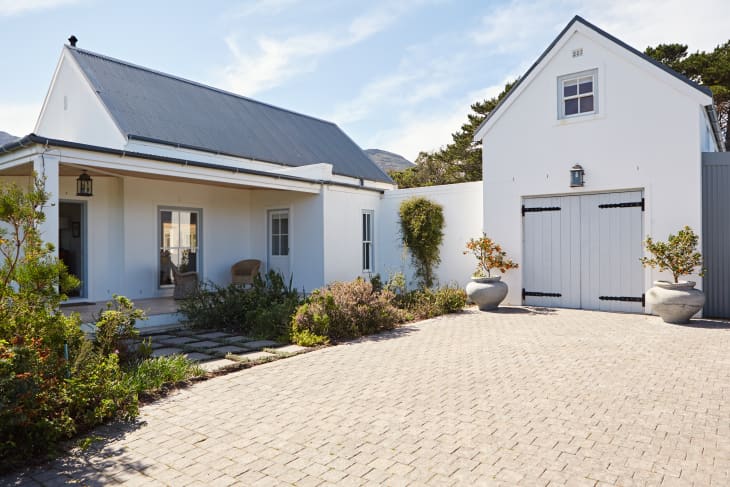 In the world of buying and selling homes, there are two words everyone knows: curb appeal. This phrase describes how an initial look at the exterior of your home can make or break a first impression. As part of this, your home's driveway plays such a crucial role in welcoming people to (or letting them know they should steer clear of) your property. 
Follow Topics for more like this
Follow for more stories like this
Two real estate pros explained why there's one driveway trend you should avoid if you want your home to appeal to practical buyers at first sight.
It's more than a parking spot.
Your driveway can be more than just a place to park your vehicle at the end of the day — sometimes it's an extension of your home itself. "A driveway builds the initial aesthetic and can accentuate the architecture of any style house," says Melissa Sofia, Realtor and founder of The Avenue Home Collective. She explains some homeowners add drama and texture to a Colonial home with a brick driveway, or create clean, modern lines leading to a contemporary home with a driveway made of geometric pavers. But you might not always want to go for drama right off the bat.
Paver and bricks are nice, but sometimes problematic. 
According to Sofia, those dramatic paver driveways have a heftier price tag than their concrete or asphalt counterparts. "A brick or paver driveway can be two to three times the cost of concrete," she says. And that doesn't take their upkeep into consideration: "Paver and brick driveways tend to allow for weeds to grow in and need cleanup weekly, adding to the time and cost for yard work." In some cases, Sofia says tree roots or settling soil could move bricks or pavers, creating an uneven, mismatched look. This could turn off buyers who are looking for a clean, low-maintenance front yard.
There are also some cold-weather worries. 
In the South, where winters are relatively mild, the weekly maintenance required to keep paver driveways neat and weed-free might not be a big deal. But where the snow falls in inches and feet, it's an entirely different story. "While paver and brick driveways are aesthetically pleasing and water permeable, they can also present some bothersome challenges," explains Tom Makinney, Jr, founder of the Makinney Group. "For example, in the Midwest or other areas where it snows, many homeowners are leery of brick driveways, because you have to hand-shovel or use a snow blower [rather than plow] during snow storms." 
Winter weather isn't the only woe.
Makinney says that even in the summer, the toll of caring for your paver driveway pad might be too much. "They can be troublesome in warmer months, too, as you may find yourself leveling, resetting bricks, and killing weeds that grow between [the stones]." This is why many real estate agents advise homeowners who are considering upgrading their driveway to go with a more one-and-done option like concrete or asphalt, which both require more infrequent maintenance and care. Even if you don't get the same wow factor, there's certainly plenty of delight to be had in a "set it and forget it" style driveway.