6 Easy, Fast-Growing Flower Seeds for Impatient Gardeners and Novice Planters
We
independently
select these products—if you buy from one of our links, we may earn a commission. All prices were accurate at the time of publishing.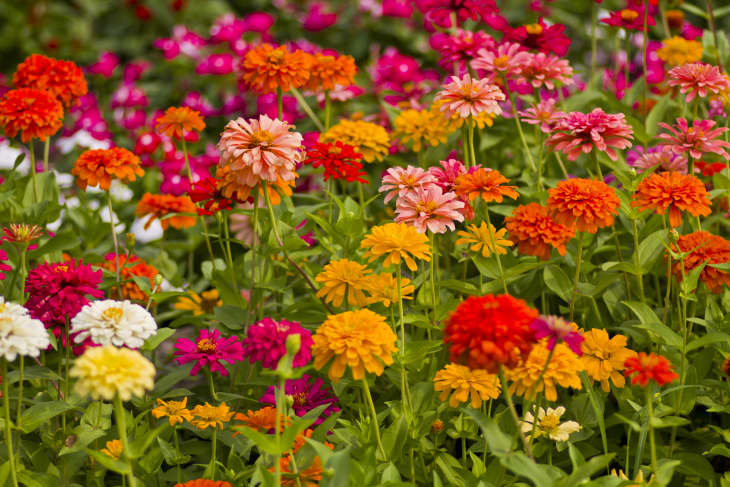 Growing flowers from seed is accessible and affordable — but it can be hard to wait for those seeds to turn into beautiful blooms. Instant gratification is not something generally associated with gardening. You must maintain some amount of chill and patience to plant seeds, nurture them, and wait for their little buds to form. But that's not to say that there's no room for impatient people in the garden! In fact, there are a few gorgeous flowers that can be grown from seed within 60 days, and sometimes less. And for garden plants, which can sometimes take years to produce flowers worthy of cut arrangements, that's practically instantaneous.
Starting seeds can feel like a lot of commitment and seem intricate when you first get into it. Don't fret — it's often easier than it seems. Emily Round, the owner of Grounded Flower Farm in Beverly, Massachusetts, is no stranger to fostering blooms from seed. She says the key to success is to pay attention to the information provided to you on the back of the packet, since the preferences of individual plants can vary widely. "Some seeds need the sun to germinate and shouldn't be covered with soil, others like it dark. Some hot and some cold," she says. "There are thousands of flowers out there and there's no reason to memorize what they all like when it's right there [on the packaging]."
The takeaway? You can know almost nothing and still get seeds to germinate, as long as you're willing to read and follow instructions. And even better, you can get some of those seeds to become recognizable flowers in a couple months. Impatient and novice gardeners, this seed list is just for you. These six picks are the easiest and fastest flower seeds for you to try seed-starting with this year.
Zinnias are an easy-to-find classic. They come in practically every color you can think of, are great for cutting, and start to show their little sprouting leaves in as little as five days under the right conditions. Zinnias love warm soil, and you can direct sow these babies in your garden once it's 70 degrees or above. Keep them watered and watch them thrive. You can expect zinnias to blossom within two months of planting.
This is a Grounded Flowers fave! In addition to the classic orange, the flower world has created some beautiful calendula flowers in the past few years, like pale yellow and pink hues. As a bonus, these flowers help repel rabbits who might otherwise make a buffet of your garden. You'll see these bloom about eight weeks after planting.
Nasturtium flowers generally function as a pest trap in my garden, since they draw aphids away from other more susceptible plants — but what a beautiful trap they are! You can find yellow, red, orange, even splattered pattern varieties of this vining beauty. These pop up shockingly fast; you could see flowers from seed in as few as 35 days from germination. As with all seed-starting, you'll want to make sure you keep them moist from the moment they're in the dirt.
Also called starflower, these pretty blue blooms self-seed — so if you plant them this year, you might find even more popping up next year without any work on your end. But in the meantime, deadheading after the blooms start to shrivel will help stop the plant from turning its energy into seeds and will bring you as many blooms as possible. Later, toward the end of the season, leave those spent flowers in place to turn into seeds for next year.
If you're a person who fills your containers with annuals, grow yourself as much sweet alyssum as you have room for. It's a fantastic filler and spiller — meaning its voluminous shape will fill up empty space and even trail over planter edges — and it's known for its delicious-smelling teeny blooms. From seed to flower, sweet alyssum only takes about two months. It also attracts hover flies and lady bugs, both of which eat the aphids that chomp on all your favorite plants. Plant some sweet alyssum and it'll be working harder than any other plant in your garden!
This stunner will take about seven weeks to bloom, and once it does you'll get flowers until the end of your growing season. Cosmos can't be stopped and thrive on neglect, so they're perfect for anyone looking for maximum color with minimum effort. You don't ever want to over-water your cosmos, which prefer to dry out — meaning skipping or forgetting watering days isn't going to be an issue here. Deadhead these delicate-looking things to get even more flowers. This is another self-seeder, so if you let yourself be lazy about tidying these up towards the end of the season, you'll likely get some seeds that will grow in next year.