I Tested 'The World's Smallest Desk Treadmill' and It's a Dream for Small-Space Living
We independently select these products—if you buy from one of our links, we may earn a commission. All prices were accurate at the time of publishing.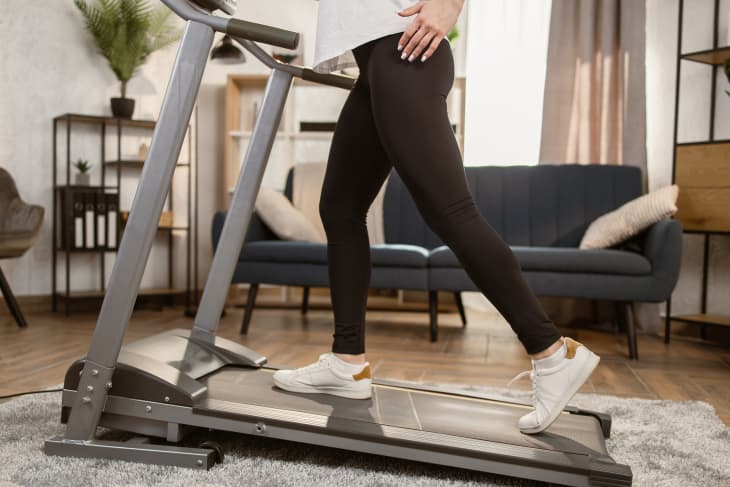 Over the past few years I, like many of you, made the transition to a hybrid work life. With a number of days still spent working from home, I knew I wanted to up my home fitness equipment game (I'm determined to get those steps in). The one piece I wanted to add to my collection more than anything? An under-desk treadmill.
As someone who already had a work-from-home space equipped with a standing desk, an under desk treadmill simply felt like a natural progression. My only issue? I was struggling to find one tiny enough to fit into my new studio — Lord know I couldn't afford to spare any of the floor space. So I began my research, and soon after I came across a model that touted itself as, "The World's Smallest Desk Treadmill." After looking at its features and dimensions, I breathed a sigh of relief. I had found my perfect match in the Egofit Walker Pro M1 Under Desk Treadmill.
Quick Overview
A Quick Look at the Egofit Walker Pro M1 Under Desk Treadmill
Features a compact design almost half the length of a traditional walking pad
Equipped with wheels that make it easy to maneuver and store
LCD display that shows time, steps, distance, speed, and calories burned
Designed with a five percent incline
Comes with a wireless remote control
30-day money-back guarantee
Design Features That Stand Out
When it comes to the design of this treadmill, the first thing that stood out to me was, of course, its compact size. In the past, I had tested a different treadmill (in a larger space, I should add) and loved it. However, I knew one of a similar design would not work in my studio. At over 20 inches shorter than that first pick, this treadmill comes in at a compact 38.39″ D x 21.85″ W x 6.89″ H, making it a machine that easily fits under the foot of my bed.
Another design feature I really enjoy is the static five percent incline. Now, I know not everyone enjoys walking on an incline, but I find it helps my stamina tremendously, so having it built into the design (i.e. not a feature I could turn off) was something I really appreciated. I also love how "no-fuss" this pick is. It comes completely set up and once you're ready to walk, you simply flip a switch, click the remote, and you're off — no fussy apps* needed.
*There is an optional app should you prefer that method.
Needless to say, I love this treadmill. When I first got it, I was truly surprised at just how quick and easy it was to use. I really loved that there was truly nothing I had to do assembly-wise. I simply lifted my standing desk, connected the power cord, and pushed the power button, that's it. And with the handy wireless remote, I was able to adjust the speed as I built up momentum without needing to step off. To top it off, I should also mention it's incredibly quiet, a must for apartment dwellers.
The real test, however, would come when I had to store it. Now while I had no fear of fitting beneath my bed length-wise, I may have forgotten to measure the height before ordering (not a wise thing to do, especially with a bed that is low to the ground.) Luckily for me, it glided under with easy storing perfectly, no bumps or struggling! Best of all, since it's only half the length of my bed, I still have ample underbed storage space.
A truly compact design: While some exercise equipment claims to be small-space friendly, this treadmill lives up to the notion. I never thought I'd be able to have a treadmill in my tiny apartment and not only am I able to, you wouldn't even know it if I didn't tell you.
Easy glide wheels: Sometimes home fitness equipment can be difficult to move, even with so-called "smooth-glide" wheels. However, the wheels of this machine truly make moving it around like butter sliding on a pan — quick and easy.
Quiet operation: As an apartment-dweller, I was very concerned at just how loud this machine was going to be (I did not want to be that neighbor). Not only is it extremely quiet on my end, but I went ahead and asked my downstairs neighbors if they had noticed any extra sound since I started using it, surprising them with the fact that I had even had a treadmill above them. Score!
While a great option for most, it's important to note that this treadmill has a 243-pound weight limit.
Should You Buy the Egofit Walker Pro M1 Under Desk Treadmill?
All in all, the Egofit Walker Pro M1 Under Desk Treadmill is a stellar pick, but I would specifically recommend it if you're looking for something that is:
Small-space friendly
Simple to use
Quiet for apartment dwellers