Eric's Soothing Stripes
We independently select these products—if you buy from one of our links, we may earn a commission. All prices were accurate at the time of publishing.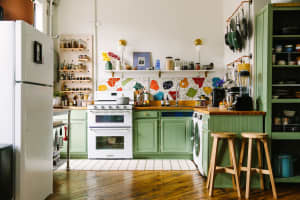 Can't-Miss House Tours Straight to Your Inbox
Keep up with our latest house tours each weekday with our House Tour of the Day newsletter
Name & Age: Eric, 1.5 weeks(!) old
Location: Austin, TX
When Ohdeedoh friend Luciana let us know that she was decorating a nursery for a baby boy, we couldn't wait to see what she put together. Baby Eric's nursery was lovingly decorated in advance of his October 15 birth day. Welcome home, little man.
Follow Topics for more like this
Follow for more stories like this
This isn't the first time Luciana Misura has knocked our socks off with her bold and beautiful decorating choices. We loved the magenta room that Luciana decorated for her first baby, Julia, then we got to know her better when she became a part of our Big Blog Family with Colagem, where Luciana shares her adventures as a Brazilian expat living in the longhorn state. Like Julia before him, Eric will reap the benefits of a loving mom whose great attention to detail is matched only by her fun and fearless DIY spirit (she learned how to sew expressly to decorate this room with the fabrics she designed herself). Luciana was nice enough to share her sources, process and choices with us.
What are your favorite elements of the room?
I had lots of ideas for his nursery that I had been collecting since I designed Julia's room four years ago. I knew I wanted gray and yellow to be the main colors – at this point I confess I am tired of seeing gray and yellow nurseries, this was definitely the year of gray and yellow! Anyway, I didn't really find bedding the way I wanted in these colors, so I decided to design the fabric myself (I printed everything using Spoonflower). I also set out to sew everything – I took sewing classes in July to learn how to sew for this project. I figured if I couldn't do it I would find a seamstress on Etsy to do it for me, but it turned out OK!
What was the greatest decorating challenge?
This used to be a guest bedroom, so we started out taking the room apart, then tearing the carpet out and had wood floors put in, and the closet door and frame were replaced by a bigger/folding door to maximize the space (about 20 inches or so of closet space were hidden behind a wall, thanks to the not-so-smart builder). That way we could fit the closet organizer in there, we used the IKEA Pax.
Next we painted the room, and for the stripes we tested this wonderful product called Tape Seal which made possible to have straight, perfect lines on a textured wall. I highly recommend it! Too bad we didn't discover this product when we painted other rooms in the house…The colors are from Sherwin-Williams, Uncertain Gray, Daisy and Fun Yellow. We all painted a bit – including Julia.
What was your biggest indulgence?
The glider is a Monte Design Luca glider, which I didn't want to spend the money on the first time but decided to get now that I didn't have to spend on a crib and dresser. The crib and the dresser/changing table were from Julia's room, the glider and pouf are new this time around. Seems very comfortable and I can't wait to use it. The pouf is from Tazi Designs, Moroccan Leather in Yellow – it was the first yellow item I got for the room and defined the shade I was going to use for everything else. The side table and shelves are from IKEA.
Tell us about your DIY projects.
I made the wall art. The alphabet poster is a bilingual one, for each letter it has a little drawing in English and Portuguese, and I made it from scratch. I bought vector art of the trees with a bird and modified it to create the series of three pictures above the crib. I printed everything with a local Austin studio that does giclée print and the quality is great. Frames are from IKEA. I put the rug together on the FLOR website, using the room colors.
Thanks, Luciana! Readers, visit Luciana at Collagem for plenty of Luciana's progress pictures.
• KIDS ROOM TOUR ARCHIVE Check out past tours here.
• ROOM SUBMISSIONS Have a kid's space you'd like to share? In addition to working with some readers to feature full tours, we share the best as "My Room" posts on Ohdeedoh — short, quick tours of great rooms. Submit yours here.