What's a Favorite Things Party, and Why Should You Host One
We
independently
select these products—if you buy from one of our links, we may earn a commission. All prices were accurate at the time of publishing.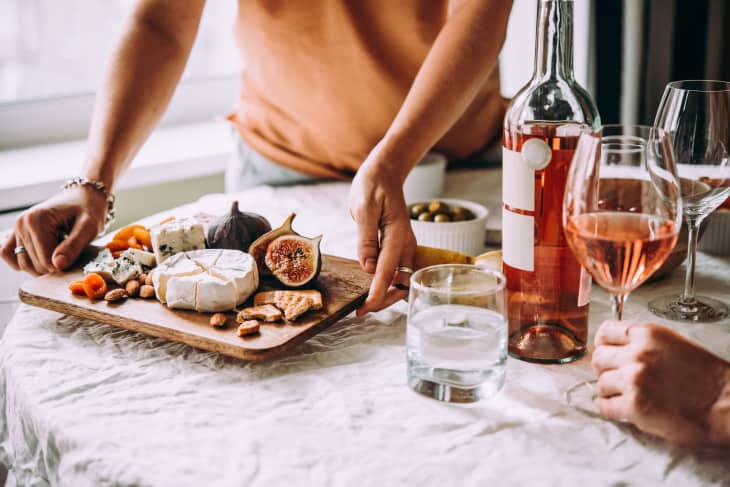 Whether you're hosting an elegant dinner party or partaking in a neighborhood-wide block party, entertaining can be even more fun when you have a theme. And party themes don't have to revolve around a birthday or holiday — you can get very creative and host something unconventional like a full moon party, or like one TikToker, a favorite things party.
TikTok user Stephanie @datingindisney, who creates content about Disney and date ideas, suggested that throwing a "favorite things" party is a fun tradition to start among your friends and family. Some of the items at her party included bottles of wine, candy, Scrub Daddy sponges, and books, but you're encouraged to bring your favorite items. 
"Everybody is going to bring three of the same item to the party," she explained. "This item should be your absolute favorite thing." She later added that everyone also brings a snack to share, which is a perfect excuse to bring a charcuterie board or similar finger food.
And people in Stephanie's comment section brought up a good point: what if you're disappointed by your gift? "I love this but my feelings would be hurting," one said. To prevent this problem, it's best to create a budget and recommended list of items, similar to a Secret Santa or White Elephant. Having everyone gather little luxurious goodies might be the best solution to ensuring adequate gifts that will be loved by everyone.
In a video by content creator Ilana Dunn, her friend group started the party by sharing the details on their favorite item and why it's a must-have. After using an online name generator to shuffle their order, Dunn and her friends received a different item each round, including candles and Fenty Beauty products. 
In other videos, people are choosing to carefully wrap the gifts and turn the party into a holiday gift exchange. A favorite things party can work for anything from Christmas to Galentine's Day or beyond.
Hosting a favorite things party, you'll learn more about your friends' interests and get some fun things to try out, too. Once you're ready to set a date, using an app like Partiful may come in handy for planning and managing your guest list. Don't forget to start plotting the snacks for your charcuterie board!