This $9 Amazon Tool Prevents Floppy Flower Arrangements
We
independently
select these products—if you buy from one of our links, we may earn a commission. All prices were accurate at the time of publishing.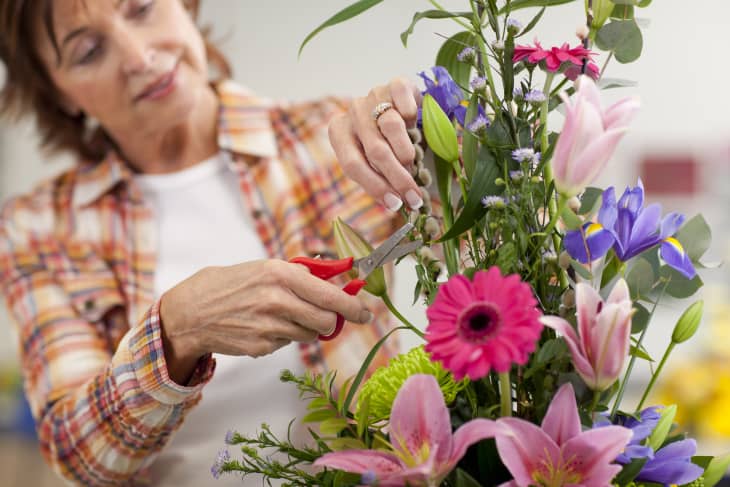 Although it's nice to bring a fresh bundle of flowers home, it can be annoying to gather them all together after you've released them from their plastic encasing. The flowers immediately flopping over the vase that you've placed them in can be frustrating to fix, but there's a small tool that can be a solution to all of these problems.
You'll need a flower frog, which doesn't resemble a frog at all and is similar to a pin cushion. There are usually spikes on the top, and the flower frog is made with plastic or metal with suction cups on the bottom.
In a TikTok, Kate (@k8newyork) demonstrated the foolproof method of using the tool, and she noted that "It's a lot stronger than it looks." The set that Katie purchased comes with two pairs of plastic flower frogs and is available on Amazon for $9.
Even though the flower frog is quite popular among TikTok users and florists, its history dates back to the 14th century. The Japanese art of floral arrangements, or ikebana, is a pretty detailed skill to build. And similar to the skill, the shape and model of the flower frogs can also be incredibly detailed. There's a metal-based frog that is better for thicker stems, but there's also a flower-shaped ceramic frog.
According to other TikTokers, using a flower frog will make you feel like a florist — especially if you switch up the item that's holding your arrangement. Using a bowl could be a good alternative to a vase, as the frog will give you a bit more control over the flower's stature. 

If you've been itching to take up floral arrangements as a hobby or just want to jazz up the centerpiece before your next dinner party, consider buying a handful of these flower frogs. Not only will they prevent floppy flowers, but your arrangements will also look like they're hanging perfectly in mid-air.