6 Frugal Habits Financial Experts Actually Use Themselves
We
independently
select these products—if you buy from one of our links, we may earn a commission. All prices were accurate at the time of publishing.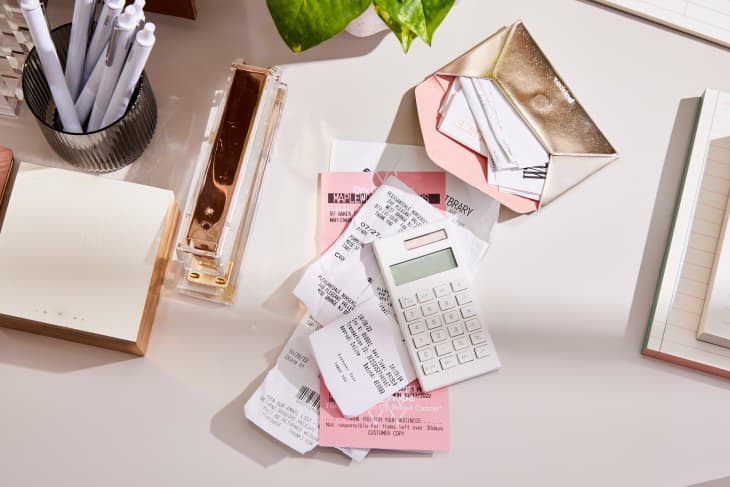 Everything feels just a little bit more expensive these days thanks to inflation, which has prompted many people to lose sleep over how they'll make ends meet. When just buying groceries eats up a quarter of your paycheck, it can be hard to imagine ever getting your budget under control, let alone getting ahead — I know I can't be the only one with a savings account in the low single digits — which is why I love hearing good money saving hacks from the pros. 
While these tips on how to cut costs and pad your bank account may sound like small savings, these financial experts say to trust the process — every dollar saved counts.
Unsubscribe from mailing lists.
Is an email from your favorite store making you click "add to cart" more than you'd like? Kendall Meade, a CFP at SoFi says simply unsubscribing from those shopping emails can save you money. "Many people are hesitant to do this because they don't want to miss out on a sale, but sometimes these sales cause us to buy things we really don't need — so it costs us more overall."
Do your shopping during the offseason.
If you want an easy way to cut your budget and save some green, Deitra Redd, an avid couponer and senior tax analyst with H&R Block, says you can do what she does and restock your wardrobe after the season has come to an end. "For example, in the summertime I purchased winter clothes and summer clothes in the wintertime," she says, adding that most big retailers mark their stuff down to make room for clothes for the upcoming season. 
Just about everyone knows that shopping at those big-box stores can save you money, but Redd says you can increase your savings when you shop smart, too. "Browse through the monthly coupon marketing flyer and compare to what you would buy at other stores," she says, adding that it's super important to make a list (and stick with it) before you head out the door. "This way you will not pick up something you don't need when walking those big aisles or get talked into buying something from a food/product tester."
Meade agrees with this approach. "A lot of times people think that if you have a smaller family it is not worth it to buy in bulk," she says. But that's exactly how she prefers to shop for herself and her husband. "I am able to separate out meat in freezer bags so that it can last us all month!" she says. By implementing this strategy, Meade says she cuts her grocery bill by 25 percent.
Order your groceries online.
Speaking of avoiding impulse buys, Meade says you can save a lot of money by removing the temptation all together and having someone else hit the stores for you. "I know this may sound counterintuitive because sometimes there can be a small charge to do grocery pickup," she says. "However, when I do grocery pickup I only get what I have planned on my list."
She says this allows her to avoid impulse purchases and she only gets the items she truly needs. As an added bonus, it helps her stay on track when she doesn't want to go over a certain amount. "You can also see your total before you get to checkout allowing you to make swaps to stay under your budget," she says, adding that she's found her own personal grocery bill is $50 to $100 cheaper when she shops online.
Meade says another surefire way to save some money is make sure your wallet is stuffed with cash when you head out to shop. "Studies have shown that you are likely to spend less if using cash versus a credit card because it is more painful to hand over the cash than to swipe your card," she explains. Not only that, but it also forces you to stay on budget because you can only spend what you actually have with you. 
Paper couponing fell out of favor for those who felt like they didn't have time to scour the paper and cut out coupons, but Meade says technology has finally caught up with the times and people can once again start taking advantage of those deals without ever having to reach for the scissors. 

"With everything digital now it can be super easy," she says. "Your store may have its own app with digital coupons you can clip." Plus, there are rebate apps like Fetch Rewards which allow you to get money back just by scanning your receipt!