This 86-Square-Foot Geometric Cabin Is What Work-From-Home Dreams Are Made Of
We independently select these products—if you buy from one of our links, we may earn a commission. All prices were accurate at the time of publishing.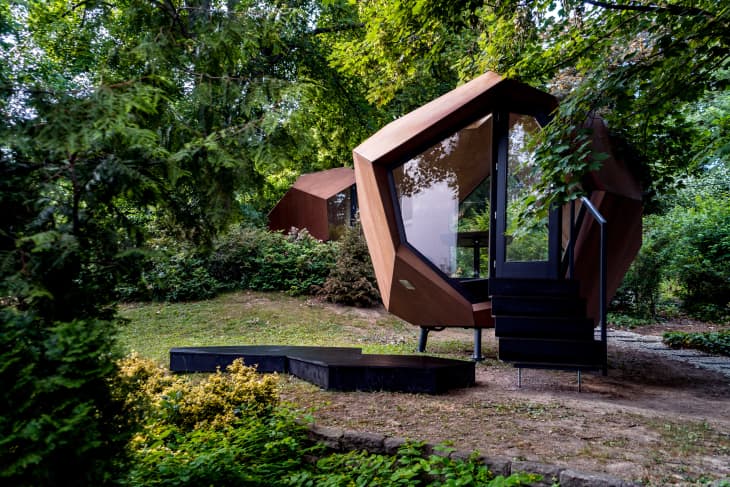 As many of us spend more time at home due to the pandemic, we can't help but ogle at Workstation Cabin, a tiny house concept designed by Hello Wood Studio. The Budapest-based design studio specializes in designing and building custom-made installations for people to use and enjoy, with innovation and social responsibility driving everything they do.
Just imagine—a work-from-home office free of distractions, a cozy reading nook, a space to meditate, and more, all in one compact, aesthetically pleasing package. The 86-square-foot house was designed to be a highly functional space; what it lacks in square footage is made up for in complexity. "We believe that for those who adapt a minimalist lifestyle, it isn't a challenge but a pleasure to spend their time in a practical space," the design studio website reads.
The playful shape of the 15-sided cabin and its extensive use of wood was inspired by nature. Wood panels and huge windows, which let plenty of natural light in, help you stay connected with the outside world.
Workstation Cabin is insulated (and soundproof!), which means you can take advantage of your outdoor extra room year-round. It's also equipped with an electrical outlet so that you can charge your devices and set up a Wi-Fi connection. It comes with a built-in bench, and additional features and services can be added during the manufacturing process. These extra features include heating, air conditioning (which can be hidden in the bench), mood lighting, a sound system, wireless network setup, and landscaping.
Other products in the Hello Wood cabin family include Kabinka, a tiny house that can easily fit a kitchenette, desk, couch, and stove; Grand Cabin, a premium cabin that can accommodate eight or more people; and Wau Haus, a treehouse-inspired structure that stands on four pillars.
For information on price, shipping, and additional features, check out their website.