The Best Spot for Small Space Storage May Be Right Behind You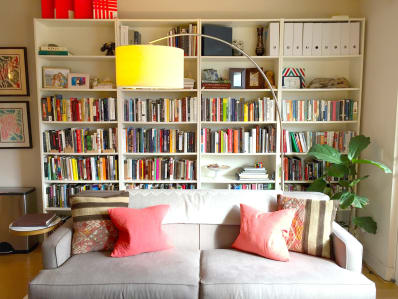 (Image credit: Submitted by Kristine & Bradley)
If you're hard up for storage solutions, you may be looking below your sofa or your bed, or above your cabinets — but what about behind? It's a little unconventional, but placing a shelf behind your sofa, or your desk, or your bed, is a great way to squeeze in a little extra storage without taking up a lot of space.
The difficulty with this, of course, is that it makes the bottom row of shelves (or whatever falls behind the sofa) extremely hard to access. These lower shelves could be a good spot for things like holiday decorations and seasonal clothing, so you don't constantly find yourself having to move your sofa. (As an added bonus, if you find yourself
never
needing to access the things on the shelf behind the sofa, you might discover that you don't really need them at all.)
In this photo from Cup of Jo, a bookcase behind the couch isn't just a way to add storage — it's also clever (and renter-friendly) way to bring pattern into a space when you don't want to commit to hanging wallpaper.
In this photo from BHG, two IKEA Kallaxes wrap not just behind but around a sectional sofa. If you're working with a small space that also happens to be a studio, this is a great way to create a bit of a separation between the bedroom and the living room while also adding storage.
You could also try this in the bedroom, as seen here in a space from The Everygirl. Most bedrooms, even smaller ones, have room to move the bed forward by 10 or 12 inches to accommodate a shelf. The downside is that moving your bed to get to your stuff might possibly be even trickier than moving your couch.
I'm pretty sure this space from Lonny is a fancy boudoir, but it also demonstrates how placing a shelf or bookcase behind a desk can provide a handy space to store things (like your giant collection of shoes).
The subtler, more unobtrusive version of this comes to us via architect Christophe Vendel. Placing shelves under a desk is a great way to recapture a little space, particularly if your desk is deep, or your legs are particularly short.
From Fantastic Frank, here's a similar setup to the one up top, but with a wall-mounted shelving system, which makes for a more minimal look.
These suspended shelves from One Fine Stay have an especially nice look to them, although admittedly this would require a bit more work (and permanence) than just placing a solitary bookcase behind the couch.
This living room from Mi Casa Revista is wrapped by waist-height bookcases, which provide quite a bit of storage with a more discreet look than a full-height bookcase. Whichever method you choose to employ, don't forget that, in a small space, the best storage solution may be right behind you.