From Tokyo to Washington D.C., This Virtual Tour Lets You Visit Famous Cherry Blossom Sites Around the World
We
independently
select these products—if you buy from one of our links, we may earn a commission. All prices were accurate at the time of publishing.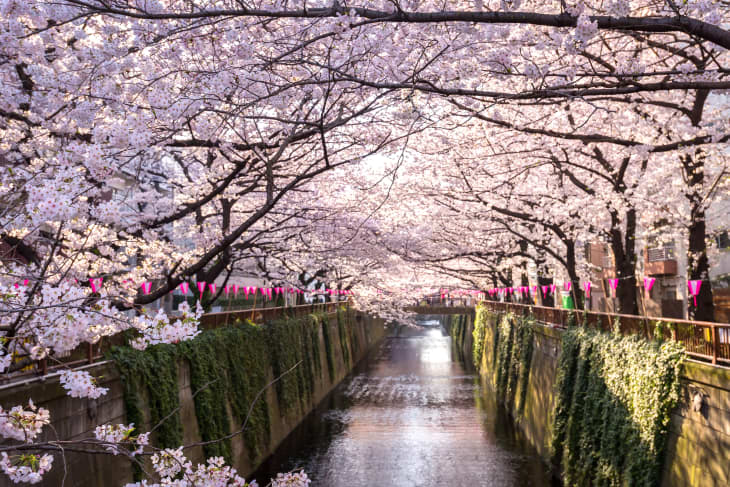 During the months of March and April, people often flock to the Tidal Basin in Washington, D.C., to witness the gorgeous cherry blossom trees. And while outsiders might not be able to see the blossoms in person this year, Google Earth is letting anyone with WiFi and an electronic device experience them in a 3D virtual tour.
As part of the Google Local Guides collection, the "Cherry Blossoms Around the World" virtual tour lets users see some of the most scenic cherry blossoms sites. Picked by locals who review destinations on Google Maps, these ten locations compiled by satellite imagery puts you right on the map alongside flourishing pink blossoms, making you feel like you're there in real time. 
The journey starts off where cherry blossoms originated—in Japan. Google Earth drops you right on the the bustling promenade next to the Meguro river in Tokyo, Japan. The cherry blossom trees are usually in bloom from late March into early April, and this street view allows you to walk underneath the 800 trees covered in pink petals.
The next destination is also in Japan, but this time to visit one famous tree instead of hundreds. Located in the town of Miharu, Japan, the 1,000-year-old cherry blossom tree that goes by the name of Takizakura stands mighty and tall. "What a magnificent Historical place to visit! OBVIOUSLY you'll want to time it right to see this extraordinary tree in full bloom," local guide Steve Gerecke said. "At night when crowds disappear, it's a lot more tranquil and peaceful to soak in all in!" Of course, you don't have to worry about crowds during this virtual tour. 
Continue your world tour through the likes of an urban park in Stockholm, Sweden, a railway station in Jinhae, South Korea, and multiple environments in of Europe, where you'll experience cherry blossoms of different shades, shapes, and sizes. And your last stop on the virtual tour is to Washington, D.C., where local guide Duncan Brown says "you must see the cherry blossoms once in your life."