I Found the Perfect Plant For My Dark Cave of a Bathroom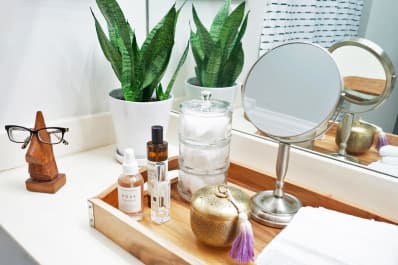 (Image credit: Charles Dundas-Shaw)
I'm pretty obsessed with the look of plant-filled homes, unfortunately, every variety of greenery I'm ever interested in seems to require full sunlight (I'm looking at you fiddle leaf fig). My apartment—especially the bedroom and bathroom—doesn't get great light thanks in part to only having windows in the front and one side of the condo. Combine that with the windows I do have being mostly shaded by giant banyan trees and my plant parent future wasn't looking too bright. However, I took a chance on a snake plant in my recent bathroom makeover, and guess what? It's still kicking months later with little to no attention or sunshine.
The snake plant, technically named sansevieria trifasciata, is heralded as a great low-light and low-maintenance species. I read in this post that it was perfect for forgetful plant owners like myself and those with greenery dreams and very little actual sunlight, though I was dubious. I mean, plants need at least some sunshine, don't they? I'm no expert on photosynthesis, but I'm pretty sure that's how it works, right?
Anyhow, when plotting out my bathroom refresh, I knew I wanted to attempt housing a plant on my countertops. The space itself is pretty sterile looking—lots of neutrals and bland hard surfaces as is typical in rental bathrooms—so I figured a little leafy friend would help liven up the space. The only light that comes into the room is from a sliver of a window in my shower that's usually covered up with a shower curtain so I was going to have to commit to taking Mr. Snake Plant out into my living room for a little light every now and then.
Well, it's been about four months, and I've done that no more than three times, watered this thing maybe five or six times when I remember, and it's thriving. Never did I think I'd see the day that I'd #1 keep a plant alive, and #2 keep it alive in my dark bathroom by basically ignoring it.
So ladies and gentlemen, if you're anything like me (black thumb) and live in a home like mine (dark hole), there is still hope to be had should you want to introduce some plants into your life.
Apartment Therapy supports our readers with carefully chosen product recommendations to improve life at home. You support us through our independently chosen links, many of which earn us a commission.