8 Grocery Staples You Can Buy at Your Local Dollar Store
We independently select these products—if you buy from one of our links, we may earn a commission. All prices were accurate at the time of publishing.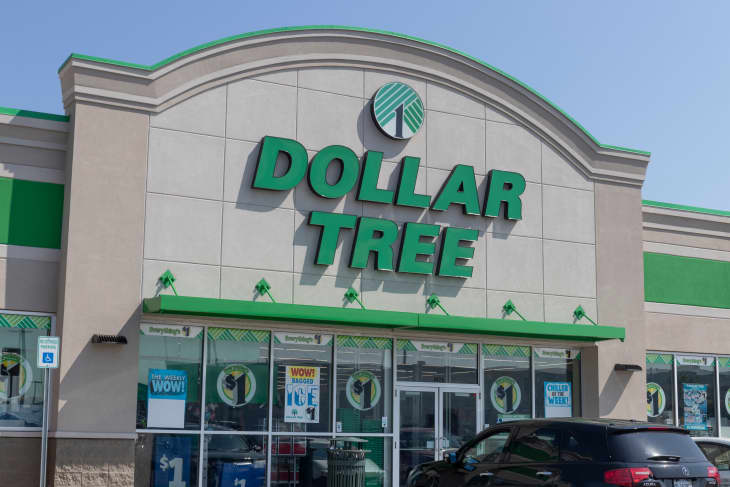 It's no secret that daily life is getting expensive. From increasing utility bills to paying more at the gas pump, your finances are probably feeling a little stretched. A simple trip to the grocery store will confirm that. But what if you didn't need to go to the grocery store, because certain staples are cheaper elsewhere? It may surprise you, but that place exists — the dollar store. 
Follow Topics for more like this
Follow for more stories like this
Switching from premium stores to cheaper ones can help stretch your funds. "These bargain stores, such as dollar stores, have lower prices, so they are more price competitive," says Robert Spendlove, who is an economic advisor for Amegy Bank. "Many people are looking for lower-cost goods that they can substitute for items that are experiencing high price inflation." 
Spendlove also notes that dollar stores lack the variety of traditional grocers, so you may need to start at a bargain store and head to another place — say, your local farmers market or grocery — for items like produce and fresh fish to round out your list. "Many people using this strategy end up shopping at discount stores for some items and then shopping at larger stores for what they can't find," he says.
That leads to the question: What grocery items can you find at the dollar store? I turned to the experts to find out. Kim Nuzzolo is the face behind Dollar Tree Dollie and often finds staples for lunch and dinner at discount stores to help with finances. "The dollar store is an amazing option for those shopping for groceries on a budget," she says. 
Erica Miller, the owner of One Cute Couponer, also firmly believes that dollar stores hold a treasure trove for those willing to go with an open mind. "Although some consumers may shy away from purchasing food at dollar stores due to concerns about expiration dates or poor food quality, the truth is, the dollar store is a best-kept secret for saving money on food when you're on a tight budget," reveals Miller.
Here's what our two experts say awaits to fill your belly without emptying your wallet at your local dollar store.
If you enjoy baking, especially if you like sweets, bargain stores really deliver. "They have a lot of baking essentials like granulated sugar, brown sugar, chocolate chips, coconut oil, and sprinkles," says Nuzzolo, who purchases flour there. Alternative flours like coconut are also available for those on special diets.
Rumors circulate around dollar stores carrying expired items, especially concerning bread, but that isn't the case. Nuzzolo notes that loaves of bread are marked with an expiration date so you can find a loaf that suits your needs. She's also purchased limited-edition seasonal breads like pumpkin spice and strawberry at her local store.
Miller often finds full-sized cereals at her store, some of which are name brands. "Brands like Proctor and Gamble will sometimes offer full-sized boxes of their most popular cereals at dollar stores for a limited time, just to reach a different demographic," she notes. Nuzzolo has also found full-size General Mills locally and always scoops those up. "When you see something name brand, you have to grab it, or you might not see it again," she advises. 
Don't skip the freezer section of your local store because you can use it to stock up for meals from breakfast through dessert. Nuzzolo buys frozen fruit for smoothies and frozen vegetables for dinner. She has also found quick and easy meals like chicken nuggets, pasta, and pizza. From ice cream to Popsicles, the dollar store's dessert options also don't disappoint. 
Although freezer-to-oven (or microwave) meals are readily available, you can also find meal kits for those times when you can put in a little more effort. Miller notes that meal kits and powdered mixes are some of the best values at the dollar store.
Whether you're lactose-intolerant or want to reduce your dairy intake, alternative kinds of milk like almond and oat are available. Nuzzolo says, "They're in a shelf-stable container and the same size as the ones at Trader Joe's." These milks work well in baking or to add to your cereal or coffee.
In one of her most popular videos, Miller shows how to eat for just $10 a week by purchasing things at her local dollar store. One item she features is rice, which is a shelf-stable staple that can stretch your meals and your money. Nuzzolo has also found long-grain white rice and 90-second rice to add to her dishes.
Whether you have a house full of kids or you live solo, snacks are essential to have on hand. From Miller's recommendation of Snyder's of Hanover snack packs to Nuzzulo's favorite freeze-dried fruits, there are plenty of bite-sized items to grab when you have the munchies.