The Simple, 5-Minute Habits That Therapists Say Will Reduce WFH Burnout
We independently select these products—if you buy from one of our links, we may earn a commission. All prices were accurate at the time of publishing.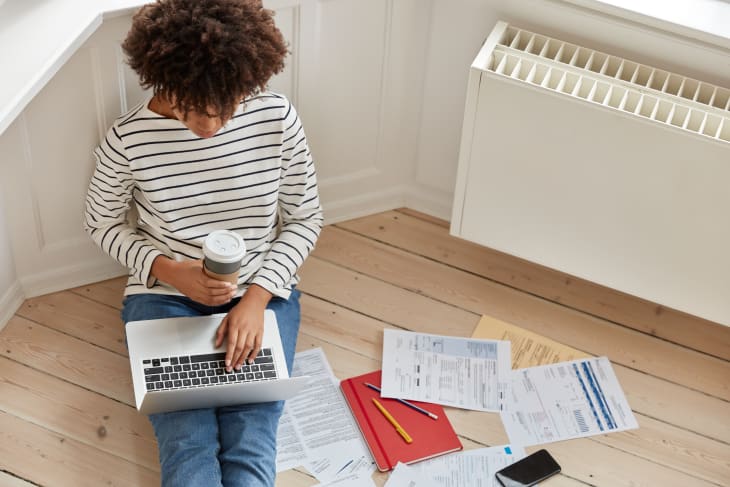 Even if you enjoy working from home, the WFH burnout can get real. In spring 2021, Indeed released a report sharing that 67 percent of the 1,500 U.S. workers surveyed said their burnout had worsened during the COVID-19 pandemic. Burnout can happen when you can't put a commute between yourself and the office, you can't effectively step away from your desk, or you find yourself juggling a higher workload than normal, among many other reasons. 
Burnout can potentially lead to health complications if you don't take action to reduce it. If you're feeling the heat and dreading the stress of Monday or the mid-week blues of Wednesday, try implementing a few short, easy practices into your daily routine to break up the day and help you decompress, de-stress, and refocus when the burned-out feelings begin.
Create a small ritual that brings you back to yourself.
Little things can easily pile up and begin to stress you out during the workday: your partner or roommate working alongside you, the dog barking, noise from your neighbors, tech issues, and more. Therapist Andrew Vispo, clinical supervisor at The Dorm, has created a ritual to help himself get centered when he's hitting his limit. "I like to walk into my kitchen and reheat the kettle. While the water starts to boil, I head over to the sink and wash my face with some warm water," Vispo says. "By the time I'm drying my face, I return to the kettle and pour the hot water into my thermos, along with whatever my tea of the day is." Sometimes just stepping away for a few minutes to complete a simple task can adjust your mindset.
Dr. Jennifer Hettema, senior clinical director at LifeStance Health, agrees. "I recommend creating a go-to list of different break activities or rituals that can either be added to your calendar ahead of time or turned to when you need to step away from a challenging situation or project," she says. Think of this "tool kit" like a menu of  activities or rituals that you can look to when you need a break, like grabbing a coffee, doing a quick workout class, or taking a screen break — whatever methods work best for you when you need to reset. The point is to plan ahead. "Having a go-to list of rituals at the ready will make it easier to ensure you are consistently taking mental health breaks," Hettema says.
Implement relaxation or calming practices.
Something as simple as your breath can be a helpful tool in refocusing and relieving feelings of burnout. Dr. Christopher Taylor, founder of Taylor Counseling Group in Dallas, suggests starting a deep breathing practice to bring back balance. "Like many people, when I get stressed or anxious, my breaths get shorter and shallower, so I have to remind myself to stop and focus on taking deep, slow breaths in and out," he says, adding that he's a fan of guided meditation apps like Headspace and Calm. When you're feeling overwhelmed or just over it in general, step away from your computer and find a quiet space to just breathe and be.
Think about your typical office day pre-pandemic. You probably spent some time outside, whether via commute or a walk to grab coffee with a co-worker. If you've noticed that you don't often see the sun during your WFH workday, make a few minutes of vitamin D time part of your routine. "Walk around the block, do a quick stretch, or just take some deep breaths and observe the way in which the clouds are floating through the sky," says Nina Kaiser, psychologist at PRACTICE San Francisco. "A change of scenery, even if it's brief and fleeting, can help us get a fresh perspective." Kaiser recommends focusing your attention on something happening in the present moment, like the leaves on a tree or the way your dog walks, for a bit of mindfulness. "[This] can help us step out of the chaos or monotony of a workday and come back in a slightly more fresh headspace." 
Let it all out on the page, and don't worry about making it look perfect. Simply getting your feelings down on paper can help clear your mind. "Writing your thoughts down helps you get it out of your head to stop ruminating or stop an anxiety spiral," says Frederica Boso, licensed mental health counselor at Brightside. "Journaling gives you the opportunity for self-reflection, validates your thoughts and feelings, and helps you engage in positive self-talk to reframe negative thoughts and feelings." Your journaling doesn't need to be fancy; scrawl away on a page of your planner, a nearby notepad or Post-it, or even a Google Doc. Getting the feelings out is what's most important.
While it may feel counterintuitive to let your mind wander throughout the workday, neuroscientist and mental health expert Dr. Caroline Leaf, author of "Cleaning Up Your Mental Mess," says it can be more than beneficial to take a dream break. "When we daydream, we essentially reboot our mind. I call these 'thinker moments,' which increase beta activity in the brain. This is important for processing information, being alert and attentive, working through something challenging, focusing, and developing sustained attention." Leaf recommends getting started by thinking of yourself as the "actor, director, screenwriter, and audience of a mental performance, then letting your mind wander for about five minutes. "You can start the process by intentionally thinking of something pleasant and meaningful, and then let this lead you into a flow of thoughts. Prompt yourself with topics you'd find rewarding to daydream about, like a pleasant memory, a future accomplishment, or an event you're looking forward to." Leaf encourages daydreaming while listening to music, going for a walk, or doodling.  
Start a ritual that signals the end of the workday.
Part of the trouble with working from home is that it can be hard to separate your personal life from your professional life with no commute home from the office. Kaiser recommends starting a routine that signals it's time to end work and transition into personal time. "This can help us take back some of the separation between work and leisure time that we lost when we lost our commutes," she says. "For example, maybe you end your workday by shutting down your computer, lighting a candle, or doing a quick stretch with a favorite song blasting. Or you start every workday with a short self-compassion meditation from your favorite app before opening up your laptop."