6 Ways to Make Working from Home Work for You, According to Therapists
We independently select these products—if you buy from one of our links, we may earn a commission. All prices were accurate at the time of publishing.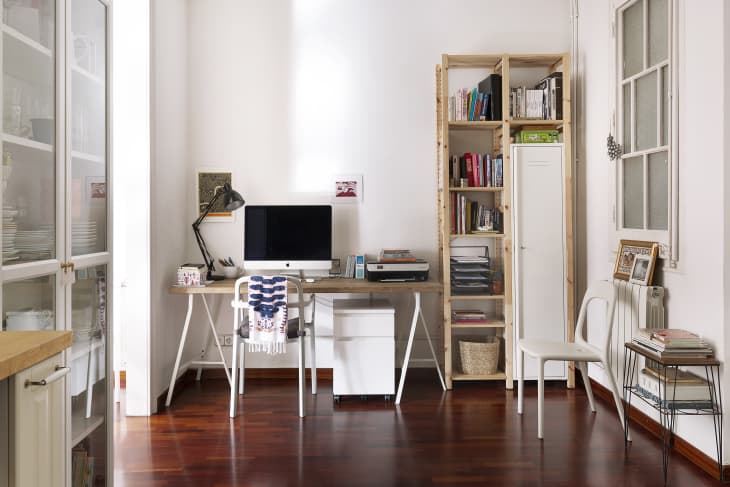 It's clear the landscape of the workplace is changing. Employers and employees have spent the past year and a half trying to find the right setup, from shifting to Zoom for meetings, to generally adopting remote-optional work. But how can remote employees stop work from encroaching into home life? Avoiding burnout and stress is tricky — and it often requires a bit of effort to find the formula you need in that week, day, or moment. 
Follow Topics for more like this
Follow for more stories like this
If you've been working from home — whether in the past year, or even before that! — you've likely tried and adjusted one or more setups and schedules to find a work/life balance. If you haven't yet found the right formula, never fear: There are practical ways to maintain a healthy attitude about work while navigating the boundaries between your personal and professional life. Here are six ways to make working from home work for you, according to therapists.
Create an at-home work schedule.
If working from home is your new normal, that doesn't mean you need to work all of the time. Clinical psychologist Emily Guarnotta is a fan of creating a schedule and following it the way you would if you had to commute every day. "Establish a regular wake-up time and morning routine to get your day started," she tells Apartment Therapy. "When possible, try to schedule lunch and other breaks into your day. Having these events in your schedule can ensure that you have time to recharge, while keeping breaks from extending too long and conflicting with your work."
As someone who has worked from home for many years, I try to journal, exercise, and make time for my gratitude practice before diving into work each morning. I also make a to-do list at night for my professional and personal responsibilities so I know what is expected of me on the next day. 
Having a schedule can also help you know what time to stop working, if you're in control of your own schedule. "Maintain specific work hours when working remotely," Guarnotta says. When that time comes, feel empowered to log off or to give your team your personal contact information in the case of a crisis-level issue off-hours. "Make an effort to avoid answering emails, phone calls or doing other work-related tasks, once you're on your personal clock," she adds. 
Don't be afraid to let your boss know about your struggle points.
If you start to feel overworked, then it might be a good idea to talk to your boss or human resources representative for help managing your workload. "If you're starting to feel burned out, you might benefit from sharing your experience with your boss or supervisor," says Guarnotta. "Once you present the problem, you can bring up any ideas or solutions that you have. Be sure to also be open to their feedback and suggestions. Explain that you want to work as effectively as possible, but would like to come up with a plan to help you."
This might not fix the problem immediately, but it's nice to have your concerns vocalized, so at least your boss is aware of your issues. Staying silent can impact your work and also lead to unintended consequences at home. 
And as Guarnotta notes, speaking may also help others in the company if you decide to speak up. "You may be bringing up an issue that other employees are facing, in which case the company can benefit from your feedback," she says. 
End the work day with a ritual that shifts your mindset.
It can be difficult to know what to do once you shut your laptop but are technically in the same room you've been in all day. Having a ritual or way to mark the end of your work day and the start of your home life can help you create mental boundaries when physical ones are blurred. If you have a separate home office, practice turning the light off, shutting the door, and resisting the urge to sneak back into your office for one "last" email. If you have a work-supplied computer and a personal device, make rules to only touch the work laptop during work hours, and save your personal email and tasks for your offline hours.
You can also pick up a creative hobby, like dancing to music, painting, or drawing. "This can help us activate our right-brain and transition from left-brain/analytical and verbal energy we have been engaging in throughout the workday," says Dr. Christie Kederian, a licensed therapist and organizational psychologist. 
If you bid your daily commute to and from an office goodbye, chances are you might be spending less time outside than you once did. And if you don't schedule "outside" time, it's very easy to spend most of your days indoors. Creating pockets in your day to venture outside for a quick walk — or if you can't get outside, to move around your home briefly — can help your mind stay refreshed. If your day is jam-packed, try multitasking by taking a meeting on your phone while walking through your neighborhood. 
"When you don't leave your house to commute to work, you may find you are not actually ever leaving your house," says Danica Copp, a licensed social worker. "As humans, we need sunlight and outside time. Schedule a 15- to 30-minute walk into your day or take a meeting on your back deck or patio to change the scenery and take advantage of outside space." 
Stay connected to others.
Working exclusively from home can be isolating, and Slacking that one coworker with whom you could commiserate can be helpful, but it might not match running out together for lunch on stressful days. Although in-person interactions cannot necessarily be replicated from home, you can still foster a healthy social network. 
"Start by scheduling weekly social events, either in person or online," Guarnotta advises, adding that this might be a perfect time to branch out and expand your social network beyond work."You may also consider joining a sports team, starting a hobby that involves socializing, or, if you have young children, joining a mommy-and-me class where you can socialize with other parents while teaching your babies new skills," she suggests. "Maintaining regular contact with other people can help reduce feelings of loneliness and relieve stress." 
Make self-care a priority.
With work deadlines looming and home responsibilities, it can be easy to relegate self-care as a task to complete "later." This can backfire, however: Not spending time doing things you enjoy can lead to a sense of overwhelm. You may think "you don't have the time" for your own interests and pursuits, but it is crucial to make time for the activities and interests that fulfill you. 
"The truth is that in order to be productive at work and perform your best, you need to take time to recharge," Guarnotta tells Apartment Therapy. "If you don't, you'll be at higher risk for burnout, which will only cause you to be less productive and effective in your work. Taking time for yourself is a valuable tool to help prevent and cope with stress." 
Self-care can vary greatly from person to person — it may mean exercise, meditation, reading, or spending time with loved ones. Instead of looking for one cure-all, focus on how often you reach for any one of your picks. "Make an effort to engage in at least one positive activity each day," says Guarnotta. Doing so can help you destress, decompress, and prepare for the next day.