My "High-Low Rule" for Bringing the Perfect Host Gift Every Time
We independently select these products—if you buy from one of our links, we may earn a commission. All prices were accurate at the time of publishing.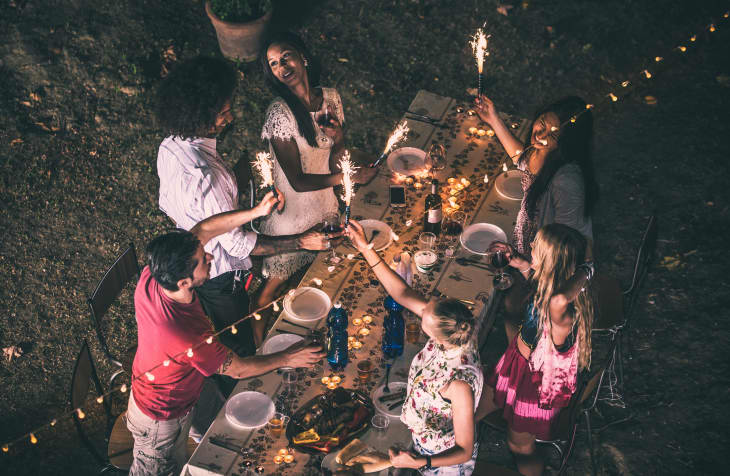 There are plenty of bits and pieces of advice my mother has done her best to instill in me over the years: Dawn dish soap works miracles on stains; female friendships will save your life; something about attracting flies with vinegar versus honey (hey, I'll start when you do, lady!). One mom-ism, however, has stuck with me more than the rest: Never show up to someone's house empty-handed.
Yup, host gifts. It's that little tchotchke or goody you bring with you to say, thanks for inviting me over to eat all your food! Or, sorry in advance for getting wine drunk and falling asleep on your couch at 11:37 p.m. If you're like my mom, your idea of a host gift is probably a freshly-baked loaf of bread, plus homemade hummus or baba ganoush if you genuinely like the person. If you're like me, however (i.e. not allowed near knives since the Frozen Banana Incident) you might want to consider what I call the "high-low" gift.
What is the high-low gift? Easy: It's a mix of something classy with something decidedly not classy yet beloved, such as my go-to Champagne and Cheez-its combo. Other examples could include your host's favorite whiskey and Gardetto's snack mix, a nice French press and Trader Joe's cookies, a ceramic serving bowl plus Sour Patch Kids to put in it, or even an Otherland candle with a selection of the bodega's finest lighters or, say, a splashy bouquet in an upcycled San Marzano can … you have options here, people.
I love the high-low gift. It's cost-effective, practical but fun, and almost too easy to tailor to your host's individual likes. Plus, it shows you have taste but you're not, like, pretentious about it — and you think the same is true of your host. What a compliment! They'll be so stoked, they won't even be mad when you fall asleep during karaoke again.
I admittedly started high-low gifting out of necessity, but I've continued it out of the sheer joy of picking the perfect combo for a situation. There's something particularly satisfying about showing up to a housewarming with adorably frosted cupcakes and a case of High Life knowing you're about to make everyone's night. And even if you're not super familiar with your host — cough, cough, that invite to your coworker's party — the high-low approach is usually pretty a safe bet to make. And it's always better than showing up empty-handed.
Of course, the real gift is your presence, but the high-low combo is the proverbial cherry on top of the dairy-alternative ice cream sundae. Because let's be real, who doesn't like Champagne and Cheez-its? Or Whispering Angel and Twinkies, or Casamigos and Takis? (Pro tip for the household goods approach: Thrift shops are the spot to find vessels for houseplants, glassware for bubbly, or frames for art prints and such.)
And if your mom or wisdom-bestowing parental figure is anything like mine, every time you knock on a friend's door with store-bought seven layer dip plopped on a gorgeous terrazzo platter, you'll know they're somewhere thinking to themselves, Hey, I raised that kid alright.