The Best Way to Wash, Dry, and Store Your Lingerie, According to Lingerie Makers and Cleaning Pros
We
independently
select these products—if you buy from one of our links, we may earn a commission. All prices were accurate at the time of publishing.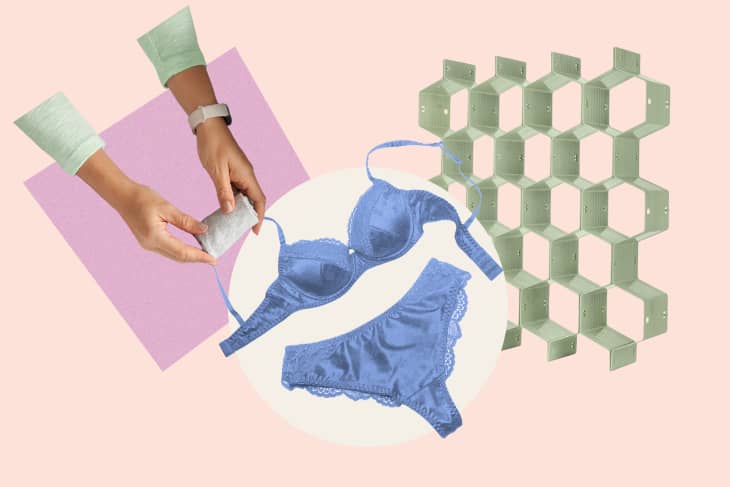 In one of my last apartments in the suburbs, I had a massive walk-in closet with enough room for about three people to store their clothes. So I got hanger-happy with my wardrobe, hanging all my apparel, hoodies, and lingerie. Each of my delicates had its own nice velvet hanger. I never even stopped to think about whether it was the best thing for the material, nor did I put much thought into how to properly wash it. If you're similarly thoughtless, I spoke to lingerie companies and professional cleaners to find the best method for washing, drying, and storing your lingerie.
How to wash your lingerie
Don't do what I do to wash your lingerie. I stuff everything into a mesh bra bag and throw it in the washing machine. This isn't really a bad choice if you're low on time, but the best choice for cleaning these items is to hand-wash them. Use cold water and specialty detergent, says Leanna Williams, designer and founder of Harlow & Fox, a luxury lingerie brand specializing in DD+ sizes. "General laundry detergent can contain brighteners or harsh chemicals that can damage the fabrics, so this will help keep them looking their best," she says.
Check the tag for proper care before you do anything, though. Some items can run through the washer and dryer, but others should only be dry cleaned. Be sure to also clasp and zip everything so it doesn't snag, and don't use a method that involves much scrubbing action.
How often you wash something depends on your use of the item. "The regularity of the washing is according to your habits and sensitivity but indeed a bra, in a normal use, can be worn several times before washing it, when panties of course must be washed daily," says Juliette Morel, the chief merchandising officer at La Perla.
Things like silky robes that you might only wear for a short time in the evening or right after a shower can be washed with less regularity. 
Lyndsee Campbell, the marketing director of Laundry Care, wants you to know that drying is the most important step for these delicates. "This is one part of the process you can't rush or skimp on," she says. "Lingerie is ALWAYS best air dried."
Use a drying rack where you can lay items flat. Anything other than that, especially high heat or tumbling, can damage the elasticity of the piece or the fabric itself. Don't wring the items or squeeze them — instead, blot them carefully with a clean towel to get as much moisture out as possible. You can also turn a fan towards your items on the drying rack to dry them quicker, as long as it's a cool temperature. 
How to store your lingerie
Both cleaners and lingerie makers are unanimous on this one: Use drawer dividers. You'll be able to see everything all at once, which will make it easier to pick what you want to wear with just a glance. Plus, it looks pretty.
For items with straps, you can hang those from notched or non-slip hangers. And if you have lingerie sets, pop them into labeled storage boxes. These can usually fit a couple of sets each. Whatever you do, though, avoid using plastic storage containers.
"[Don't] keep lingerie in a plastic tub, as residual moisture from the garment combined with low oxygen levels can create slightly humid environments ideal for mold growth," says James Joun, the cofounder of Rinse. "For longer-term storage, you can use a cardboard box lined with acid-free tissue paper."
And always make sure you're hooking any hooks and zipping any zips. These can get snagged on lingerie material, especially if they're all dumped into the same drawer.