These Luxe Bath Towels Are the Softest and Quickest-Drying Ones I've Ever Used
We
independently
select these products—if you buy from one of our links, we may earn a commission. All prices were accurate at the time of publishing.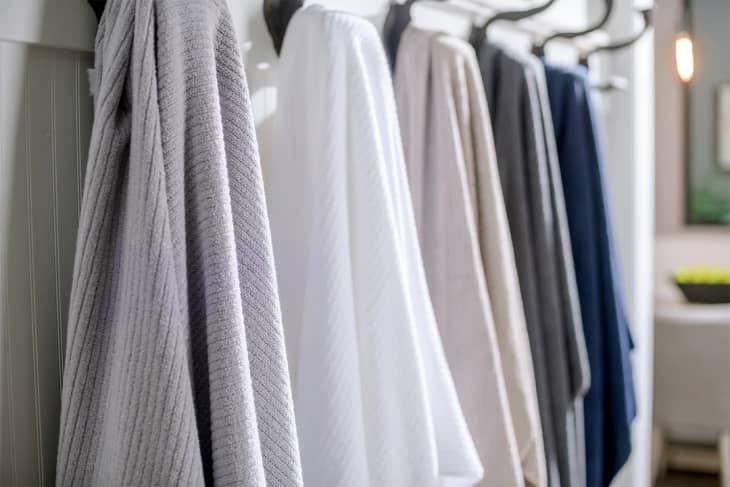 I'm not picky about the big textiles in my home. Rugs, bath mats, and window curtains all fall into a category of household items that are necessary, but not necessary for me to spend much time thinking about. However, any soft surface that I regularly come into close contact with, such as blankets, bedsheets, or dishrags, is subject to intense scrutiny. None more so than bath towels.
There is something about knowing my bath towel is going to touch every part of my body on a daily basis that makes me highly particular about the kind I use. Bath towels are also one of the few household staples that I'm willing to splurge on because I want to make sure I'm using ones that I like. This year I switched to these super soft towels from a luxury brand that was new to me, and they may be my favorite bath towels ever.
These towels come from Luxome, whose bamboo bedding set became our SEO Editor Sarah's favorite cooling bed sheets. They're made with a blend of cotton, polyester, and polyamide, and come in a pair of two bath towels, two extra large bath sheets, or a six-piece set with towels, hand towels, and washcloths. The blended fabric composition was a departure from the all-cotton towels I usually prefer, but it's been doing a phenomenal job of absorbing water, drying out quickly, and staying soft after repeated uses — I seriously haven't run into a single downside with this material.
One thing you notice right away about these towels is the way both sides are woven into skinny pipes of fabric. All my previous towels have had the typical flat and slightly fuzzy texture, and after feeling how smooth these Luxome towels are I wasn't sure how absorbent they would be. To my surprise, they're much better at soaking up water than any other towel I've had, and even in my poorly ventilated bathroom they become dry in only a few hours and resist any kind of mustiness.
According to Luxome's website, these absorbing and drying superpowers are the result of the fabric being layered in two kinds of loops. But all I care about is that I get to use these towels for longer without washing them so often. I used to wash my old towels twice a week, because they would stop feeling fresh after a few uses, but my new towels don't let odors or dampness hang around. Using them actually makes me feel more clean after I get out of the shower, which isn't something I knew a towel could do.
My wife has also become a fan, and after trying them once she was happy to forget her old towel forever. I'm thinking of picking up some more to replace the back-up towels we let friends and family use when they stay over, and maybe even giving some as gifts later in the year. If you want a bath towel that you'll be happy with and enjoy using for a long time, these are worth the investment.