Moving Container vs. Rental Truck: What's Better for Moving?
We independently select these products—if you buy from one of our links, we may earn a commission. All prices were accurate at the time of publishing.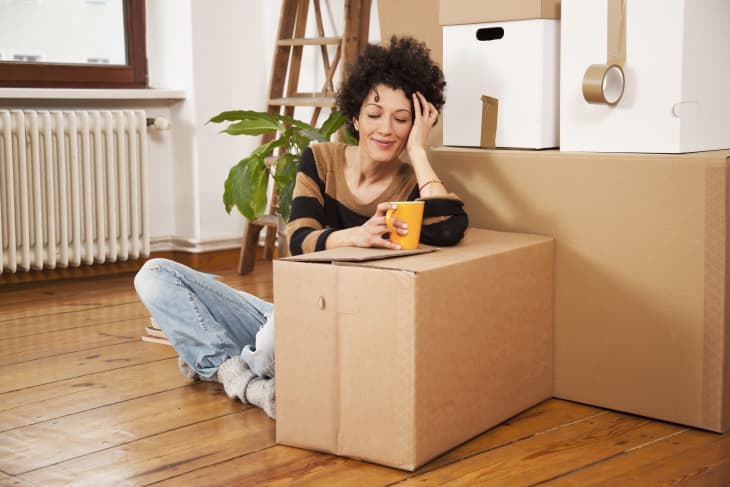 Moving is stressful. Even if you're the most organized person who starts packing super early, there are just So. Many. Decisions to be made regarding how you're going to get everything from Point A to Point B. This is especially the case if you're attempting a DIY move.
We can't make the decision for you about what to add to your keep, sell, and donate piles, but we can help you figure out whether you should pack up your belongings in a moving container or rent a moving truck. Here are some pros and cons to consider.
Advantages of Renting a Moving Container
You can take your time packing and unpacking. 
Unlike needing to be packed and ready to go when a moving truck shows up at your place, you've got some quality time with your moving pod. Depending on the company, you can have it parked out in your driveway or by your curb for around a month so you can pack it up as your schedule permits. And depending on how long you have the container when it arrives at your destination, you're likely able to unpack at a slower pace, too. 
The driving is done for you. 
You won't have to worry about transporting that big ol' container; the company does it for you. Unless, of course, you hire a company like Red Rover that basically combines a moving container with a rental truck, which is a great option for city dwellers who can't exactly park a moving container on the street.
There's more transparent pricing. 
It's not necessarily cheap to rent a moving container, but you should know what you're getting into from the get-go, especially when it comes to transportation costs. Moving container companies typically let you know how much everything is from door to door, and since you're not doing the driving, you're not on the hook for tolls and gas like you are with a rental truck.
Disadvantages of Renting a Moving Container
It takes up a lot of parking space. 
Even the smallest of moving containers will take up your driveway or some prime parking on your street. Again, unless you work with a company like Red Rover, moving containers might not even be an option if you live in an urban area.
You're on the container company's schedule. 
Yes, you had the luxury of time when you first got the container. But now that you're actually moving, you're on the company's schedule, which means you might have to wait for your container.
Everyone knows you're moving. 
You can't exactly fly under the radar about your move when one of these big containers shows up. In addition to dodging questions from nosy neighbors, you're basically announcing exactly where you'll be putting your belongings. Yes, these storage containers are sturdy and come with a lock, but if you'd rather not let the whole neighborhood know you're getting ready to move, this might not be the right option for you.
Advantages of Renting a Moving Truck
You're on your own schedule. 
Yes, there's a time frame in which you have to return the truck, but you don't have to wait for professional movers to show up — and no one is getting paid by the hour while they're waiting for you, either.
Well, in that it's a regular vehicle, not a storage shed. Some rental trucks are indeed rather large, so good luck with parallel parking. Still, if you've got a driver's license, you can drive and park a rental truck on the street (read signs and get permits, as necessary) or in a driveway.
There are different size options. 
You can rent a small moving van to move a single piece of furniture or a larger truck to hold an entire home's worth. With moving containers, even the smallest one is still a rather huge box camped outside your door.
Disadvantages of Renting a Moving Truck
If you're used to driving a compact car or you've been out of practice because you've been taking public transportation, you are now responsible for driving all of your belongings to a new place in an unfamiliar vehicle — and quite possibly towing that compact car, too. If that sounds stressful, perhaps renting a truck isn't right for you.
There's no opportunity for storage. 
With a moving container company, you may have the option to store your container on a secure site if you don't need it right away. The only way you'll be able to do that with a rental truck is if you drive it to a self-storage facility yourself. That's fine if you don't need your stuff, but if you do need it eventually, that's a lot of packing and unpacking to do.
Transportation costs are extra. 
Moving truck rental hourly rates might be alluring, but keep in mind you also have to tack on gas and tolls. It's fine if you're just moving across town, but if you're moving across the state or across the country, it's going to be difficult to budget the actual cost of your move.
A Few More Things to Consider Before Making Your Decision
There are other pros and cons to both methods of moving. Regardless of which ones resound with you, here are some final things to consider before choosing between a moving container or a rental truck:
You're likely trying to save money by not hiring professional movers, so make sure there's actually a cost savings by going with a moving container or a rental truck. You'll also want to check in with various companies — three is a good number — to see which one is best for your budget. Keep in mind that you don't want to overpay for more storage than you need, so use the online calculators or talk to a customer associate to see just how much room you'll need in the moving container or the truck.
Consider your ability/energy level. 
It seems like a great idea to take on packing at your leisure with a moving container, but will you actually do it little by little or will it be a race to the finish? And it might seem better to take matters into your own hands by packing up a rental truck, but what if you strain your back lifting a box and now you also have to drive to your new place? Saving money is important, but you want to also keep in mind your safety and your energy when it comes to a DIY move.
Remember, you can still hire help. 
Even with a DIY move, you can still hire help. Maybe you need someone to help you pack, or maybe you just want to hire some strong hands to fill your storage container or rental truck. Either way, you could still save some money by doing a hybrid move, especially if you're short on time.
Whatever option you choose, at the end of the (moving) day, you and your belongings will have arrived at your new place. Welcome home!