This Under-$20 Amazon Find With Over 4,000 Five-Star Reviews Is Totally A Meal Prep Game-Changer
We independently select these products—if you buy from one of our links, we may earn a commission. All prices were accurate at the time of publishing.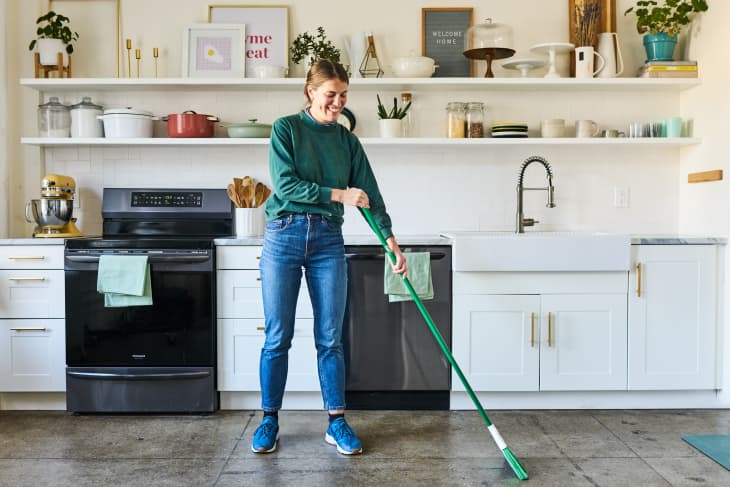 The main thing my boyfriend complains about when we're cooking together? Stepping on little bits of food that fall on the floor while chopping. Carrot peels, grains of rice, a couple cubes of diced onion . . . I can't disagree with him. There's nothing worse than food scraps stuck between your toes (side note: We should probably all be cooking in supportive slippers). So, in attempt to keep the floors clean and save myself from whipping out my steam mop every night, I've tried to do my meal prep next to the sink (difficult in a small apartment with limited counter space), keep a mixing bowl next to my cutting board, or invest in a compost bin to motivate me to mindfully contain the food scraps. If I'm honest, none of it kept the squishing, sticking bits from sporadically coating my kitchen floors. As it turns out, my household isn't the only one with this problem. Luckily, we no longer have to suffer from this meal-prep conundrum because we just found a brilliant and effective solution. With 4,000 5-star Amazon reviews, it's clear that these Hanging Waste Bins are the kitchen helper we've been needing all along. In fact, I'm about to order some myself!
Follow Topics for more like this
Follow for more stories like this
This set of two plastic bins hook over the top of your kitchen cabinets (or drawers), catching all the falling food and make your clean-up a breeze. Done slicing and dicing? Just scoop the scraps into the bin and move onto your next task! The set is available in three different colors, making it chic and functional. And at nearly a foot long by five inches wide, these handy bins have ample room, so you can save lots of trips to the trash can.
Some reviewers praised the bins as a favorite small space solution (we're looking at you NYC renters): "I no longer need to keep a container for waste on the counter taking up valuable room . . . This item then helps free up space on the counter, helps keep the counter top clean as work progresses and prevents dropping waste to the floor when moving it off the cutting board." Sold! And time-pressed home cooks proved it really does save precious minutes in the kitchen: "As a busy mom in the kitchen with 3 kids, this really helps me keep the kitchen clean while cooking. Now I'll have to make up the extra steps to the garbage can another way!" Hey, I'd rather be taking those steps outside anyways.
It's clear though, no matter what size kitchen you cook in or how much time you have to spend in it, these bins are a game changer when it comes to prepping and cleaning. "I love the convenience of this nifty gadget in my kitchen as I prep for every meal. Fits over the drawer and so convenient to just swipe all scraps of veggie peels onto it!" Shared one content customer, who also had an innovative use for the second bin: "I use the other in the bathroom over the door of the inside of a small cabinet as a catch all for things I wanna grab quickly as I get ready for the day cosmetic wedges, hair ties, headbands, etc." Just imagine what else you could use these for!
The cherry on top? When you're done using the bins, just pop 'em in the dishwasher. Easy! Which makes me think they would make great containers for measured meal prep. Dice up a little mirepoix, slide that mise en place into the bin and move onto the next steps of your recipe. Once it's time to use those prepped ingredients, all you'd need to do is add them to the pan. Brilliant, if I do say so myself.
I think this reviewer really sums up why you need these: "This is a fantastic little gizmo — simple but useful." They advise: "Just buy it . . . it's inexpensive, you'll thank me." Consider me convinced!