The Great Jones Mixing Bowls That One Editor Uses Every Day Are on Rare Sale Right Now
We independently select these products—if you buy from one of our links, we may earn a commission. All prices were accurate at the time of publishing.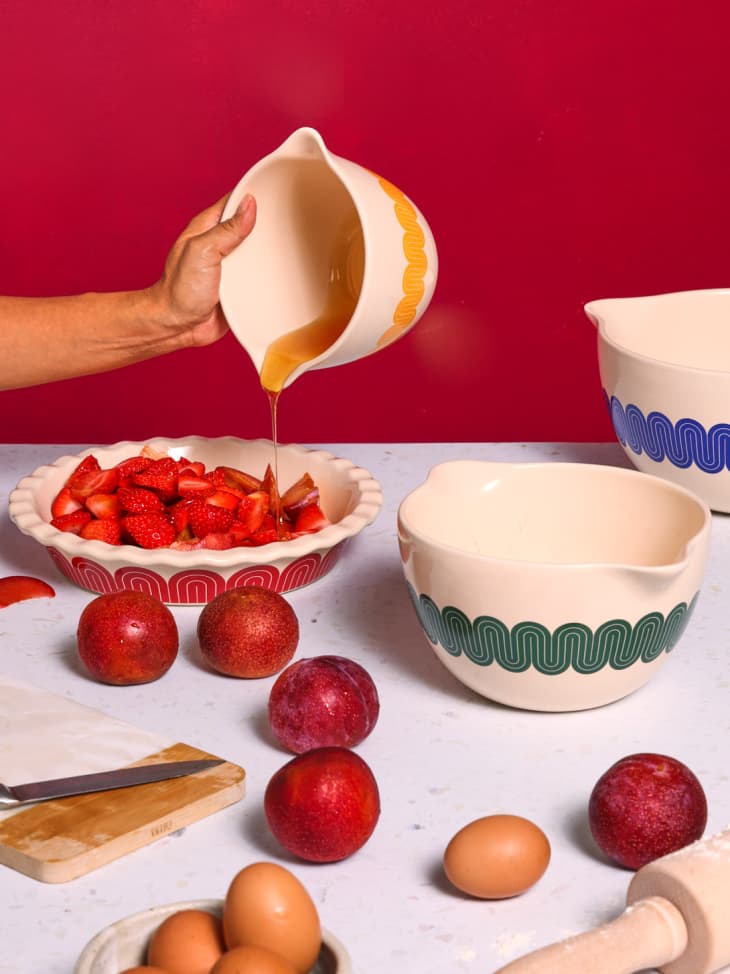 Be honest with yourself. Is it time to get a new set of mixing bowls? Maybe yours are chipped, scratched, or clouded from years of whisking. Or maybe, they're melted on one side (yikes!), or mismatched and don't stack properly when stored. If any of the above sounds like what you face when you open your kitchen cabinets, don't worry! We're not here to judge. In fact, all of us here at The Kitchn get it, we've been there too.
Because so many Kitchn editors have teeny tiny city kitchens, we understand the importance of small-space-friendly cookware like no one else. One item we've been on the hunt for? Pretty mixing bowls that nest together for seamless storage. So, it's no surprise that our Managing Editor, Tamara Kraus, found a set that is all of the above and more. As it turns out, Great Jones (one of our favorite small cookware brands) has a cute and functional set that she just can't get enough of! What's the "and more" you ask? Well, the set — called Stir Crazy, punny right? — is on sale at Nordstrom right now for a limited time only.
Take it from Tamara, this trio is a must-have for all kitchens. "In my tiny NYC kitchen, I don't exactly have a lot of storage room to spare. So, when I saw these incredibly gorgeous Great Jones mixing bowls that perfectly nest into each other, I knew I needed them. I knew they'd be handy, but I didn't think I'd be using them almost every single day!" Having a set that can stack without taking up extra space is essential for small kitchens. But let's be honest, no matter what size home you live in, who could say no to a less cluttered, more streamlined cabinet?
"Not only are they pretty, but they're smart too. These durable bowls feature a smart spout that makes it a breeze to pour out pancake batters and dressings alike — and without the mess. I've also been using them to make my favorite summer salad on repeat (they might be encouraging me to eat more salads so I can just admire the bowl!). The medium size is perfect for mixing salads, and I eat it straight from the bowl so there are fewer dishes to wash." Speaking of dishes, all three are safe to pop right into the dishwasher for an ultra-easy clean-up.
Oh, and because they are constructed with heavy duty, durable ceramic, the bowls are also safe to use in the freezer, microwave, and oven (up to 450 degrees). So you can store for later, re-heat, keep warm, or bake inside of these pretty cookware essentials. I mean, is there anything these bowls can't do?
Tamara may not have snagged this essential set on sale, but you can. And you should. Trust her, I bet she's on Nordstrom's site right now, eyeing a second set! "If you're looking for a kitchen essential that marries style and function, you'll want to add these beauties to your cart while they're on major sale." BRB, I've gotta go buy them myself!