I Never Loved the Look an Over-the-Toilet Shelf — Until I Found This One
We
independently
select these products—if you buy from one of our links, we may earn a commission. All prices were accurate at the time of publishing.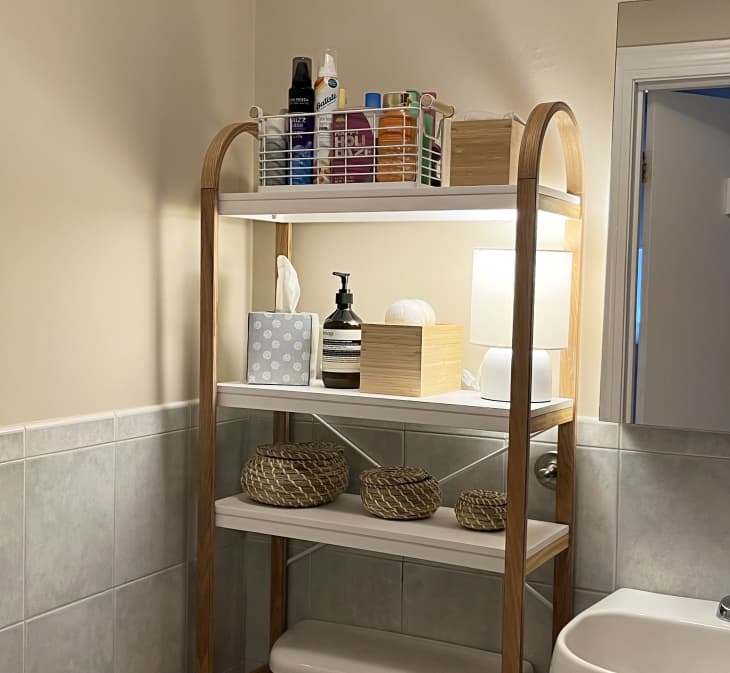 I've always had a bias when it comes to over-the-toilet shelving. I think it stems from my college days, when students moving into their first apartments installed these shelves to create more storage. The result, as it seemed to me, was a cluttered mess of toiletries lining those wobbly white platforms. One wrong move and a bottle of lotion was bound to fall into the toilet. 
So in all of the apartments I've lived in since my dorm days, I've never once deigned to install an over-the-toilet shelf. Lots of visual clutter in such a small room seemed like an easy thing to avoid. Plus, I've always been able to stash away extra soap and shampoo under the sink or in a cabinet.
This was not the case, however, when I moved into a new apartment this fall. My bathroom sports a pedestal sink — meaning no under-the-sink cabinet space — and lacks any sort of storage. I don't have a linen closet nearby either, so I was stuck on how to store stuff in the room without it looking like the shampoo aisle at CVS.
Luckily I work for a website that's positively filled with small space storage solutions. But I kept arriving at the same solution over and over again: over-the-toilet shelving. Begrudgingly, I browsed the shelves for sale online. I told myself I'd briefly entertain the idea of them before installing some sort of stylish cabinet. But everything changed when I came across the Bellwood Over the Toilet Shelf from Umbra.
This sleek little number flipped a switch in my head, making me an over-the-toilet shelf convert. The rounded edges on top are what attracted me to it in the first place, and those details are the same thing that bring me joy each time I step into my little bathroom. The shelf transformed the space for sure, adding storage plus a dose of modern flair.
I'm pleased to say the piece was quite easy to build on my own. As a single lady, I've gotten pretty good at assembling my own furniture, and this shelf was a real breeze. It affixes to the wall for added stability, and the shelving itself is quite easy to clean.
The thing I love most about the shelves, though, is how different they are from the many other visually heavy shelves on the market. I didn't want a set that would overwhelm the room, but I also didn't want something flimsy. I was (and still am) staunchly against those white wire shelves you see everywhere — you know, the kind where stuff can slip through the spaces between the wires. Instead, the white platforms and bamboo frame on my Umbra shelf are easy on the eye. It's a light and airy piece that still allows me to store a bunch of toiletries without appearing cluttered.
Placing a small lamp on the shelf was a recent finishing touch for me. Now I feel like my bathroom — and the shelves — are complete.