The Elaborate Playmobil Dollhouse That Taught Me to Love Victorian Homes
We
independently
select these products—if you buy from one of our links, we may earn a commission. All prices were accurate at the time of publishing.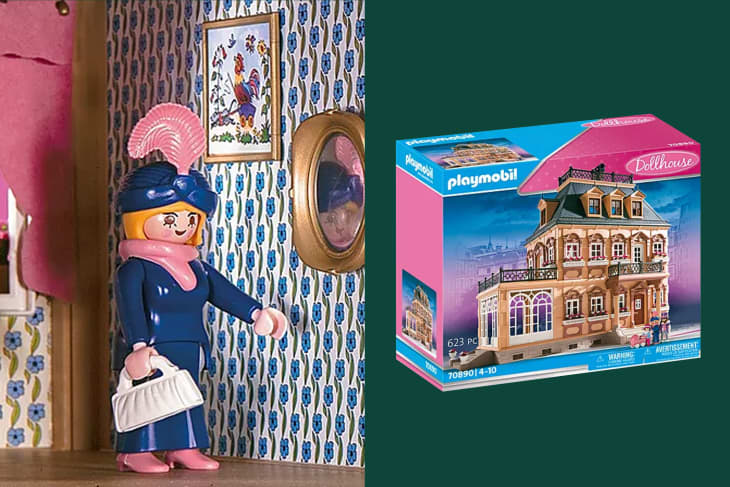 The year is 2000, and it is Christmas Eve: I am blissfully asleep and waiting for Santa to shimmy down my home's non-existent chimney, take two to three bites of the cookies we'd laid out for him on a Rudolph-themed plate, and place my perfectly-wrapped presents below the tree. 
Meanwhile, my parents were experiencing utter chaos. My mom had set her sights on getting me the Playmobil Victorian dollhouse, only to find it was completely out of stock. Thankfully, eBay was in its heyday and she managed to find a pre-owned model in pristine condition. In the last few minutes of the bidding process, she made an adrenaline-fueled offer and won. Then: The package didn't arrive… until Dec. 24. Into the wee hours of the morning, she and my dad assembled the intricate plastic mansion so it would be waiting by the tree in all its glory when I awoke. 
Thinking back on this now, a few decades later, I am so touched imagining the panicked bidding process, last-minute delivery, and laborious assembly. Though if you ask me, it was totally worth it. I loved this house. So much so that many years later, I'm still thinking about how incredible it is — and how it instilled an early love for architecture deep in my little dollhouse-loving soul. 
If you haven't seen Playmobil's Large Victorian Dollhouse, please allow me to introduce you. At three stories tall, it stands slightly more than two feet off the ground. If you were a one-inch-tall Victorian-era person going for a mid-afternoon walk, you could look up from the street and see an elegant building 25 times as tall as you. You could admire the sumptuous details of the facade: the mullion windows affixed with boxes brimming with pink and white flowers in perma-bloom; the tall, arched windows that give you a peek at the living room's parquet flooring; the quaint gables protruding from the steep slate roof; the widow's walk on the tippy top of the home enclosed by a realistic-looking wrought-iron railing. 
This is all to say nothing of the interior. Because of it, I developed a love of wallpaper; each petite room features a unique pattern, from pink columns of roses with tiny green stems in the attic bedroom, to golden yellow diamonds in the dining room. Black-and-white photos, antique art, and gold-framed mirrors adorn the walls, making this mansion feel like a home even before you move any tiny plastic furniture in.
Though some childhood memories can shrink somewhat under adult review, when I look at pictures of this Victorian dollhouse today, I'm more enthralled by the scale and attention to detail than ever. And without realizing it, some of this toy's features have slipped into my grown-up dreams. My platonic ideal of a couch is still green and made of plush velvet, not unlike the rubbery emerald sofa that sat in my miniature Victorian living room. I still insist on calling the deck attached to my third-floor walkup apartment my "roof deck." I still love gold frames and flower boxes and cozy rooms with sloped ceilings. If ever the "Honey, I Shrunk the Kids" technology becomes available, I know exactly where I'll be living. Until then, I'll be admiring the architecture all around me with a fresh set of eyes and gleaning some home design inspo from scaled-down places.