The Not-So-Dull History of In-Home Razor Blade Disposal Slots
We independently select these products—if you buy from one of our links, we may earn a commission. All prices were accurate at the time of publishing.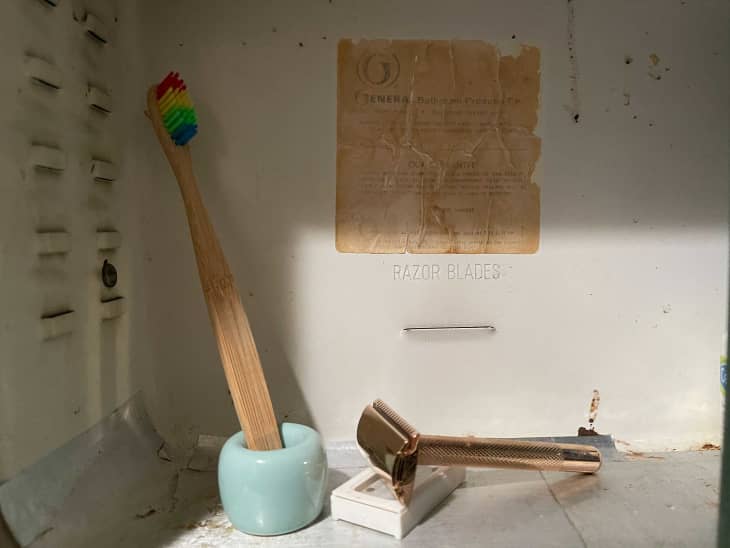 I am a sucker for a bonkers origin story. No, I'm not talking about comic book heroes, nor their villainous foes. I'm talking bizarre historical home features. Even in childhood, this was my jam. Volunteering at my local historical museum, complete with a preserved Victorian Village, I'd basically dress up like "Little House on the Prairie" and relay facts to visitors about obscure home features like collapsible flue stoppers, milk delivery boxes, and dumbwaiters. 
Follow Topics for more like this
Follow for more stories like this
I thought I knew it all, but a new oddball feature was brought to my attention recently. And friends, I was aghast. Apparently, some older bathrooms have built-in disposals for old razor blades. Now, I realize that's not awful sounding… until you learn that the old razor blades just LIVE IN THE WALLS FOREVER. Someday you might demolish a wall in your home, only to confront hundreds of razor blades just pouring out! This isn't a creepy scene from a yet-to-be conceptualized Ari Aster film. Built-in razor blade disposal is real — and has an intriguing history.
Let's take it back to the early 1900s. Typically, men would seek out the assistance of their local barber for help keeping that facial hair tight. (Today, it's not unusual to see barbershops offer straight-edge razor shaves as a novelty, but of course, that was the norm back in the day.) But in 1903, Gillette forever changed the way people shave by introducing the at-home double-blade razor. It was, as they say, the best a man could get.
As medicine cabinets were installed directly into walls, manufacturers added a tiny slot in the back through which shavers could dispose of their used blades. The blades would slip through the slot and then cascade down into a gross little pile of disposed, used blades, and sit there for decades until it inevitably became someone else's problem. 
I bet you're thinking what I was thinking: Why couldn't they just throw them in the trash? The issue involved the use of trash itself. These sharp, used blades technically were biohazards, and could not be tossed away with basic refuse. In the '30s and '40s, many households would burn trash and fertilize their garden with ashes, effectively blocking the possibility that the blades could easily be discarded. 
Later on, razor blade production kicked into high gear, and by the 1960s, blade companies were able to produce longer-lasting, more effective at-home blades that could withstand multiple uses. Further, as fewer families were relying on their own gardens for produce, herbs, and plants, tossing the occasional dulled blade into the trash became no big deal. 
By the mid-1970s, the inner-wall disposal of razor blades was all but eliminated as Gillette faced a new competitor: the French company Bic. Bic introduced a lightweight, totally-disposable razor option that resembled the razors many of us know today: thin blades, plastic handle. 
Sadly, I don't have my own personal wall crevice through which to toss my used blades for eternity. I've always been a wastebasket-razor-disposal gal — until now. There are some ecologically friendly ways to dispose of razor blades today. One recommendation is to collect used razors in a metal tin, which then can be tossed with the recycling (check local regulations before doing this!) Shavers also can seek out razor brands that focus on sustainable shaves — many provide their own disposal boxes, and produce razors with 100 percent recyclable materials. Now you can impress your friends with your sharp intellect and knowledge of the razor blade slot history.